Clinton Applauds Lady Gaga's Super Bowl Show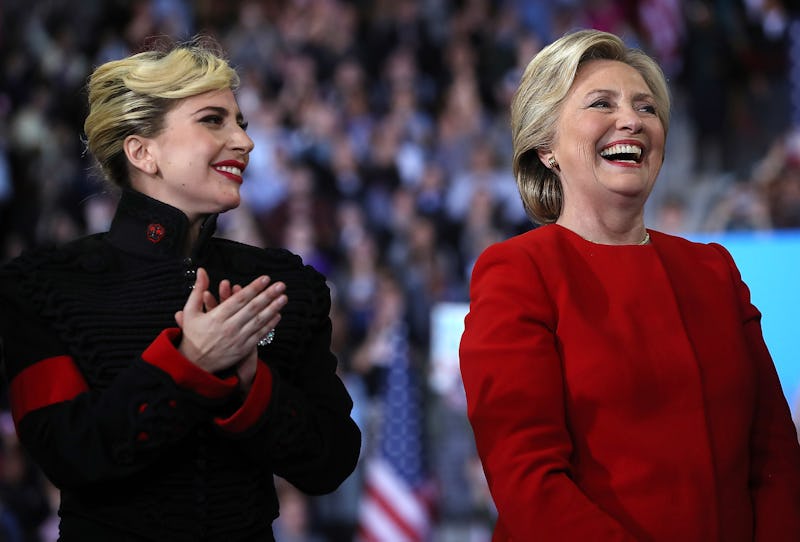 Justin Sullivan/Getty Images News/Getty Images
Shortly after the Super Bowl 51 halftime show ended, Democratic presidential nominee Hillary Clinton tweeted her support for Lady Gaga's political message. While many thought Lady Gaga– a well-known Clinton supporter – would turn her halftime performance into a political statement, the pop star kept the focus on the music. However, while Lady Gaga's performance was not overtly political, it wasn't completely without social commentary.
"I'm one of 100 million #SuperBowl fans that just went #Gaga for the Lady, & her message to all of us," Clinton tweeted Sunday as the New England Patriots took on the Atlanta Falcons in Super Bowl 51 at NRG Stadium in Huston, Texas.
While the former presidential candidate certainly had high praise for this year's halftime performer, Clinton wasn't just professing her appreciation for Lady Gaga's vocal talents. Before leading Super Bowl 51 viewers on an audio tour of nearly her entire discography, Lady Gaga opened the show by singing a bit of Irving Berlin's "God Bless America" and Woody Guthrie's "This Land Is Your Land." Lady Gaga's choice of using "This Land Is Your Land" was particularly significant as Guthrie's song served as a protest anthem before becoming a popular American standard.
While "This Land Is Your Land" isn't often sung as a protest anthem nowadays, it's made a bit of a revival in recent days. Demonstrators who'd gathered last week at New York City's John F. Kennedy International Airport broke into "This Land Is Your Land" while protesting President Donald Trump's executive order on immigration. With the stroke of a pen, Trump signed an executive order Jan. 27 to temporarily suspend refugee admissions and bar citizens from seven predominantly-Muslim countries from traveling to the United States, even if they already held valid visas. A federal judge has since issued a temporary nationwide restraining order, resulting in a nationwide lift of the ban.
Although Lady Gaga refrained from peppering her halftime performance with overtly political messages, you don't have to read very far into her use of "God Bless America" and "This Land Is Your Land" to see her message of diversity, inclusivity, acceptance, and equality. In fact, the singer told reporters she hoped to use her halftime show to celebrate "inclusion" and the "spirit of equality" at a press conference Thursday. Given how contentious and divisive the nation's last presidential election was, Lady Gaga's message may be one we all need to hear.