Hillary Clinton Literally Laughed When She Was Asked About Kavanaugh's Testimony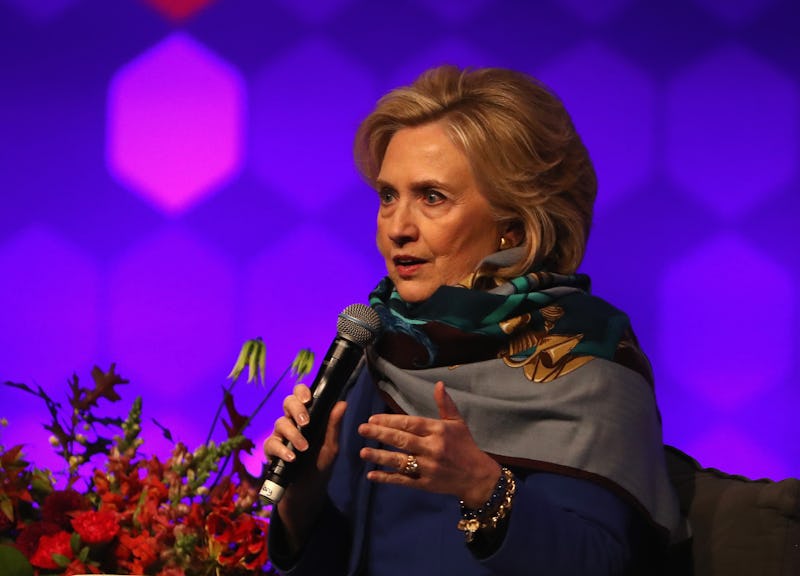 Robert Cianflone/Getty Images News/Getty Images
On Thursday, SCOTUS nominee Brett Kavanaugh angrily defended himself against Christine Blasey Ford's sexual assault allegation, calling it a "political hit" by the Democratic Party and "revenge on behalf of the Clintons." On Tuesday, speaking of Kavanaugh and Ford's hearings, Hillary Clinton said the SCOTUS nominee's conduct was "out of bounds."
"The performance, the behavior was quite out of bounds. I don't ever remember anything like that," Clinton said of Kavanaugh at The Atlantic Festival on Tuesday. "There is such a thing that you seek in judges of a judicious temperament."
When The Atlantic's editor-in-chief Jeffrey Goldberg asked about Kavanaugh's claim that Ford's accusation apparently was "revenge on behalf of the Clintons," the former secretary of state let out a burst of laughter. "I mean, really, yes, it deserves a lot of laughter," she said. "I wasn't watching when he said that — I was having to be somewhere else and away from a TV and even my phone — and so I heard about it later. Look, I thought it was just part of his very defensive and unconvincing presentation. I told someone later: Boy, I tell you, they give us a lot of credit."
Clinton also said that she found Ford's testimony "credible" and "convincing." She added, "I felt a great swell of pride that she would be willing to put herself out there under these circumstances."
On Thursday, Ford appeared before the Senate Judiciary Committee and read her written testimony aloud. "I am here today not because I want to be," Ford said. "I am terrified. I am here because I believe it is my civic duty to tell you what happened to me while Brett Kavanaugh and I were in high school. I have described the events publicly before." In September, Ford went public with her accusation against Kavanaugh in an interview with The Washington Post.
"I summarized [the events] in my letter to Ranking Member [Dianne] Feinstein and again in my letter to Chairman [Chuck] Grassley," Ford said on Thursday. "I understand and appreciate the importance of your hearing from my directly about what happened to me and the impact it has had on my life and on my family."
After Ford completed her testimony, Kavanaugh appeared to give his statement and answer any questions from the sitting senators on Thursday. Starting off on a heated and enraged note, Kavanaugh pointed a finger at the Democratic Party and the Clintons for a supposed plot to sabotage his nomination.
In his written testimony, Kavanaugh tearfully exclaimed that that allegation was part of a "lastminute" effort to "smear, pure and simple." He said that the accusation "debased" the American public discourse and that the aftermath would go "beyond any one nomination." Dubbing the allegation "character assassination," Kavanaugh said that if such claims were "allowed to succeed, [they] will dissuade competent and good people of all political persuasions from serving our country."
This kind of performance from Kavanaugh as far as "judicial temperament" was concerned, Clinton said, was "a lot to be concerned about." Of Ford, the former Democratic presidential nominee asked Goldberg, "Why would anybody put themselves through this if they did not believe they had important information to convey to the Senate?" You can watch the clip here.