Hillary Clinton Will Open Up About 2016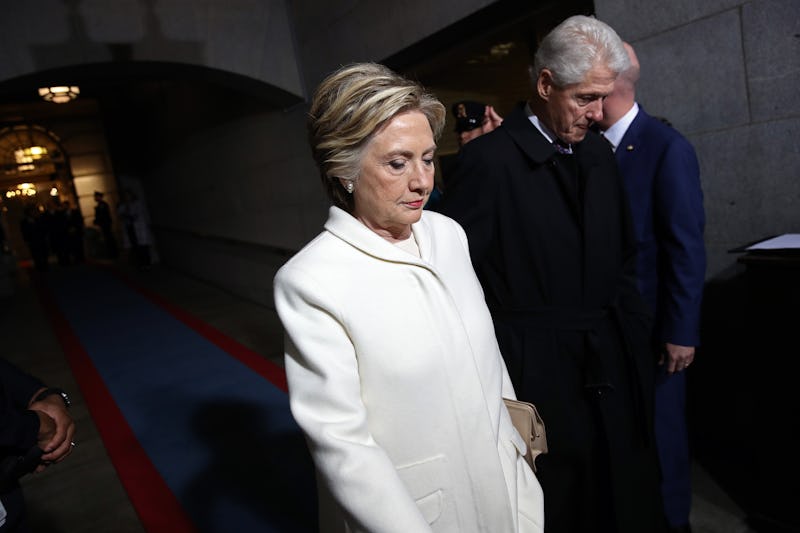 Win McNamee/Getty Images News/Getty Images
On Wednesday, the Associated Press reported that Hillary Clinton will publish a collection of personal essays for publishing house Simon & Schuster. The essays will touch on her 2015-2016 showdown against Donald Trump in the presidential race, and presumably on her devastating and unexpected loss to now-President Trump last November, the publishing house told the AP. The book is scheduled to be published in the fall of 2017.
There are two interesting points to be made here. Firstly: Although Clinton responded with grace to her campaign's loss to Donald Trump, she made no secret of her disgust with the now-president throughout her campaign. Trump famously called her a "nasty woman" during their sharp debate showdowns, and Clinton noted during one debate that it was "awfully good that someone with the temperament of Donald Trump is not in charge of the law in our country." With reports that the Clinton campaign believed entirely that it would win the election, even reportedly breaking out champagne on Election Day as a premature celebration, this would be our first chance to hear directly from Clinton about what that loss was like for her.
Secondly: No doubt this is the good press that Simon & Schuster needs. Regardless, Clinton's choice to sign on again with the publishing house, which published Hard Choices, may be met with controversy. Early this year, Simon & Schuster notoriously paid Milo Yiannopoulos an unknown six-figure sum for his upcoming book, Dangerous, and Roxane Gay went on to pull her latest book from the publishing house in protest. Yiannopoulos has been suspended from Twitter for his inflammatory language, and has described feminism as a "cancer."
Given Clinton's record on women's rights and her focus on feminist values throughout her campaign — and that, as an incredibly high-profile figure, she presumably could have picked another publishing house with relative ease — there's a fundamental contraction there.
In addition to her new book of essays, which she's working on now, according to Simon & Schuster, Clinton will re-release an illustrated children's version of It Takes A Village.
The essays in the book coming in the fall will be inspired by Clinton's favorite quotations.