3 Ways Hillary Clinton Suggests You Can Help Make A Difference Before Midterms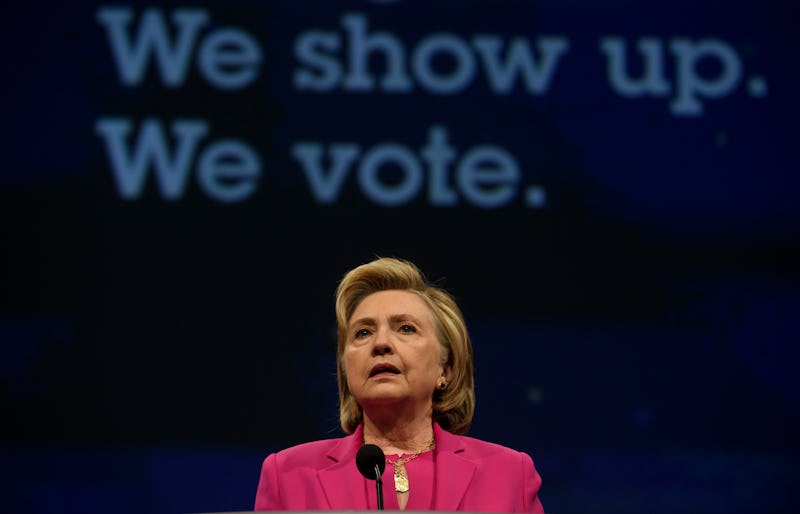 Jeff Swensen/Getty Images News/Getty Images
The upcoming midterm elections have captivated the nation — perhaps like no other November race has in the past. Both sides of the political aisle are urging their base to get out and vote, and on Tuesday, Hillary Clinton's 2018 midterms tweet did just that. The political figure listed just a few important ways people can make a difference before heading to the polls.
"Our democracy is in crisis. The president degrades the rule of law, spreads corruption, and discredits truth," Clinton wrote. "Over the next three weeks, we all have a chance to turn back the tide."
The 2016 presidential nominee suggested three things people could do ahead of Election Day on Nov. 6. First, she urged people to sign up with a Democratic grassroots organization to canvas local neighborhoods. "Study after study shows that person-to-person conversations are the most effective way to turn people out to vote. Sign up with SwingLeft to knock on doors in a toss-up congressional district near you during the last weekend before the election," Clinton tweeted.
The former secretary of state also encouraged people to be thoughtful about political engagement, telling followers to "make a plan to vote, volunteer, make strategic donations, and turn out friends with http://crushthemidterms.org."
Finally, Clinton told her followers to make the most of the digital tools out there. "Take advantage of IndivisibleTeam's virtual phone-banking tool to make calls reminding people to vote," she wrote. "Recruit some friends to join you and make an afternoon of it."
Clinton ended her series of tweets with a call to action, stressing the monumental importance of the looming election to her followers.
"Whatever you do, do something," she wrote. "These midterm elections are our last chance to defend our democracy. Let's win."
In the weeks leading up to the election, Clinton has been tweeting out the voter registration deadlines for different states.
"Make sure you've checked your registration—then recruit a friend to do the same so they don't miss their chance to vote in this crucial election," Clinton wrote, before directing people to the site I Will Vote to either register to vote or to check on current registration status.
Of course, Clinton isn't the only person in politics encouraging people to check on their registration status. Sen. Cory Booker (D-NJ) called November's races the "most important election of our lifetime" and posted a comprehensive list of registration deadlines for every state.
On Tuesday, Lara Trump, wife of Trump's third child Eric Trump, also threw out a registration reminder.
Finally, if you want to encourage people to vote, but may not have that much time, stick to the platform you know. It's usually tougher to ignore or forget about an issue if it's all over your social media feed. Post to your accounts and urge people to register (if the date hasn't passed already). Then, remind people of the big day. A number of states have laws that require employers to give employees time off to vote, with some even allowing paid time off, but make sure you check your specific state for the details.