This Is The Book On Hillary Clinton's Nightstand Right Now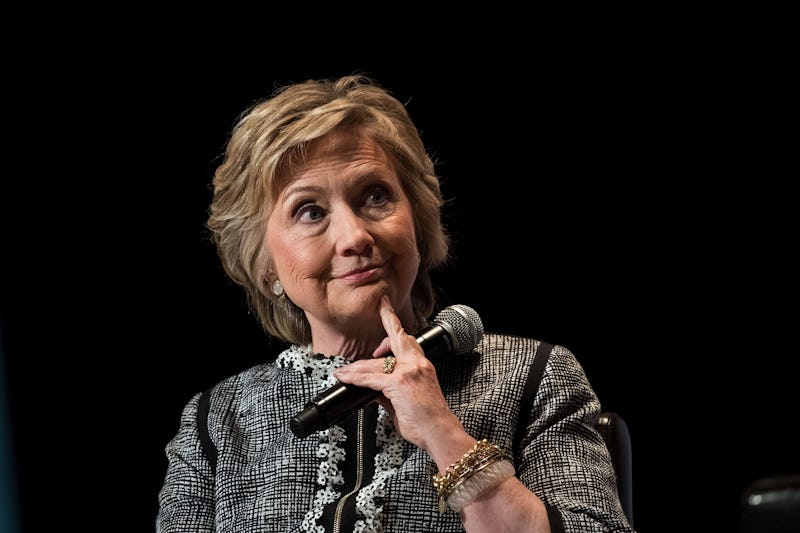 Drew Angerer/Getty Images News/Getty Images
If you – like me — have been wondering what former presidential candidate Hillary Clinton has been reading since the election, you're in luck. Clinton, in a conversation with Wild author Cheryl Strayed at 2017's Book Expo of America, dished on some of her favorite childhood books, and even revealed which book currently on her nightstand.
"I just finished a terrific book that I was just totally captivated by called [The] Jersey Brothers by Sally Mott Freeman," Clinton said.
The nonfiction book centers on three brothers, all in the Navy, who wind up at the epicenter of a pivotal moment in World War II. Bill is a Naval aide to President Roosevelt, tasked with running the White House Map Room in Washington. Benny is an officer aboard the USS Enterprise, fighting in the Pacific to defend against the Japanese. And Barton, the youngest, is in the Naval Supply Corp, keeping out of harms way, at his mother's request. However, the plan to keep Barton safe falls through when he's sent to the Philippines... and becomes a prisoner-of-war. Now, it's up to Billy and Ben to rescue him — at whatever cost.
"The book itself is a great read, and the author has done this amazing job of recreating dialogue that just seems so authentic. She researched it for 10 years," Clinton told Strayed.
The Jersey Brothers by Sally Mott Freeman, $16.93, Amazon
But this book offered up than just a distracting story to the former Secretary of State. Clinton also stumbled upon a personal connection with one of the characters in the book — a man named George Elsey, an American naval commander who served as an advisor President Roosevelt and also worked as a duty officer in the Map Room.
"When I became First Lady, I said this [Map Room] to be so historic, and it's kind of like a meeting room now [...] I said, 'Do you think there's anything left from the map room?' We looked and searched and what we could find was already in archives," Clinton said. "And then George Elsey, by that time an elderly man, came forward and said, 'You know I did roll up some maps.' He gave us a map — a map from the European theater. We put it up above the fireplace there. So I'm reading this book — totally entranced in it — and all of the sudden it's this personal connection. So that has been at the top of my nightstand."
Clinton, an avid reader, revealed more of the books she loves during the course of the conversation — including her childhood favorites and her favorite mystery authors. With summer finally on the horizon, it might be worth adding a few to your reading list.