Hillary Clinton's International Women's Day Speech Reminded Women To Keep Fighting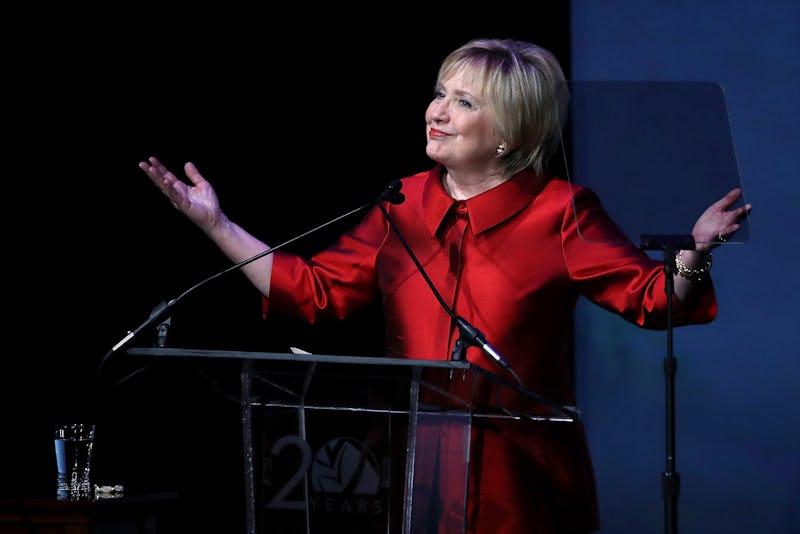 Justin Sullivan/Getty Images News/Getty Images
Although International Women's Day is an annual event, this year's celebrations had a more urgent tone than usual. Recent threats to women's reproductive health care and the election of a president who has made sexually explicit comments about grabbing women without their consent (though he has denied acting on those comments) have led to demonstrations of defiance across the country — from the Women's March on Washington to the "Day Without a Woman" strike. After maintaining a relatively low profile following her loss in November, former presidential candidate Hillary Clinton made an International Women's Day address to a crowd of female leaders on March 8 with an inspirational message for women across the country: keep fighting.
In an address at the Vital Voices Global Leadership Awards in Washington, D.C., Clinton, proudly wearing a bold red outfit in honor of International Women's Day and debuting a chic new hairdo, urged women to continue fighting for women's equality.
Sometimes the road to progress can feel like it's two steps forward, one step back, particularly when it comes to advancing the rights, opportunities, and full participation of women and girls. It can seem discouraging, whether you've been on that road for a long time or are just starting out. But think how different the world would be if the people who came before us had not just gotten discouraged, but because of that, had given up.
Clinton, who battled sexism throughout the campaign and ultimately suffered the devastating defeat of losing the potentially glass-ceiling-shattering election, offered a message of hope in what, at times, feels like an unending struggle for women to have their voices heard and respected by a GOP-controlled Congress.
She acknowledged the protests that have taken place at airports and capitols over the past few months, and reiterated that these movements that bring women together and amplify diverse voices cannot be ignored.
These are uncertain, even trying times. But as we all stop to look fear in the face, the result has not only been action, but passion.
Clinton's inspirational message resonated with many who saw this call-to-action as an opportunity to mobilize women to continue protesting against controversial legislation, like the potential defunding of Planned Parenthood.
There's been a lot of speculation recently about what Clinton's next career steps might be. Some have even suggested that she might run for mayor of New York City. Whatever her decision, her speech on International Women's Day confirmed her commitment to inspiring women to, above all, never give up.
We have to remain stubborn. We have to look for ways to mentor and support. And we have to understand that despite setbacks and stumbles on our long march to full equality, everywhere I look, there are signs of hope.
Hopefully, this speech inspired a new generation of #nastywomen to persist, persevere, and turn this hope into the possibility for change.