Watch Hillary Clinton Urge People To Vote & Volunteer — With A Nod To The 2016 Election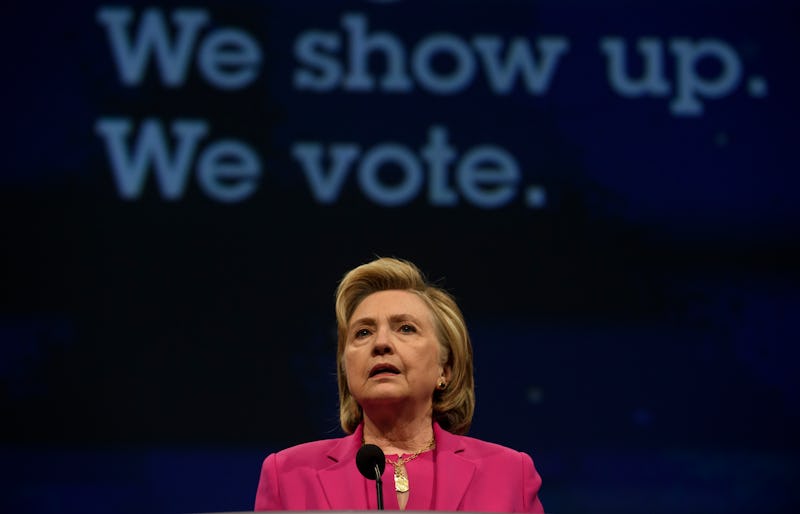 Jeff Swensen/Getty Images News/Getty Images
With the midterm elections around the corner, politicians across America are urging citizens to be active when it comes to voting — and volunteering. In a video clip shared on Twitter Monday, Hillary Clinton urged Americans to vote and volunteer, making a subtle reference to her own loss in the 2016 presidential race.
At the beginning of the video, a determined-looking Clinton said, "Our democracy works best when more people participate, and that starts with voting. No matter what issue you care about — whether it's creating good jobs that pay well, making education more affordable, stopping the epidemic of gun violence, or standing up for women's rights — I guarantee you, it's on the ballot this November."
It's near the end of the video that Clinton subtly references her own election campaign from 2016. "The outpouring of activism and engagement that we're seeing right now is unprecedented in my lifetime," Clinton said. "And I know that together we can make a difference in this election. So this year, don't just vote; volunteer ... We can't take anything for granted. Take it from me. So, please, do your part."
At the top right of her video, a hashtag for the progressive political group, #TheLastWeekend, appears. In her original tweet, Clinton also linked to a website page from The Last Weekend and Swing Left to sign up to volunteer. "Studies actually show the single most effective way to encourage people to vote is to talk to them in person or on the phone in the days just before the election," Clinton also said in the video.
In her video, Clinton urges her viewers to remember that there are "dozens of swing districts all across America [that are] winnable, competitive areas where we have a real chance to elect Democrats, take back the House, and change the direction of our country." It's a hypothetical that could yield great results when it comes policy-making and general life standards, according to Clinton.
Clinton asked her viewers to imagine a country where Donald Trump's administration could be held accountable for the myriad of positions it takes. It would help, she said, when it came to the subjects of health care, immigration, refugee rights, climate change, and more.
In September, Clinton discussed the need for more voter turnout in the midterm elections. If people stayed behind on voting, things could get worse, she said. "If we ignore the importance of this midterm election … I think you will see even more of the dismantling of our institutions with very dire effects," Clinton said on MSNBC back then.
Historically, however, voter turnout in midterm elections tends to be on the lower side — especially when it comes to younger people. But Clinton has urged people to change the attitude. In her book related to the 2016 election, What Happened, the former Democratic presidential nominee said, "Our democratic institutions and traditions are under siege. We need to do everything we can to fight back. There's not a moment to lose."
Disclosure: Hillary Clinton's son-in-law, Marc Mezvinsky, joined Social Capital, an investor in Bustle Digital Group, in mid 2017 and joined the Board of Bustle Digital Group in early 2018.