Hillary Clinton Brings On Her Campaign Staffers To Run Her "Resistance" PAC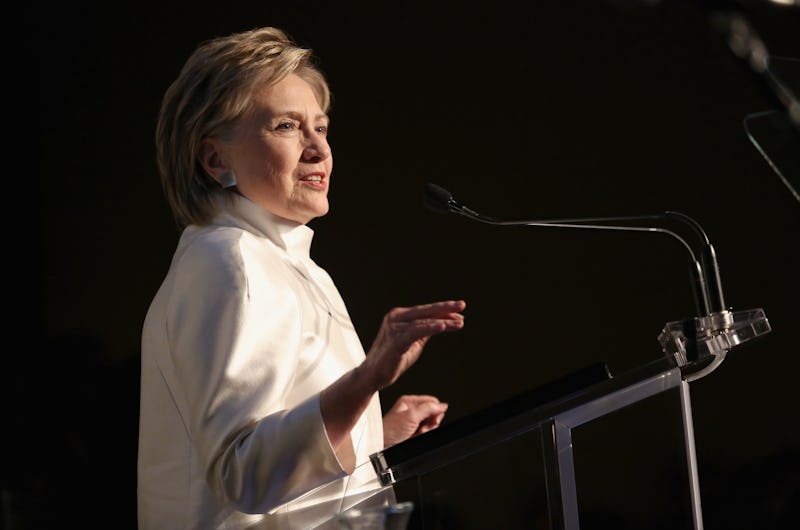 Monica Schipper/Getty Images Entertainment/Getty Images
Former Democratic presidential nominee and secretary of state Hillary Clinton is not, and might never be again, directly involved in elected politics. After losing the election in 2016, however, followed by a brief sojourn into relative seclusion, she took a step towards re-entering the political sphere by launching a pro-Democratic political action committee back in May. And she's also decided to bring some familiar faces along: Clinton is reportedly hiring two former campaign staffers to help run her "Onward Together" PAC.
Namely, Adam Parkhomenko and Emmy Ruiz. According to a report from Ruby Cramer of BuzzFeed News, former Vermont governor and ex-DNC chair Howard Dean, a co-founder of Onward Together with Clinton, confirmed that the pair will be working as consultants for the PAC.
Onward Together itself was launched on May 15, and as The New York Times reported, Clinton dubbed its mission as being a way for people to "get involved, organize, and even run for office."
More than ever, I believe citizen engagement is vital to our democracy. I'm so inspired by everyone stepping up to organize and lead.
Both Clinton and Dean have experience mounting presidential campaigns although neither of them ultimately succeeded ― Dean lost out in the 2004 Democratic primaries, and Clinton was defeated in the 2008 primaries and 2016 general election.
Parkhomento, 31, was the director of the 2016 campaign's grassroots engagement effort, has spent a substantial amount of his adult life working in support of Clinton. He launched a website calling for her to enter the 2004 presidential race as a 17-year-old college student, and ran the Ready For Hillary super PAC prior to her entering the 2016 race. He also previously served as National Field Director for the Democratic National Committee.
Ruiz, on the other hand, served as the 2016 campaign's Colorado state director, a state Clinton ultimately carried by nearly five points, outperforming her polls there. She also led the campaign's efforts in the Nevada primary, a hotly anticipated and high-stakes contest that saw Clinton best Vermont senator Bernie Sanders by about five points, and following the campaign's November defeat, worked on Tom Perez's successful bid for DNC chairman.
Onward Together will seemingly be working in an advantageous political environment, with the Trump presidency being one of the most unpopular ever at this early date, and the Democratic grassroots in a highly active state of political engagement. It's also a somewhat fraught time, however, as longstanding divisions and discord between the political left and center-left dating back to the 2016 primaries are still very much in play.