Hillary Clinton Reacts To Michael Flynn Resigning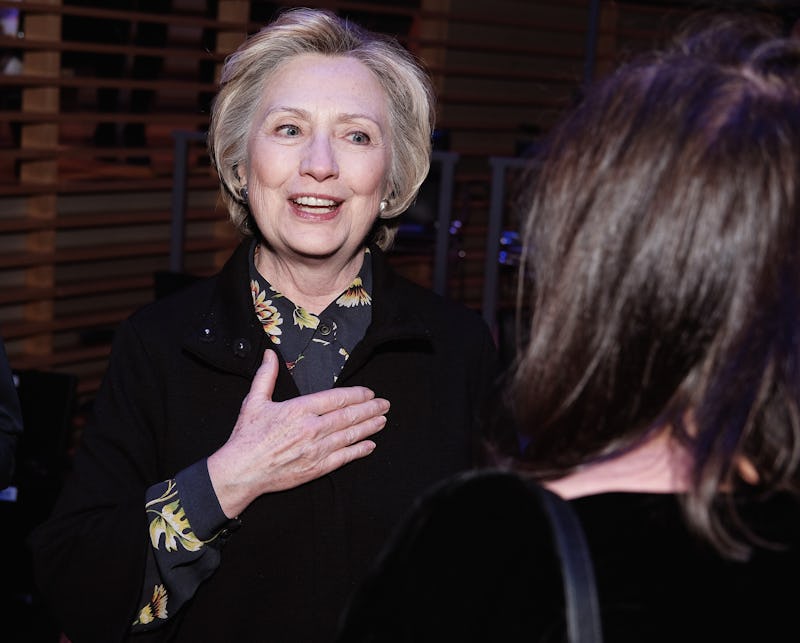 Theo Wargo/Getty Images Entertainment/Getty Images
President Donald Trump's national security adviser may have resigned on Feb. 13, but this former secretary of state had the grace to wait a few minutes into the next day before throwing the ultimate shade at him. Hillary Clinton's reaction to Michael Flynn's resignation called him out on "fake news" brilliantly.
Flynn resigned after holding the position for less than a month when tensions mounted over his discussions with Russia's ambassador to the United States. The former national security adviser had allegedly told Vice President Mike Pence that his conversation with the Russian ambassador was "limited to small talk and holiday pleasantries," rather than discussion about sanctions, The New York Times reported. However, Flynn ultimately wrote in his resignation letter that he "inadvertently briefed the Vice President-elect and others with incomplete information regarding my phone calls with the Russian ambassador," according to the Times.
Clinton's response to Flynn's resignation harks back to the 2016 presidential election days of "Pizzagate," a strange, quickly-debunked conspiracy theory. When Clinton's former campaign chairman John Podesta's emails were leaked by WikiLeaks, Pizzagate conspiracy theorists spread the idea that Podesta's emails contained secret messages. These messages supposedly connected certain U.S. restaurants and Democratic Party members to human trafficking and a made-up child-sex ring. For example, Pizzagate theorists connected Clinton and Podesta to a D.C. pizza shop, Comet Ping Pong.
You're probably wondering what Flynn had to do with this clearly ridiculous theory: Though Flynn never explicitly referenced #Pizzagate in his tweets, his son, Michael Flynn Jr., openly tweeted about the conspiracy theory, POLITICO reported. In November 2016, Flynn, who was at the time an integral part of Trump's campaign, tweeted "U decide" and then linked to a True Pundit article titled "NYPD Blows Whistle on New Hillary Emails: Money Laundering, Sex Crimes with Children, Child Exploitation, Pay to Play, Perjury." Naturally, some people thought he was referring to the Comet Ping Pong conspiracy theory. But in reality, those people were mistaken, because the article never mentions that particular theory. Still, Flynn has promoted other ridiculous theories.
For example, he used the hashtag "#spiritcooking," which referred to yet another conspiracy theory that Podesta participated in rituals during which he drank blood and other bodily fluids. (Needless to say, this theory is unconfirmed.) Flynn Jr., for his part, posted an also now-deleted tweet, saying, "Until #Pizzagate proven to be false, it'll remain a story."
Clearly, Clinton and her team had reason to take issue with Flynn and his son. Clinton chose to make her point by retweeting Philippe Reines, who served as her senior adviser while she was secretary of state. "Dear Mike Flynn & Mike Flynn Jr., What goes around COMETS around," Reines tweeted, referring to Pizzagate. He also posted a link to a job application at Domino's Pizza. "Philippe's got his own way of saying things, but he has a point about the real consequences of fake news," Clinton commented, subtly pointing out that what goes around comes around.
This isn't the first time Clinton has thrown shade on Twitter in recent days; the former First Lady also succinctly celebrated the take-down of Trump's travel ban executive order in a Seattle court. "3-0" she tweeted, referencing the judges' unanimous vote against upholding the ban. We'll have to see whether Clinton continues commenting on the most important events via Twitter. I, for one, am hoping she does.