Hillary Clinton's Tweet About The Santa Fe Shooting Did Not Hold Anything Back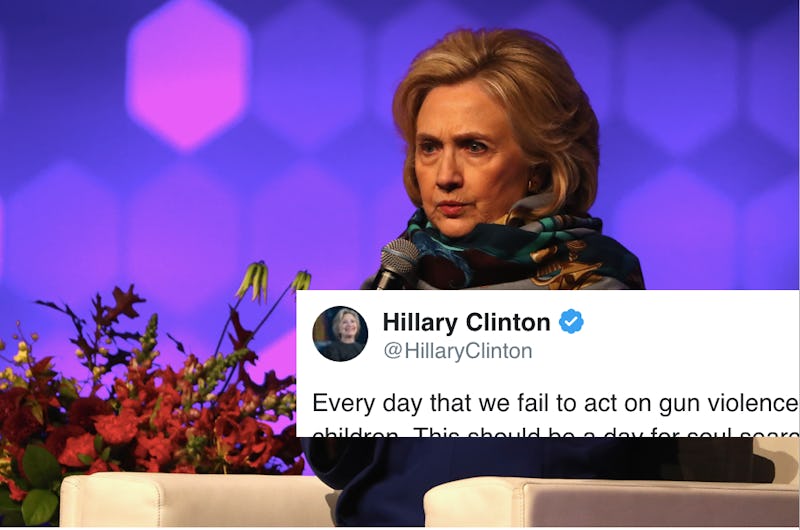 Robert Cianflone/Getty Images News/Getty Images
On Friday, a gunman opened fire at Santa Fe High School in Texas, killing several people and injuring many more. Mere hours after the attack, former Democratic presidential candidate Hillary Clinton responded to the Santa Fe shooting with a tweet, stating that politicians who refuse to take action to reduce gun violence are "failing our children."
Clinton, 70, has been a staunch proponent of gun control reform for years, dating back to her time as a senator from New York. During the 2016 presidential campaign, she ran on reinstating the assault weapons ban, expanding background checks, and restricting people suffering from mental illness from being able to purchase firearms.
"Every day that we fail to act on gun violence, we are failing our children. This should be a day for soul searching across America - and that soul searching should be matched with legislating to begin dealing with this national shame," she wrote.
In short, Clinton was undeniably the most pro-gun control candidate in the race, much more so than then-candidate Donald Trump, and also more so than her primary opponent, Vermont Senator Bernie Sanders, who drew criticism for his relatively softer record on guns and gun manufacturers.
The shooting at Santa Fe High School, according to Texas Governor Greg Abbott, claimed the lives of at least 10 people and injured 10 others. Of the 10 slain victims, nine were reportedly students, according to NBC News, while one was a teacher. Law enforcement reportedly has a 17-year-old suspect in custody; he's believed to have been a student at the school.
It's important to keep in mind, however, that early and initial reports in the immediate aftermaths of deadly, chaotic incidents like these can often be prone to errors and misinformation, so it's important not to jump to conclusions prematurely.
According to Harris County Sheriff Ed Gonzalez, there was also a second person who was detained ― though not arrested ― in relation to the shooting. It's unclear why, and the person's identity has not been released.
This is not the first time Clinton has weighed in on a breaking news event ― to the contrary, she also responded to the deadly school shooting in Parkland, Florida, in February.
Some of the survivors of the Parkland shooting have already reached out to the Santa Fe survivors on social media, offering their condolences and support. For example, Emma Gonzalez ― a Parkland survivor and gun control activist who led an emotional and memorable moment of silence at the March for Our Lives in March ― tweeted the following on Friday.
"Santa Fe High, you didn't deserve this," she said. "You deserve peace all your lives, not just after a tombstone saying that is put over you. You deserve more than Thoughts and Prayers, and after supporting us by walking out we will be there to support you by raising up your voices."
When Gonzalez mentions Santa Fe High School supporting them by "walking out," she isn't speaking metaphorically. Many of the students of the school participated in the national walkouts on April 20, which were spearheaded by the Parkland student activists.
The date was chosen because it was the anniversary of the deadly Columbine High School shooting back in 1999; at the time, Columbine was the deadliest school shooting in American history. Now, however, it's not even one of the top 10 deadliest anymore. The attack at Santa Fe High School was reportedly the 22nd school shooting in America this year.
Disclosure: Hillary Clinton's son-in-law, Marc Mezvinsky, joined Social Capital, an investor in Bustle Digital Group, in mid 2017, and joined the Board of Bustle Digital Group in early 2018.