Hillary Clinton Spoke Out On Trump's Latest Health Care Move — "Here We Go Again"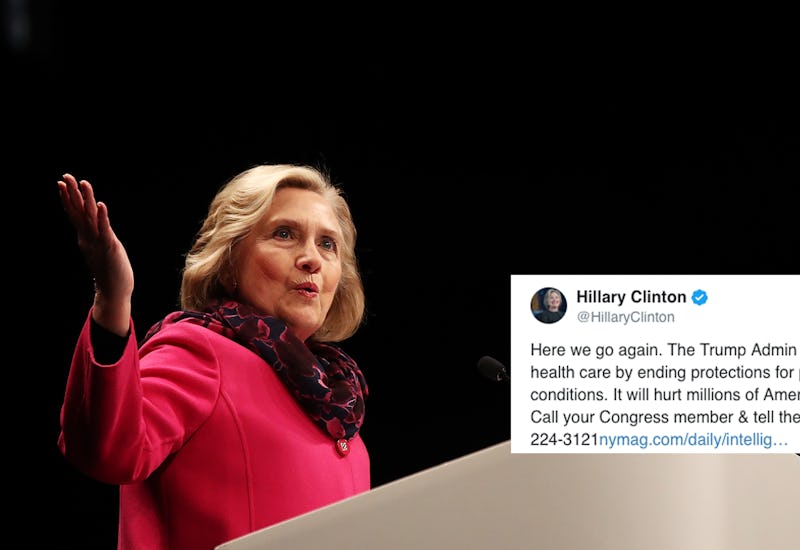 Hannah Peters/Getty Images News/Getty Images
Since the 2016 presidential election, Hillary Clinton hasn't been a constant presence in the political news — so when she does speak up, her fans and followers know that it's really time to listen. One example of this is Clinton's tweet about Trump's latest health care move, where she directly attacked the president and his administration over the recent Justice Department decision not to defend important parts of the Affordable Care Act.
"Here we go again. The Trump Admin is trying to take away your health care by ending protections for ppl w/ pre-existing conditions," Clinton wrote in a tweet late on Sunday night. "It will hurt millions of Americans. Spread the word. Call your Congress member [and] tell them to stand up for you."
In order to make it easier for her followers to make that call, she also included the number, which is 202-224-3121. She also tweeted an article from New York magazine explaining the intricacies of situation that the Trump Justice Department has created, as it's not as simple as a Congressional vote on whether to keep Obamacare funded.
This time, New York explained, it's the Trump administration actively deciding that it will not enforce or defend all of the nation's laws — and the ones they're choosing not to defend are those regarding Obamacare.
As ABC News reported, several Republican attorneys general filed a lawsuit attacking the Affordable Care Act. Their claim was that after Congress' decision to get rid of the individual mandate penalty goes into effect in 2019, "the remainder of the ACA must also fall." Then, Trump's Justice Department, led by Jeff Sessions, publicly sided with the attorneys general, instead of the already existing law. Specifically, ABC News wrote that the Justice Department called on the Texas federal court judging the case to strike down two specific parts of the Obamacare law — and they both have to do with people who have pre-existing conditions.
According to a brief from the Department of Health and Human Services, as many as 130 million Americans under age 65 likely have pre-existing conditions that could severely hurt their chances of finding affordable health care on the private insurance market. With the Affordable Care Act in place, insurers can't turn away people with pre-existing conditions — nor can they charge those people a higher premium. According to ABC News, though, those two provisions of the Affordable Care Act are exactly what the Trump Justice Department is telling the Texas court to strike down.
This, of course, is exactly what Clinton is tweeting about. There was a major outcry surrounding the congressional debate about health care, as The New York Times reported while it was going on, and much of it concerned people with pre-existing conditions. Even now, The Times reports that the Trump administration — and by proxy the GOP as a whole — is taking a major risk by working to eliminate guaranteed coverage of people with pre-existing conditions, as those provisions of Obamacare are pretty popular ones.
Now, Clinton calling attention to that in her tweet — and even calling Donald Trump out specifically by name, which she doesn't often do on Twitter, even when she's directly criticizing a Trump policy. None of her tweet is an exaggeration, either; the Justice Department is specifically trying to take away coverage for people with pre-existing conditions, and doing so would definitely hurt the millions of Americans who live with those conditions. By bringing this situation to the forefront, Clinton is putting her millions of supporters on the case — and perhaps enough of them will make calls and cause enough of a fuss that the Trump administration will back off of its position.