A New Report Shows How Much HBCUs & Their Grads Impact The Economy — And It's A LOT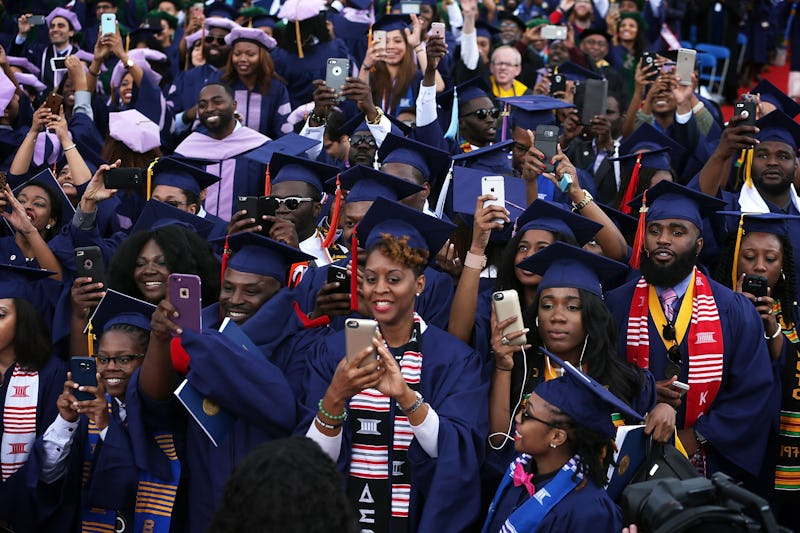 Alex Wong/Getty Images News/Getty Images
If your only interaction with an HBCU (Historically Black College and University) was when Randall and Jack from This Is Us visited Howard University, you're seriously missing out. HBCUs have given us literary geniuses like Toni Morrison and Zora Neale Hurston, award-winning actresses like Taraji P. Henson and Phylicia Rashad, and the one and only Oprah Winfrey. HBCUs have been a staple in the Black community since 1837, and the United Negro College Fund (UNCF) recently released a report that shows how much HBCUs impact the economy. Spoiler alert: It's a whole lot.
Aaron Coleman, a graduate of Fort Valley State University, an HBCU in Georgia, doesn't believe a PWI (predominately white institution) would have provided him with the same support he received as an undergraduate political science major. "My university was just like an incubator. It provided me the space to grow and develop as an intellectual and a writer. I'm not quite sure I would've gotten that at another school that didn't have the same kind of institutional interest in seeing me succeed," Coleman tells Bustle.
The report, which is the first of its kind, found that HBCUs collectively generate nearly $15 billion in economic impact annually. These institutions also generate 134,090 jobs for their local and regional economies, which is equivalent to the number of jobs created by Oracle, one of the nation's largest private employers, according to the report. HBCUs are often located in areas of the country where the economy is lagging, making the economic contributions of these schools essential for the livelihoods of many in the community. For every dollar an HBCU spends, $1.44 is generated in initial and subsequent spending for its local and regional economies, the report says. Additionally, for each job created on an HBCU campus, 1.3 public and private-sector jobs are created due to HBCU-related spending.
The over 50,000 students who graduated from HBCUs in 2014 can expect to make $130 billion over the course of their careers. The report also found HBCU graduates will earn an estimated 56 percent more during their lifetimes as compared to those without a college degree.
There are only 101 accredited HBCUs. They're concentrated in 19 states, the District of Columbia, and the U.S. Virgin Islands. The impact of HBCUs on higher education goes far beyond their small size. In 2014 alone, HBCUs enrolled 10 percent of Black college students across the country, accounted for 17 percent of the bachelor's degrees earned by Black students, and 24 percent of degrees earned by Black undergraduates in the highly coveted STEM (science, technology, engineering, and math) fields.
Many have questioned whether HBCUs are still needed. After all, most HBCUs were created after the Civil War to educate freed enslaved people. We had a Black president. We're post-racial, right? Wrong. HBCUs are still very much needed. They disproportionately educate Black and low-income students. HBCUs are also mindful about affording culturally appropriate experiences for their students. Devon Ashby, a journalism student at Morgan State University in Baltimore, MD, credits his HBCU for exposing him to opportunities he "wouldn't have imagined."
"I got the chance to join the National Association of Black Journalists (NABJ) and attend their annual convention, which this year was held in New Orleans. There, I was able to hang out with prominent media members and exchange contacts and share my various stories I've written and experiences I've had as a journalism student," Ashby tells Bustle.
The true value of HBCUs can never be fully articulated through by a dollar amount. HBCUs provide a safe space for hundreds of thousands Black students to learn and grow. HBCUs literally "make America strong," and this new report from UNCF is yet another illustration of this fact.