Hoda Kotb & Savannah Guthrie's Combined Paychecks Are Reportedly Way Less Than Matt Lauer's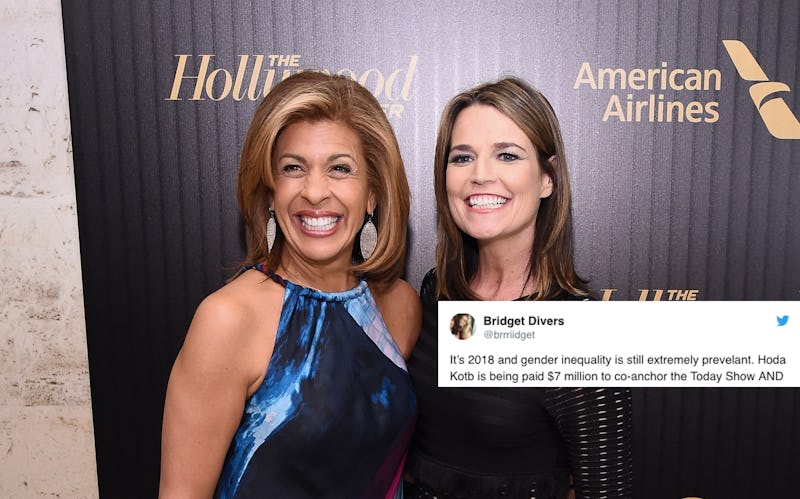 Ilya S. Savenok/Getty Images Entertainment/Getty Images
She got the job, but she might not be getting the salary. According to NBC sources who spoke with Page Six, Hoda Kotb, who will replace Matt Lauer on the Today show, will reportedly make $7 million annually. That's the same salary Savannah Guthrie reportedly makes, and it sounds like a heck of a lot. But if you combine Guthrie and Kotb's salaries, you'll find a number that has upset a lot of people online — because it's still less than Lauer made on his own.
Although the salary amount has not been officially confirmed, if both Kotb and Guthrie do in fact each make $7 million per year, that's a combined total of $14 million. Lauer was making between $20-25 million annually when he was fired in November after several allegations of sexual harassment and misconduct against him were reported. Lauer has denied some of the allegations but added "there is enough truth in these stories to make me feel embarrassed and ashamed."
After hearing the reports, people on Twitter ranted about the possibility that Kotb and Guthrie could make that much less than Lauer. And even if their salaries end up being more than what's currently reported, it seems safe to say that if it's not the same as what Lauer was getting, a lot of people aren't going to be happy.
It's 2018
Not A Myth
Why???
If We Really Want To Move Forward
The Bad News
That's It?!
What A Shame
She Needs To Renegotiate
Why Salary Inequity Continues
Hold On A Sec ...
Not Even Close
There's A Huge Mess To Clean Up
Whether NBC will confirm Kotb and Guthrie's salaries is yet to be determined, but if the $7 million figure is true, people have already made their disdain clear.