Holly Willoughby's 'I'm A Celeb' News Has Prompted Seriously Sexist Reactions Online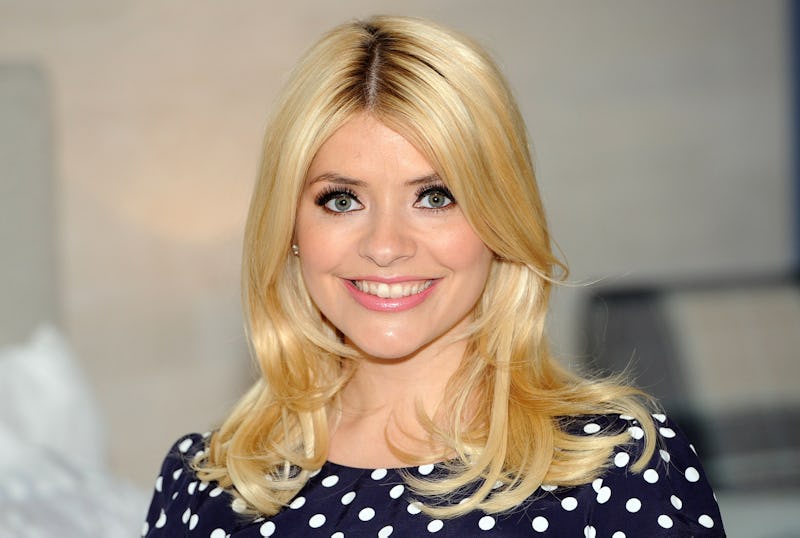 Stuart C. Wilson/Getty Images Entertainment/Getty Images
ITV finally confirmed what we all knew (and hoped) on Wednesday: Holly Willoughby is I'm A Celebrity's new presenter. She will host alongside Declan Donnelly, while Ant McPartlin takes time out to focus on his continued recovery from prescription drug and alcohol problems. But here's a disturbing outcome of the news: a sudden and unforgivably retrograde concern with who will look after her three children while she's working. Last year, almost three-quarters of mothers with dependent children were in full or part-time work, according to the Office of National Statistics. So why are we still having this conversation?
Almost immediately after the news broke, Twitter began to swell with less than positive tweets accusing Willoughby of abandoning her children in the pursuit of money, or never seeing her kids at all (I won't link to the unpleasantness, but a quick search of "Holly Willoughby kids" will show you all you need to know.) In short, we're presumably supposed to perceive Willoughby — who's been working in TV for 18 years — as a mother before anything else.
For the record, Willoughby's reportedly taking her children Harry, Belle, and Chester with her to Australia when she films the series, which solves the immediate question of what, exactly, will happen to her poor, abandoned kids. But to end the conversation there is to ignore the deeper implications of the question, and the entrenched sexism it exposes. Why didn't the concerned tweeters consider that Willoughby's husband, producer Dan Baldwin, could look after his three children? Why didn't they share similar concern when co-presenter Dec told the Mirror that his first child, with talent manager Ali Astall, is due to arrive in September — meaning Dec will also be a working parent? Why were they so desperately afraid that Willoughby could be away from her children for the three whole weeks the show typically runs?
The answer, of course, is sexism. Willoughby, as a woman, is supposed to prioritise personally caring for her children above all else — and especially above her career. Those lambasting her for taking the I'm A Celeb job when she "doesn't need the money" are suggesting that a woman should only work out of financial urgency, and that all remaining time and energy should be devoted to her children. Never mind that not all women have or want children; that not all primary caregivers are women; that for some women, career is more important than family and that's absolutely fine. No: for a depressingly large proportion of people, a woman's place remains in the house, mopping regurgitated baby food off her childrens' bibs.
Here's the thing: the Guardian reports that the number of women "who have dependent children and go out to work" has increased by a million in the past 20 years, according to the Office of National Statistics. In fact, 73.7 percent of mothers in the UK have either full-time or part-time jobs. The misogynistic chorus criticising working women with children are shrieking after a ship in the distance that's very much already sailed.
For some of those women, work is not a choice: Sam Smethers, chief executive of the Fawcett Society, explained to the Guardian that "childcare is still not adequately subsidised, statutory maternity pay is lower than in many comparable countries, and there needs to be more workplace flexibility and better support for families, many of whom are in poverty despite parents working." But for those like Willoughby, who could presumably afford not to work? They're still not obliged to stay at home.
Still determined to judge Willoughby for taking the I'm A Celeb job as a working mother? Ask yourself why you aren't asking similar questions of Dec, or of the show's many celebrity parents. Ask yourself why you're so outraged that a woman might have been away from her children for three whole weeks (which she won't be, because they're coming with her). Ask yourself why you couldn't possibly fathom that someone else — like, say, the co-creator of the children — could take care of them. And if the judgement still persists? Slot it in the imaginary folder in your mind labelled "incorrect things I may quietly think but must not say out loud." And then, set that folder on fire.