Don't Get Your Hopes Up For 'Hollywood & Football'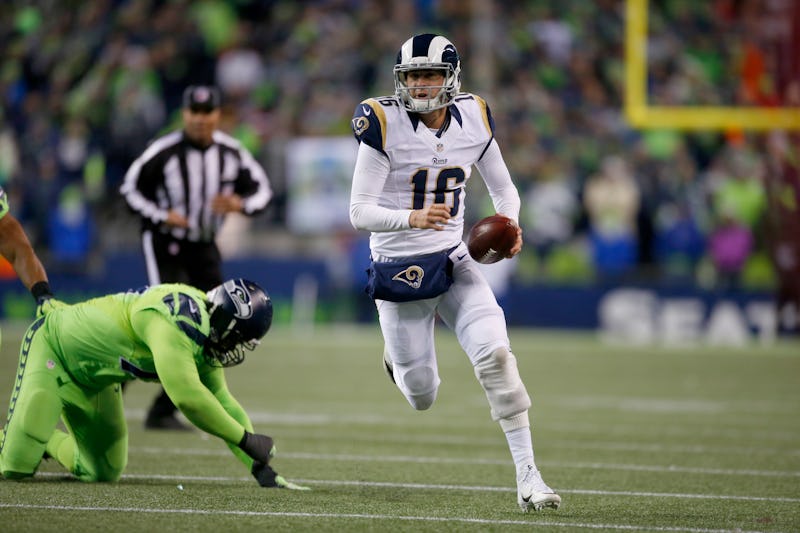 Otto Greule Jr/Getty Images Sport/Getty Images
Hey, sports fans. You don't often get a shoutout when talking about television, but now is your time as viewers begin to wonder if Hollywood & Football will return for Season 2. Let's get the bad news out of the way first: the debut season of the series was remarkably underwhelming when it came to ratings. As it turns out, the hybrid sports and reality series didn't quite hit with audiences.
At least, it didn't hit as hard as, say, the Keeping Up with the Kardashians spinoff Rob & Chyna, which had 2.2 million viewers of its premiere episode. The couple's dysfunctional relationship may have been uncomfortable to watch, but was also incredibly addictive. To contrast, Hollywood & Football's premiere only brought in 0.12 million viewers.
But I'd be more likely to instruct you not to worry if not for other, worse news about the LA Rams. You see, the team is new to Los Angeles, and until a deal sent them there in 2016, they were based in St. Louis. That meant that this season was filled with messy restructuring as the team attempted to adjust from the move and, while they tried their best in a city that's been begging for a football team, they just didn't quite manage to put together a successful season (the Rams' record is four wins and ten losses). E! could decide to bring the show focusing on the players' lives back, but it doesn't seem too likely.
But there are actually a few other series that could take Hollywood & Football's place in your rotation of TV shows about sports. Seriously, from pay cable comedies to other reality shows, sports and TV are more united than ever.
Ballers
It's not your typical HBO series, but works well as the sweet dessert that follows your marathon of Westworld Season 1. Take one The Rock, add a bunch of shots of beautiful Miami, mix in a dash of Entourage, and you have a Ballers soufflé.
30 for 30
This documentary series is an ESPN mainstay, but their production OJ: Made in America, was one of the best things on TV in 2016. And 2017 will bring more 30 for 30 films, including examinations of the XFL, wrestler Ric Flair, and the Celtics-Lakers rivalry.
The Challenge
You want to see some serious athletic abilities, then watch these former Real World and Road Rules stars run, jump, climb, and torture themselves to a potential prize of $100,000. It's between seasons right now, but this series has as many death-defying stunts as it does ill-conceived hookups.
WAGS & WAGS Miami
The "wives and girlfriends" of the athletes get the spotlight in this E! series, which documents the often competitive hierarchy that exists among some of the highlighted women. The original series is based in Los Angeles (so some Rams players could be in Season 3), and the spinoff is in Miami.
Friday Night Lights
If I had to recommend catching up on any older sports-themed TV show, it's definitely FNL (which is currently available on Netflix). This show uses football as the way into the lives of a small Texas town where sports both bind and stifle the population. You will fall in love with the Taylors, pine over Tim Riggins, and be baffled by the murder storyline in Season 2.
Hard Knocks
This docuseries covers one NFL team per season as they try to whip themselves into shape during training camp. And you won't believe what team was just featured in the eleventh season of the show: the LA Rams! If you're missing Hollywood & Football, then this should be the perfect series to watch while waiting to find out if there will be another season.