Texting While Crossing The Street In Honolulu Could Earn You A Fine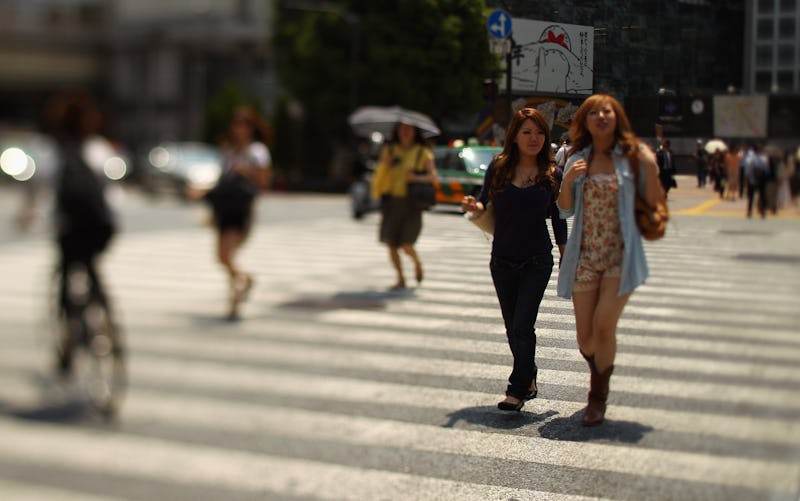 Mark Kolbe/Getty Images News/Getty Images
You're supposed to look both ways when crossing the street, but nowadays pedestrians have the additional distraction of cell phones alerting them to Snapchat replies, Instagram comments, and Facebook messages, among other notifications. People will have to tear their eyes away from their screens in one Hawaiian city, however: it will become illegal in Honolulu to cross the street while texting or looking at electronic devices. Mayor Kirk Caldwell signed the bill into law on Thursday and it will go into effect on Oct. 25, giving law enforcement time to explain the new situation.
Electronics that fall under the ban include cell phones, laptops, video game devices, and cameras. The city passed the law in an effort to reduce accidents from careless pedestrians whose eyes are glued to what's in their hands and not what's on the road. "Sometimes I wish there were laws we did not have to pass, that perhaps common sense would prevail, but sometimes we lack common sense," Caldwell said at a bill-signing ceremony that was held at one of Honolulu's busiest intersections.
Police who catch someone looking at their device will be fined $15 to $35 for the first offense, $35 to $75 for the second, and $75 to $99 for the third. People are still allowed to talk on the phone while crossing the street, or look at their phones on the sidewalk. Exceptions will also be made for two scenarios: people contacting 911 and on-duty emergency responders viewing their electronic devices if the situation requires it.
The Governors Safety Highway Association projected that the number of people killed on foot on U.S. highways jumped 11 percent from 2015 to 2016. After speeding and the failure to yield, distractions are the number three cause of pedestrian fatalities, particularly by electronic devices, said Melody Geraci, deputy executive director of the Active Transportation Alliance, to NPR. Honolulu holds the distinction of being a major city with more pedestrians hit in crosswalks than almost any other city in the country, Caldwell told reporters at the bill-signing ceremony. Senior citizens are especially vulnerable, he added. Opponents of the law argue that the legislation is intrusive and amounts to government overreach.
Most states already have a law against texting while driving. In 2015 alone, nearly half a million people in the United States died or suffered injury because of distracted drivers.
While Honolulu is the first major city in the United States to pass legislation addressing people texting while walking, some cities in Europe have found other solutions. For example, Augsburg in southern Germany installed traffic lights on the ground after a 15-year-old girl was killed by a tram. She had walked onto the tracks with headphones in while looking at her smartphone. The traffic lights flash red when it is unsafe to cross. Bodegraven, a Dutch town, embedded strips of LED lights near three schools, but critics say this further discourages people from observing their surroundings.
Should Honolulu see a reduction in injuries and deaths caused by distracted pedestrians, other major U.S. cities might follow with their own laws.