Hope Hicks Lies For Trump — Here's What That Testimony Could Mean For Her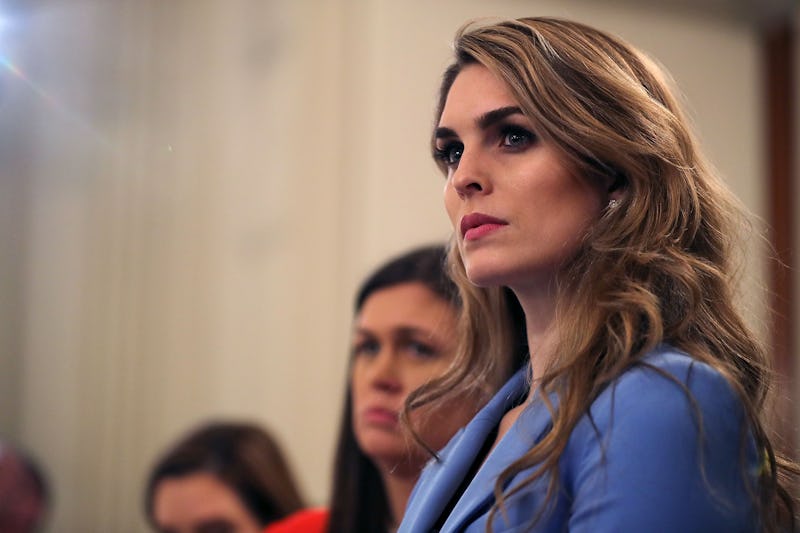 Chip Somodevilla/Getty Images News/Getty Images
On Tuesday, White House Communications Director Hope Hicks testified before the House Intelligence Committee as part of a long-running investigation into Russian interference in the 2016 election. Hicks had previously testified for the parallel committee in the Senate and for Robert Mueller, but this latest session was remarkable for several reasons, including an admission that she has occasionally told lies for the administration. Her lawyers declined to comment to The New York Times.
Trump is notorious for firing — or otherwise forcing out — his advisers and officials. Yet Hicks has managed to remain by his side throughout his presidency and was also his aide for years before the inauguration. This constancy caused GQ to label her the most powerful person in D.C. — besides Trump — earlier this month.
Hicks was appointed as the White House communications director in September 2017, after serving as an interim replacement for Anthony Scaramucci when he was abrpty fired from the position on July 31. Prior to that, she had been given a newly constructed title in the government, "White House director of strategic communications." During the 2016 presidential campaign, she acted as Trump's press secretary and took on so much responsibility that Forbes called her a "one-woman press team."
That campaign was the focus of her testimony before the House Intelligence Committee on Tuesday. While there is no public transcript of the session, comments from Rep. Adam Schiff, a Democratic leader of the committee, and other sources have illuminated some of what went on. Here's what you need to know about what Hicks reportedly said during the nearly nine-hour session.
White Lies
Hicks told the committee that she has sometimes told white lies for the Trump administration, according to The New York Times. Reports don't indicate whether she specified which of her comments have been lies or whether she gave an estimate for how many lies she's told.
However, she did say — after taking a break from the testimony to speak with her lawyers — that she had never lied about anything related to Russian meddling in the election or any connections between Russians and Trump administration officials. When asked whether other administration officials or members of the campaign had lied about these topics, Hicks did not comment.
A source told CNN that Hicks said she has never lied about "substantive issues."
What She's Not Saying
Hicks declined to answer most questions about the presidential transition and any about her tenure in the White House. Although the investigation focuses on the election, her refusal is still significant. Her power within the administration has involved her in many events that are of interest to investigators.
She seems to have consulted Trump in the events leading to his firing of James Comey, for example, and in early 2017, the FBI reportedly gave Hicks a "defensive briefing" relating to Russia's interference in the 2016 election. The investigative organization told Hicks that emails she had received from Russians during the election season may have been part of an intelligence operation.
Hicks also helped write the administration's July 2017 statement about a 2016 meeting between Russians and members of the Trump campaign, and she did tell the committee — after consulting with her lawyers — that she hadn't learned about the meeting until June 2017. She declined to answer questions about the drafting of the statement.
The fact that Hicks refused to answer any questions about her time in the White House and some questions about the presidential transition raised eyebrows for many.
Next Steps
In describing Hicks' testimony, Rep. Denny Heck (D-Wash.) said that the committee "got Bannoned." When Steve Bannon similarly refused to answer questions about the presidential transition or Trump's time in the White House, the House Intelligence Committee issued a subpoena to force him to testify within a broader scope.
Bannon has so far refused to comply with the order, and both intelligence committees are considering holding him in contempt of Congress, which would allow them to seek a federal judicial order forcing him to testify. If he refused that order, he would be arrested. The New York Times reports that the committees do not seem to be considering a subpoena for Hicks at this time.
If Schiff had his way, the committee would issue a subpoena for Hicks right away. He said that Hicks' decision to avoid non-campaign questions — seemingly on the basis of executive privilege, though she did not formally invoke it — was "a breathtakingly broad claim of privilege that I don't think any court would sustain, and I think the White House knows that," adding, "This is not executive privilege, it is executive stonewalling." Schiff also said that if the committees are willing to subpoena Bannon, they should hold everyone to the same standard.
Hicks' testimony seems to have left most of the committee's key questions unanswered. Her admission of lying is notable, but also unsurprising given the Trump administration's history of spreading falsehoods. A dispute is now heating up within the committee about whether Hicks is legally able to avoid their inquiries. Unless it ends in a subpoena, the Democratic members may be unable to get answers to their most important questions.