Hot Cheetos Hair Is Now A Thing & It Will Make You Super Hungry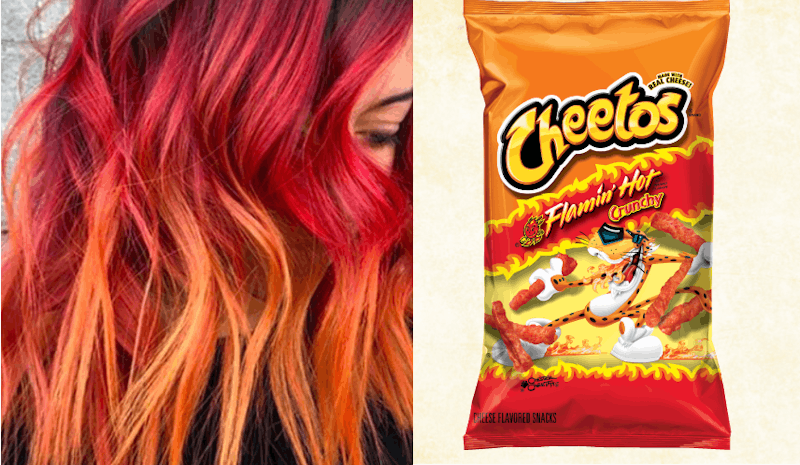 @_heyhelena/ Instagram; Frito Lay
If you are passionate about Flaming Hot Cheetos — where you pick up a bag with your artisanal sandwich every lunch, throw them into your shopping cart every grocery day, beeline for them at Seven Eleven after a couple of drinks — then you are going to love this new hair color. Flaming Hot Cheetos hair is now a thing, and it's going to make you hungry for the mouth-searing snack.
Allure originally spotted the color on Instagram, where a LA-based hairstylist Helena Palacios first posted her spicy ombre creation. A quick scroll through Palacios' grid shows she's no stranger to creating vivid hair colors that pop, and color melt shades that are bound to turn heads. Just a glimpse shows rows of minty-green mermaid hair, fiery orange locks, pigmented rose gold bobs, and pretty lilac shags. As for the color melts, she has dark blue and teal concoctions, fiery orange and yellow sunset ombres, and lilac purple crowns fading into grey-blue tips. It's every color lover's dream, and shows that her talent is working with out-of-the-box shades and expertly blending them to create color-melt looks. One would not be nervous about taking their naturally dark locks and getting a hot pink upgrade when sitting in her chair.
Which is why this new Cheetos blend seems very on-brand. And as it turns out, she created it because she herself is a fan of the snack.
"The inspiration came from my love for Hot Cheetos. They will always be my guilty pleasure," Palacios tells Allure.
The one downside to rocking such intense hair color is that roots begin to show almost immediately, and they stand out starkly. Anticipating that, Palacios intentionally left the roots dark so the grow-out stage could look like a part of the look, and not like the person hasn't had time to book a salon appointment for a touch-up.
"I like to leave a dark root to create contrast and easier grow out and start with the darkest color on top which was red-orange, followed by orange and the ends with yellow," she tells Allure.
If you take a peek at the photo above, you can see that the client is rocking about two inches of her naturally dark roots before the color begins to melt into a dark red and then a cheesy orange.
As expected, her followers were obsessed with the look, both because the strong colors were beautiful, and the inspiration behind it was hilarious and relatable. Who doesn't love Cheetos?
While this new chip-inspired look is new, seeing eccentric hair color trends rise from Instagram isn't. It seems like there's a creative new take on color every week — "ghosted" hair was all the rage last month, where one stylist created a celestial-like silver color on his client's head, and hid highlights underneath the first layer of hair, making the babylights pop out like "ghosts" to give the look dimension. Then there's the "fruit juice color" trend that's gaining steam, which colors your hair the saturated and sweet colors of — you guessed it — juice. And let's not forget the artist that made a "thunder and lightening" dye job, coloring her client's hair a stormy gunmetal grey, and added bright yellow lightening streaks to the top of the crown.
While these aren't your typical looks that you would ask for when making an appointment, they become so popular on Instagram because it's fun to see people taking risks and stepping out of the box.
Even if you yourself don't want to rock yellow streaks, it's inspiring to see someone else be open-minded enough to try it. Here's to seeing what comes next.