What You Need To Know About The Bipartisan $15 Billion Hurricane Relief Package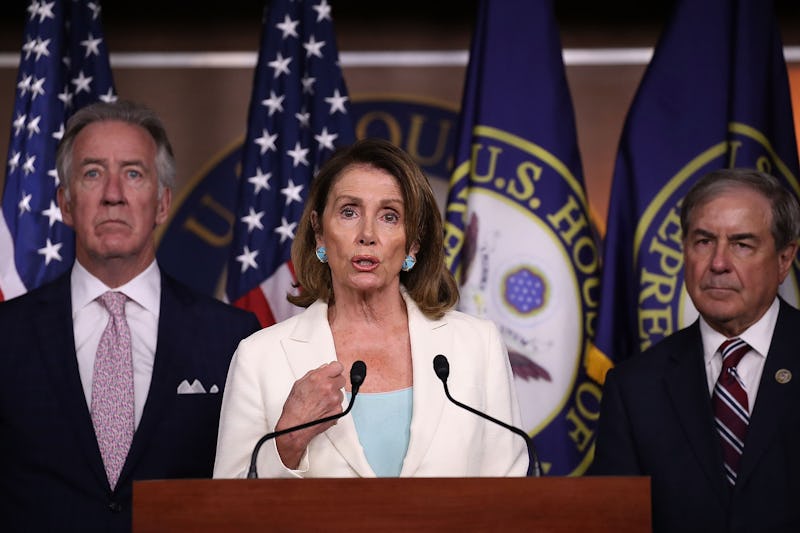 Joe Raedle/Getty Images News/Getty Images
On Friday afternoon, the House of Representatives passed a $15 billion hurricane relief package and, in the same bill, raised the debt ceiling and funded the government through December. The omnibus bill passed 316-90, with all Democrats and most Republicans voting for it, and President Trump signed it into law late Friday.
The aid package authorizes an additional $15 billion in funds to provide relief for areas affected by Hurricane Harvey, which ravaged Texas in late August, and Hurricane Irma, which tore through the Caribbean earlier in the week and was en route to Florida as Trump signed the bill. Around $7.4 billion of the money will go directly to Hurricane Harvey relief, while another $7.4 billion will be dispersed to local block grants addressing all disasters for the rest of the year. An additional $450 million will be allocated to help small businesses affected by the hurricanes get back on their feet.
The hurricane relief portion of the bill was relatively non-controversial. The same can't be said for the debt ceiling increase and government funding mechanisms.
Trump stunned Democrats and Republicans alike on Wednesday when he came out in favor of the three-month government funding and debt ceiling increase. Republican leadership, including Speaker of the House Paul Ryan and Senate Majority Leader Mitch McConnell, had strongly supported raising the debt ceiling and funding the government for the next 18 months, as this would ensure that Congress wouldn't have to deal with either issue again until 2019.
Democrats, however, proposed a mere three-month extension. Raising the debt ceiling and funding the government almost always requires Democratic votes, as a handful of conservative Republicans reliably vote against any increase or funding measures. Extending both by only three months, therefore, would give Congressional Democrats significant leverage over Republicans as soon as December, as that's when Congress would be forced to address both issues again.
Unsurprisingly, Republicans vehemently opposed the Democratic proposal, with Ryan calling it "ridiculous and disgraceful" on Wednesday. However, Trump announced just hours later that he supported the Democrats' plan, infuriating GOP lawmakers.
"[Sen. Minority Leader] Chuck Schumer and [House Minority Leader] Nancy Pelosi now have most of the cards for when we get to December," Sen. Ben Sasse, R-Neb., lamented on Thursday in a Senate floor speech. "This is an embarrassing moment for a Republican-controlled Congress and a Republican administration."
"I haven't seen anything like it before," Sen. John McCain said of Trump's decision to Democrats' opening bid and not even attempt to negotiate a counteroffer. "I have no way of divining his motives. I'm a pretty intelligent guy. I don't understand."
Democrats, meanwhile, were bewildered but delighted by Trump's move.
"I was surprised, pleasantly surprised," Schumer told USA TODAY. "You could see, as the president was listening to the arguments, I think he had not made up his mind what to do when the meeting started."
As an added bonus for Democrats, Trump agreed, at Pelosi's request, not to deport any DREAMers for at least six months, giving Congress time to work on a legislative fix.
"I was telling my colleagues, 'This is what I asked the president to do,' and boom boom boom, the tweet appeared," Pelosi said at a press conference Thursday.
Although Trump's decision to side with the opposition party flew in the face of conventional political wisdom, it wasn't entirely unforeseeable. In March, after Congressional Republicans failed in one of their many attempts to repeal the Affordable Care Act, an angry Trump threatened to work across party lines instead. In July, when another Obamacare repeal effort failed, Trump lashed out at Congressional Republicans — and he did so again on Friday, after striking a deal with Democrats.
"Republicans, sorry, but I've been hearing about Repeal & Replace for 7 years, didn't happen!," Trump wrote in a tweet.