Houston Mosques Are Still Welcoming Harvey Victims On One Of Islam's Holiest Days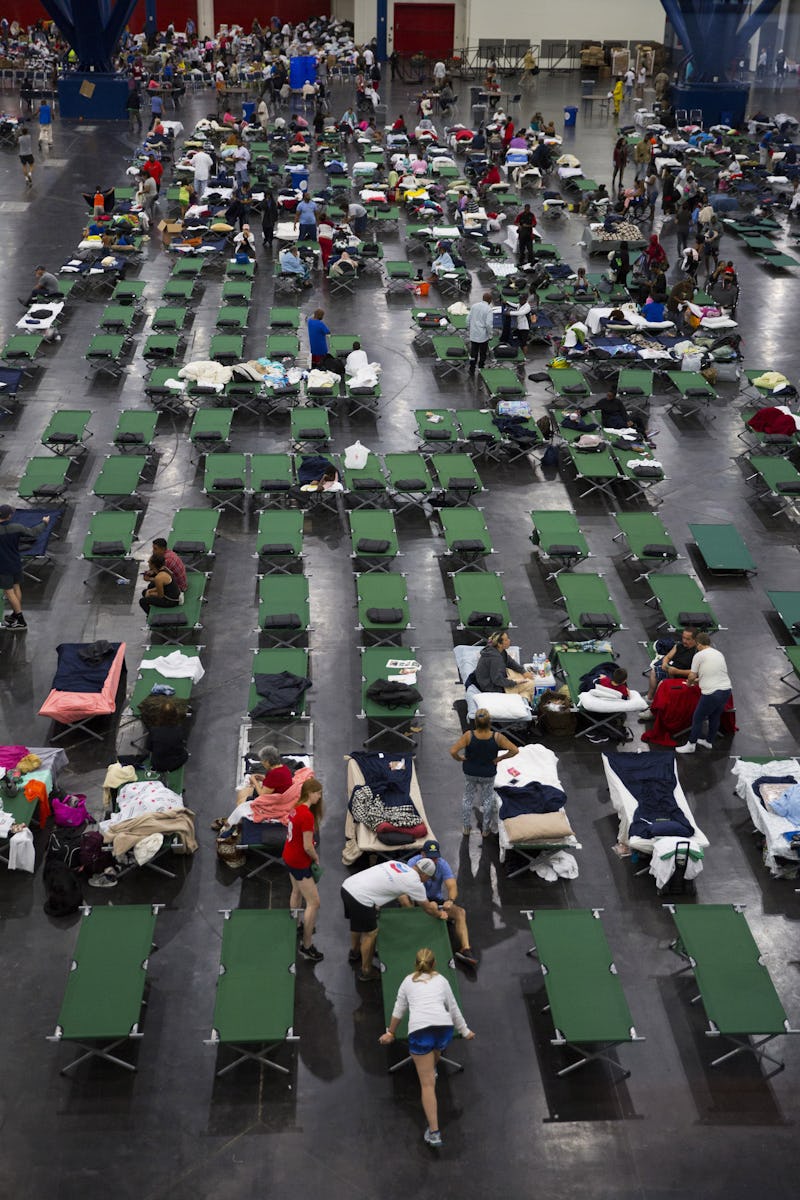 Erich Schlegel/Getty Images News/Getty Images
Friday is Eid al-Adha, one of the holiest festivals in Islam. Millions of Muslims across the globe are commemorating the day with prayer, though for the Muslim community in Houston, it can't be an easy Eid given Hurricane Harvey's toll. Still, Houston mosques are keeping their doors open to Harvey victims even through the most important day on their calendar.
There are over 200,000 Muslims in the greater Houston area, with numerous mosques and religious schools throughout the city. One of those mosques, Masjid Al Salam Champions Islamic Center in Willowbrook, is housing 15 victims of the storm in its gymnasium. And even as thousands of worshippers come to the mosque on Friday for Eid prayers, the leaders of the mosque say they're committed to treating those seeking refuge as the most important people there.
"They are the No. 1 priority. They will not be disturbed, they will not be displaced, they will not be moved," M.J. Khan, the president of the Islamic Society of Greater Houston, told the Associated Press. ISGH runs the Champions Islamic Center as well as an additional 18 other mosques and centers throughout the Houston area. According to Khan, the mosque is more focused on making sure that the people fleeing the storm have a place to stay than providing room for Eid prayers. "If they have to pray in the parking lot, they'll pray in the parking lot."
In addition to housing evacuees, some worshippers at the mosque are reportedly planning to follow Eid prayers by spending time volunteering and helping out in Harvey relief efforts.
Many Muslims are among those displaced by the storm, and like other residents in Texas who were affected, they were forced into shelters, unable to stay in their homes or reach mosques that were taking people in. The George R. Brown Convention Center, which is housing thousands who were displaced by the storm, was the site of Eid prayers on Friday for many of the Muslims staying there who could not make it to the mosques they might normally visit.
"The ultimate goal of holding and practicing all of these rituals ... is to help others," Imam Hassan Qazwini, a Muslim leader from Detroit, told CBS News in reference to the relief efforts among the Muslim community in Houston. "I believe opening your door on the day of Eid for refugees and people in need is a form of worship itself."