These 15 Young People Are Celebrating Black History Month In Creative & Inspiring Ways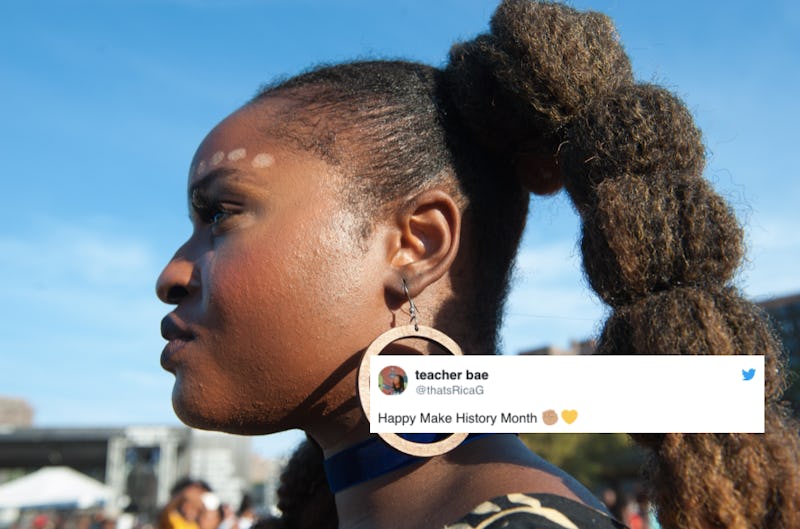 Stephanie Keith/Getty Images News/Getty Images
It's the first day of Black History Month, and Black Twitter is already having a great time sharing .gifs, memes, and hot takes about the blackest month of the year. There are so many ways to celebrate Black History Month, and as I scrolled down my TL, I began to wonder how other Black millennials were celebrating the month-long holiday.
It may sound cliché, but I truly celebrate Black History Month year-round. I do this by reading Black authors' books, sharing my knowledge with others, and volunteering for organizations that benefit Black people and communities, but there's always more that can be done — and Black History Month is a great time to do it. Lanice Williams, a public and global health advocate, tells Bustle she celebrates by "remembering the contributions that Blacks have made in shaping the world we live in today."
Nia Decaille, an audience producer for The Washington Post, tells Bustle, "Black millennials are reclaiming what it means to celebrate Black History Month. We were taught that our history is only relevant during this one month and that we should view it a certain way. I think we are transcending those very limited and oppressive ideas. Black history isn't finite and is happening all the time. It should be celebrated all year long, and our pride will continue to change that."
Decaille's sentiments are definitely echoed by the other folks I spoke with. Ahead, see how 15 millennials are celebrating Black History Month in February — and every other month of the year, too.