How 3 Facialists Heal Post-Party Skin
by Katie Becker, Coveteur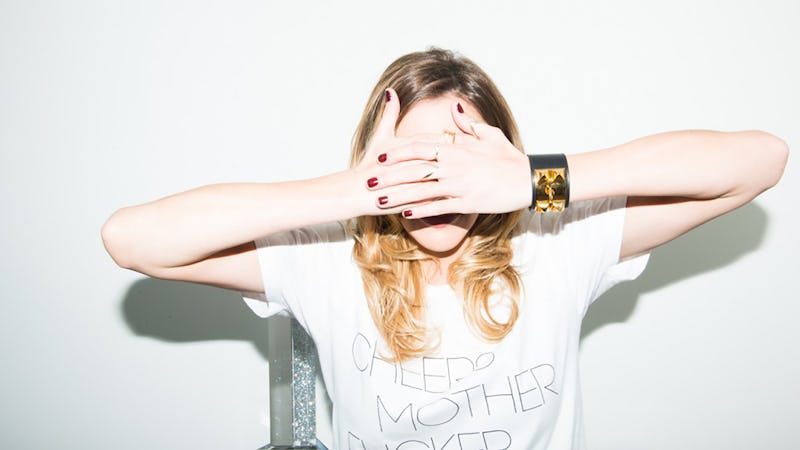 Coveteur
Bustle and Coveteur are working together to bring you the best mix of the season's hottest releases, shopping tips, and gifting ideas in ways that are both inspirational, and attainable. Check The Holiday Edit channel weekly to see what we're up to.
But you felt so good last night! Who is this puffy hangdog in the mirror this morning? Why did that last glass of red wine seem remotely appropriate after drinking only white wine earlier in the night? You know the rule! Well, while you wait for that Excedrin to kick in, we have something for you to do to help you look rested and pure once more. We asked the best facialists we know to hook us up with some express tips to cure hangover face.
"The focus to cure what is known as hangover face is to calm any inflammation and puffiness, and hydrate the skin," says Upper East Side facialist Georgia Louise, whose clients include the perfectly-complected talents like Emma Stone, Jennifer Lawrence, and Alexander Wang. All our experts agree that increasing your circulation is the first line of business, as well as paying extra close attention to your diet. They also find that food works on your face as well. Below, post-party fixes from the pros.
Go Hot and Cold
Fluctuation between hot and cold temperatures gets your circulation going, which helps your skin de-puff and regain its healthy color, explains San Francisco-based holistic facialist Kristina Holey.
"Put some spoons in the freezer," suggests Louise. "Massage them over your face, place on the eyes and under-eye area." It's especially effective when used over a hydrating gel face mask or sheet mask, she says, and feels good if you have a headache.
Facialist Renée Rouleau, who is based in Austin, TX, has a whole face-dunking routine. "Fill your bathroom sink with cold water and add in 15 ice cubes and 1/3 of a cup of natural witch hazel," she says. "Dunk your face—yes, dunk, don't just splash—in and out ten times. Cold temperatures shrink capillaries and stimulate drainage while witch hazel has natural anti-inflammatory, puffiness-reducing properties."
Raid Your Kitchen
Similar to Rouleau's witch hazel tip, Louise recommends using apple cider as a toner to help calm any inflammation. You can also hit the dairy. "Do a full fat yogurt mask because it contains lactic acid, which is brightening and hydrating," says Holey. Vargas suggests mixing honey in with yogurt to add more hydration. And Louise mixes sour cream with honey and fresh squeezed lemon to "hydrate, sooth, and calm the skin." Leave your DIY mask on for about 20 minutes.
Massage Your Skin
While we've been told that true lymphatic drainage massage is super delicate and requires a trained expert hand, a nice gentle massage with an oil or oil cleanser (we love Marie Veronique x Kristina Holey Pure + E.O. Free Oil Cleanser) will stimulate circulation and help skin recover. "Using all four of your fingers, delicately massage the area along the sides of your nose and underneath the eyes in a circular motion," suggests Vargas. "Then, move to where the corner of your eye and the cheekbone meet, using the same light massage motion with your fingertips. Next, move down and in front of your ears, still massaging in a circular motion. This will help drain the fluid across the cheekbones relieving pressure and puffiness."
Eat Like You've Got the Flu
Nursing a hangover with indulgent foods like burgers or sugary carbs actually works against you. "Drinking is hard on the organs," explains Holey. "You're dehydrated and water process is sluggish, that's what happens from dehydration and the inflammation. The puffiness is the response to stress." Feeding your body things that are difficult to ingest or contain even more toxins, will just keep you looking rougher longer. "Drink warm water with lemon, eat warm cooked vegetables, eat foods like salmon and eggs for protein," suggests Holey.
"Drink a green juice instead of coffee," says Vargas. "It instantly hydrates the skin from the inside out and gets your system back on track."
Want more articles like this? Head to Coveteur.com.