How Women's Health Groups Are Gearing Up For Price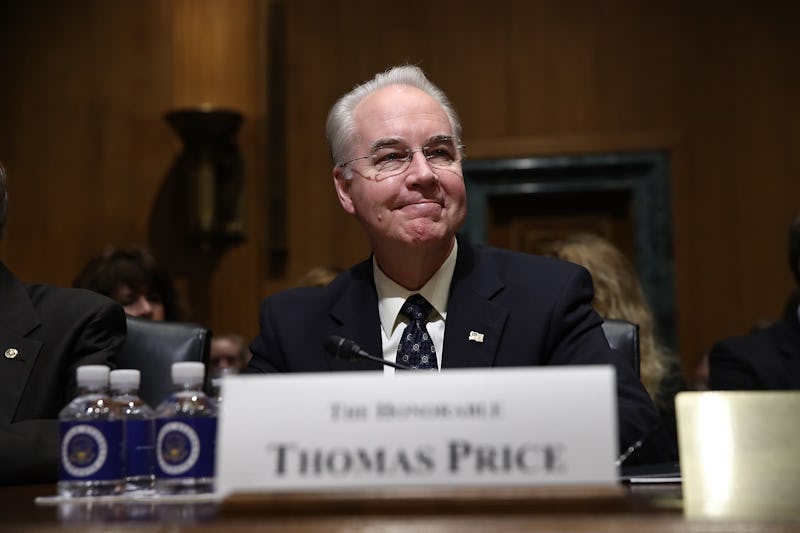 Win McNamee/Getty Images News/Getty Images
Last week, the Senate confirmed Tom Price as secretary of Health and Human Services (HHS). The nomination battle may have gotten less attention than some of the other new Cabinet members, like Secretary of Education Betsy DeVos and Attorney General Jeff Sessions, but Price's confirmation nonetheless represents a significant departure from the previous administration's policies. Price is an avowed opponent of Obamacare, formally known as the Affordable Care Act, and is expected to lead efforts to repeal the health care program. Price is also a staunch opponent of abortion access and protections, and his confirmation signals that American women may be on the cusp of some very serious problems accessing reproductive health care.
In fact, Price may be best-known for making headlines in 2012 when he told ThinkProgress that all women are easily able to afford the cost of birth control without insurance. "Bring me one woman who has been left behind. Bring me one. There's not one," he said. This, obviously, is not the case. Many, many American women struggled to pay for birth control before the passage of the Affordable Care Act (and some still struggle to do so today), and after Price's comments, they shared their stories on Twitter and elsewhere using #PriceIsWrong.
The country's biggest reproductive rights groups recognize the scope of the challenges posed by Price's confirmation, but they are determined not to give up reproductive rights without a major fight.
In addition to his opposition to the Affordable Care Act, Price has consistently been a staunch opponent of other key components of women's health care and rights, according to Amy Friedrich-Karnik, Senior Federal Policy Advisor at the Center for Reproductive Rights (CRR). She tells Bustle that Price "routinely voted in favor of bills that would restrict abortion access, defund Planned Parenthood, and allow employers to prevent access to birth control and more."
Friedrich-Karnik added that "Price has targeted low-income women and families by seeking to cut funding for Medicaid and to eviscerate the program through the use of block grants and per capita caps." This is especially devastating because "Millions of women rely on Medicaid for care throughout their lives – from reproductive and maternal health services to nursing home care."
The future of health care for low-income women looks grim, but Friedrich-Karnik tells Bustle that CRR is "prepared to fight." Part of that will focusing on "challeng[ing] unconstitutional restrictions on reproductive health care" and "hold[ing] our elected officials accountable to ensuring everyone's constitutional rights and access to health care."
And there's certainly reason to have hope that activists will be able to fight back against Price and the potential damage he could cause for women's reproductive care and general health access. If the recent success of the Women's March on Washington is any indication, American women are more politically active than ever before.
Protests work, says Erica Sackin, Director of Political Communications for the Planned Parenthood Action Fund. "Remember that the original deadline for repealing the Affordable Care Act was Jan. 27. That deadline has come and gone with no action, largely because of the mass outrage we're seeing across the country," Sackin tells Bustle.
It's also easy to find other ways to get involved. "Never underestimate how important or powerful it is to make your voice heard," Sackin says. The Planned Parenthood Action Fund has a suggested list of five ways you can help this month, for example, and it's perennially important to call your representatives about women's health, including the preservation of Affordable Care Act and funding for Planned Parenthood.
Lastly, although the national conversation about women's reproductive rights is critical, so too is the local battle to protect access to health care.
Andrea Miller, president of the National Institute for Reproductive Health (NIRH), tells Bustle that NIRH is "working with partners in two dozen states ... to protect access to reproductive health care, engage supporters, and promote proactive legislation that advances reproductive rights and health, regardless of what happens in Washington."
Ultimately, the battle to preserve access to comprehensive women's health care looks more challenging than it has in years. However, with the help of a concerned, activist public, it's one that advocates for women's health are still confident they can win.