How '90s Boy Bands Almost Kept Vance Joy From Making Music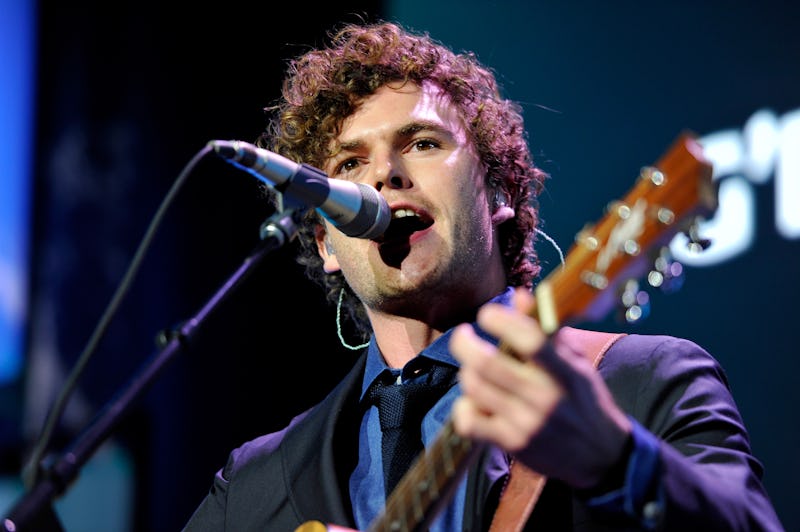 John Sciulli/Getty Images Entertainment/Getty Images
Vance Joy introduces himself as "James" — his given name is James Keogh — and doesn't have any of the airs of a mega star in the making. He speaks quietly, doesn't know what to do with his hands when taking photos, and wants to be known for being kind above all else — which he is, almost disarmingly so. He considers each of my questions with equal weight, giving long-winded but thoughtful answers to everything from how he found his sound to what Taylor Swift song he would like to cover ("Gorgeous"). Keogh seems to overthink everything, which makes him an excellent songwriter — but also could have stopped "Vance Joy" from being a musician at all.
He recalls growing up in the '90s and thinking he didn't fit into what the music scene was. Keogh's songs, like the smash hit "Riptide" and his new single "Lay It On Me," are a far cry from the pop dance tunes of the Backstreet Boys and *NSYNC — and that lack of variety in male singing styles made him doubt his own talent. "You have this idea of what a 'good' voice is," he remembers. "If you have a unique sounding voice, you don't really even feel like it's anything special. For a while, I was just like, 'I'm not really a singer.'"
Keogh doesn't sound like a Justin Timberlake or Nick Carter, but fortunately those close to him didn't let that discourage him. "I think it's good if you have a bit of encouragement from the people around you who can tell you, 'Oh, it sounds cool. It may not sound like anyone else but that's good.'"
Keogh broke out in 2013 with "Riptide," propelling him to heights only dreamed of by many debut musicians — especially those trying to make a name for themselves in America while not actually being from the United States. Keogh grew up in Australia, and didn't always focus his energy on music. He says he gave drama a try, along with an Australian version of rugby, and went to college for law, according to Radio.com. Fortunately for his fans, somewhere in there he gave music a real effort, and eventually worked his way up to opening act for Taylor Swift's 1989 tour. But, though he paired well with the mega star's tour set, his own sound is a little more low key than Swift's.
Instead of delivering upbeat mass crowd appeal, Keogh's songs feel closer and more tangible. "My recordings are pretty intimate and acoustic," he acknowledges. "We try to have it so that the voice is really intimate and it's stripped down to its bare essentials."
That determined vulnerability is especially palpable with his single "Lay It On Me." Everything from the sound to the music video to the lyrics is a study in intimacy.
"Your love's always finding me out
Who am I kidding?
If all my defenses come down, oh baby
Will you lay it all on me now?"
Keogh says he didn't have much of a hand in constructing the narrative of the video (that was all director Mimi Cave), but that it was eye-opening to see his words interpreted into movement. "There was a storyline that she felt, this romance where maybe the guy's a bit vulnerable and maybe unsure of where he stands," Keogh says. "There's kind of a playfulness and distance." But, even in that distance, Keogh looks the viewer in the eye as he sings and — just like that — the audience is essentially drawn in through a window and becomes part of the music. That intimacy is never lost.
Keogh started singing covers as a kid, but now pens his own tunes. "I feel like if I'm playing or just riffing a song, I start singing a couple of lines and that will kind of uncover what the song's about," he says of his process. "Then I just look at the lyrics and I think, 'What is the title for this song?'" For Keogh, titles are a way to determine if the song is worth committing to. "If there's no clear title to this song, well then is there any memorable part of this song? That's a good litmus test," he says.
Titles mean even more to Keogh since he had to decide on a stage name to brand his sound with. He says he settled on Vance Joy after reading Bliss by Australian author Peter Carey. "I just picked up the book because I was curious," he says, "There was a character named Vance Joy and I thought it was a cool name." As Keogh said in an interview with Triple J, the character's name also stuck out to him because, in Bliss, Vance Joy is the storyteller — something that Keogh does himself through his songs. "The 'g-h' [in my name] is silent, so it's a hard one to pronounce," Keogh says of why he picked a new name in the first place. "I thought, 'This one is easier. More memorable.'"
Vance Joy certainly is a statement stage name, but Keogh is memorable all on his own because of his original sound and thoughtful lyrics. Good thing the '90s boy bands didn't destroy his hopes of being a musician after all. Not that there's anything wrong with the Backstreet Boys, Keogh is quick to note. But, it just goes to show how important individuality is in music. We don't ever want to lose a young singer's voice simply because he thinks he doesn't fit what he believes people want.