How 'A Wrinkle In Time' & 'Black Panther' Could Change Everything For Black Girls In STEM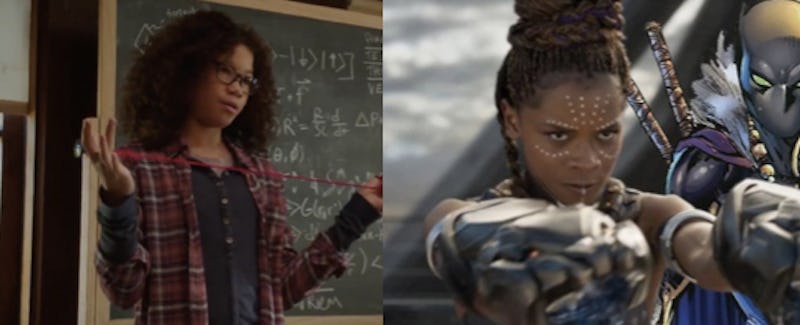 Walt Disney Studios
By now, many people are familiar with the idea that institutional racism can negatively affect students of color, and that institutional sexism often impacts female students. Black girls at the intersection of these oppressions are, thus, doubly affected, and combined with a dearth of black teachers to inspire and uplift black students, racialized sexism has created an environment where black girls are undervalued, pushed out, and abysmally underrepresented in STEM fields. But can movies like Ava Duvernay's "love letter" to black girls, A Wrinkle in Time, which depicts a black, female teen scientist as its lead character, change this?
It's certainly a step in the right direction. In A Wrinkle in Time, Meg (Storm Reid) is a smart, combative, misunderstood outcast. Using a combination of her determination and intellect, Meg manages to (spoiler alert) survive the conformist world Camazotz and defeat the evil IT, the force that kidnapped her father and threatens the universe. Her love of science and math is what helps her succeed, and her talents are recognized by those around her. For black girls growing up in a school system that discriminates against them as early as pre-kindergarten, a character like Meg might be world-changing. I know it could've been for me.
When I moved into a different school district as a child, the administrators put me into basic level math and science classes, despite knowing that I was in advanced classes the year prior. My younger sister, a whiz kid, was told by the same administration she was under suspicion of cheating for her good grades. My mother, meanwhile, told us a similar story, of how a teacher accused her of plagiarism when she was a child. Clearly, for black women and girls succeeding in school, this unfair treatment is all too common.
And the reality of it has been shown on-screen before. The 2016 movie Hidden Figures, for instance, depicted the stories of three real life black STEM heroes, Katherine Johnson, Dorothy Vaughn, and Mary Jackson, who dealt with institutional racism and sexism in their NASA work environment. Despite being immensely smart and skilled, the women were constantly under-appreciated by their peers, and had to fight to earn equal treatment and respect for their work.
In February's Black Panther, meanwhile, the black teenager Shuri is the smartest person in the Marvel Cinematic Universe (another black girl, Luna Lafayette, is the smartest in all of Marvel Proper) — and, thankfully, is accepted by her fictional compatriots. The mischievous princess is head of science and technology in Wakanda; in the course of the movie, she re-engineers T'Challa's Black Panther super suit, heals a man shot in the spine, un-brainwashes another, re-designs Wakanda's transportation system from their hovering subway system to remotely driven cars, and designs her own super suit with cat-mouthed arm cannons.
Like Meg, Shuri — along with the women of Hidden Figures — can inspire current and future generations of black girls to strap on their jetpacks and shoot for the stars, too. And they wouldn't be the first to do so. Star Trek original series actor Nichelle Nichols inspired Dr. Mae Jemison to become the first black, female astronaut. Dr. Jemison, in turn, inspired Dr. Ruthie Lyle-Cannon, the first African American woman to earn a doctorate in electrical engineering from New York University. Representation matters, and the depictions of black female scientists on-screen has a clear impact on real women and girls watching in the audience.
Of course, positive representation alone will not erase discrimination, but it's a start. And black girls deserve every chance they can get. With Black Panther and Hidden Figures huge box office successes and A Wrinkle in Time likely on the way, millions of underserved school children are now getting to see people like themselves succeeding on screen. There's no limit to how big of an impact this can have; already, Disney has made a one million dollar donation to the Boys & Girls Clubs of America's Science, Technology, Engineering and Math programs, which will help establish a STEM center in Oakland, California. Thanks to movies like A Wrinkle in Time and Black Panther, countless young black scientists-in-training can see a world in which their talents and intelligence are taken seriously.