The Changes 'Bohemian Rhapsody' Made To Freddie Mercury's Life Story Are Impossible To Ignore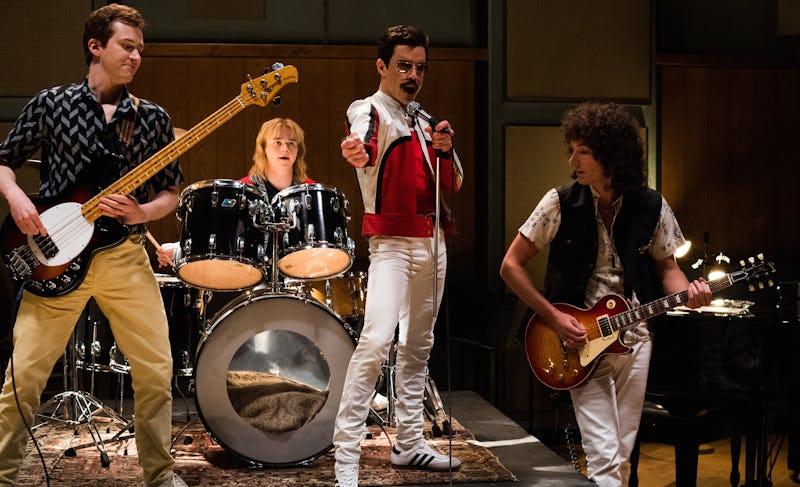 Alex Bailey/20th Century Fox
There were concerns about a Freddie Mercury biopic even before it was in production, and for good reason. Of course, with any band or celebrity, fans don't want to see a legacy misrepresented, but with Freddie Mercury there were other topics that were potentially tricky to navigate on screen: his sexuality and his HIV diagnosis, both of which he kept secret from the public. So, how accurate is Bohemian Rhapsody's portrayal of Freddie Mercury? The biggest difference has to do with the timeline, and the changes that were made there seem more and more disrespectful the more you think about them.
Framing Bohemian Rhapsody is Queen's iconic 1985 Live Aid performance at Wembley Stadium. The film starts with a flash-forward to Mercury heading out on stage, and ends with a nearly real-time recreation of Queen's Live Aid set. Since Live Aid is the band's best known performance, it makes sense to have a movie lead up to this. The problem in Bohemian Rhapsody's case is that the filmmakers (the movie was first directed by Bryan Singer, then Dexter Fletcher, and written by Anthony McCarten) also wanted to include Mercury's solo career and his AIDS diagnosis.
To do this, Mercury's diagnosis comes earlier than it did it real life; before Live Aid, when, in reality, Mercury was diagnosed with AIDS in 1987, according to what his partner Jim Hutton has said, as reported by Express. It's unclear when exactly Mercury tested positive for HIV. (The book Somebody to Love: The Life, Death, and Legacy of Freddie Mercury posits that he may have contracted the disease in 1982, but this is not confirmed.) But in the film, at least, Mercury tells his bandmates that he has AIDS, specifically, as they get ready to perform at Live Aid.
In addition, Bohemian Rhapsody shows the band having a breakup of sorts over Mercury going solo and Live Aid being their return to the stage. This wasn't the case, either. Queen had toured in the year leading up to Live Aid in support of their album The Works. Also, other members of the band had released solo albums all throughout Queen's existence. Queen members Brian May and Roger Taylor serve as producers on the film, which means they must have okayed the changes, but some odd choices were made and it makes you wonder what the filmmakers were thinking.
Of course, all of these changes color how the audience views the big Live Aid performance at the end of the film. On stage, and in front of over a billion people watching via live stream, Mercury is a man performing through pain, giving it one last shot before his death. (The movie makes this even more evident by showing Mercury coughing up blood into a napkin.) Earlier in the film, a record exec played by Mike Myers says that he doesn't get what "Bohemian Rhapsody" is about. When Mercury plays it at Live Aid, and sings, "I don't want to die/I sometimes wish I'd never been born at all," the movie makes it feel like we're now getting the true meaning from a man who himself is about to die.
In actuality, Queen went on to release an album and tour again the following year. Mercury died in November 1991 — four years after his AIDS diagnosis and six years after Live Aid — of AIDS-related bronchopneumonia, per The Guardian. This was just one day after he released a statement telling the public for the first time that he had the disease. Mercury was incredibly private, and while his bandmates knew of his diagnosis before this, they helped him keep things secret, according to the Queen documentary Days of Our Lives.
By moving Mercury's AIDS diagnosis up in the movie, yes, Bohemian Rhapsody gets to include that as part of Mercury's story and still end on Live Aid, but it also changes the truth of his life and alters his motivations, especially for anyone watching the film who doesn't already know the timeline — which, considering the way the singer coveted his privacy, is probably a lot.
In the film, after Mercury tells the band he has AIDS, Roger Taylor says, "You're a legend, Fred." It's true, he is. And he was with and without his diagnosis, which could have been an important point to make. But instead, with not much time left in the movie, Bohemian Rhapsody reduces Mercury to his diagnosis by making it seem like his terminal illness alone is his motivation to get the band back together, do Live Aid, give it a real shot with Hutton, and mend his relationship with his parents. It's a lot to put on a singular motivation, especially for a person who we've just gotten to know for two hours and who, until this point, has been driven by his love of music and his need to stay true to himself.
If the movie really had to end on Live Aid, perhaps text could have come up at the end of the movie explaining how Mercury died and when he was actually diagnosed. That wouldn't even require AIDS being completely removed from the film itself — its undoubtedly important to mention in some form — since the movie already does include people talking about the epidemic. (Also, the movie could have just not ended on Live Aid.)
Rami Malek's performance as Mercury has been praised as the best part of the film, and there are aspects about Mercury that people might question that really are true to life: his relationship with Mary Austin, that he went to design school, and his love of cats. But, overall, once you know about the timeline changes that were made here, it becomes difficult to even think of Bohemian Rhapsody as what it is on the surface: a fun enough film that lets you listen to a bunch of Queen songs.