'Menendez: Blood Brothers' Explores A Complicated Perspective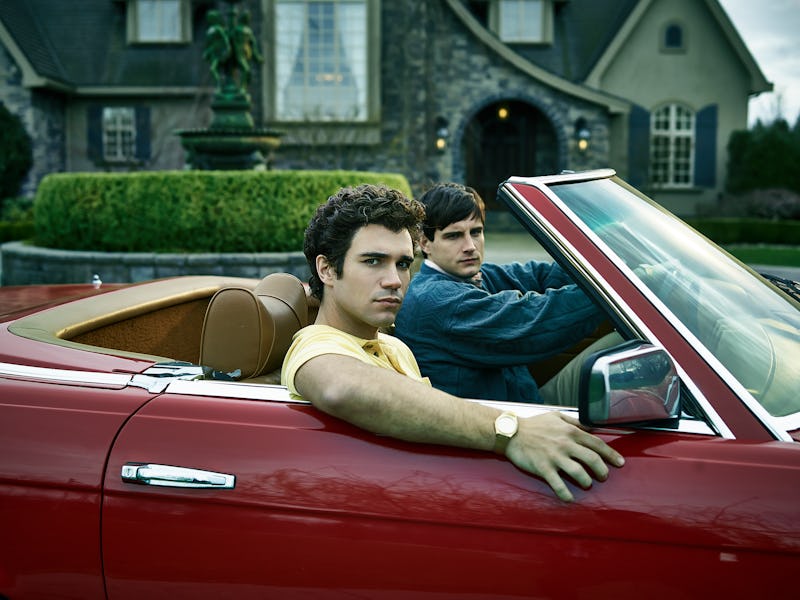 Lifetime
In recent years, pop culture has become a hotbed for true crime retellings, churning out modern explorations of aging cases like the infamous O.J. Simpson trial and the still-unsolved killing of six-year-old pageant star JonBenét Ramsey. The newest addition arrives Sunday with Menendez: Blood Brothers, a bio drama that re-imagines the 1989 murders of Jose and Kitty Menendez at the hands of their two sons. But while viewers may initially be eager to know how accurate Menendez: Blood Brothers is, directors Fenton Bailey and Randy Barbato tell Bustle the film explores a deeper, more complicated question: what if the brothers were telling the truth?
Barbato says that they did take some creative liberties in regard to Kitty's character (played by Courtney Love) and the family's intimate, closed-door conversations, but that by and large, the movie is rooted in truth. "We wanted to make a film that people would at least spend a moment considering," he explains. "We wanted it to be anchored in reality and have some kind of substance in terms of fact. So wherever we could cling to any objective factual reporting, we did."
The story that originally gripped headlines read like a glossy tabloid tale of affluence and greed. Erik and Lyle Menendez, then 18 and 21, had shot their parents, collected their fortune, and gone on a lavish spending spree. Once arrested, the brothers claimed they'd enacted the murder to unshackle themselves from years of alleged sexual abuse by their business mogul father, but much of their testimonies were ruled inadmissible in court, and the allegations were largely dismissed as defensive fodder. Following a lengthy, much-publicized trial, Erik and Lyle were convicted in 1994 and sentenced to life without parole. They've remained in separate maximum security prisons, and haven't seen each other in decades.
Since then, the Menendez case has frequently been probed on screen. There was Menendez: A Killing in Beverly Hills and Honor Thy Father and Mother: The True Story of the Menendez Murders in 1994; ABC's January documentary Truth and Lies: The Menendez Brothers — American Sons, American Murderers, and now Law & Order: True Crime — The Menendez Murders NBC's upcoming Dick Wolf-produced TV series. But Barbato and Bailey weren't interested in rehashing well-trod details, it was the brothers' sordid and oft-forgotten allegations that pulled them in.
"We wanted to say, well now that we know more about domestic and sexual abuse, and now that we know it can happen to men as well as women, we can look at it perhaps more dispassionately," Bailey says. "Randy and I are often drawn to stories where the subjects are overexposed but potentially under-revealed. We were very aware that the story was very one-sided, and the humanity and the true complexity of the situation never really saw the light of day."
Through that lens, the Menendez brothers' case becomes far more nuanced that it was initially framed as — an idea that many are often hesitant to lean into. "People need things to be in black and white. They need to put good in a box and bad in a box," Bailey says. "We aren't defending what they did by any means, but it's a more complicated story than I think people would like to acknowledge."
Draw your own conclusions when Menendez: Blood Brothers airs June 11 on Lifetime.