An LAPD Detective Believed This Conspiracy Theory About Tupac & Biggie's Murders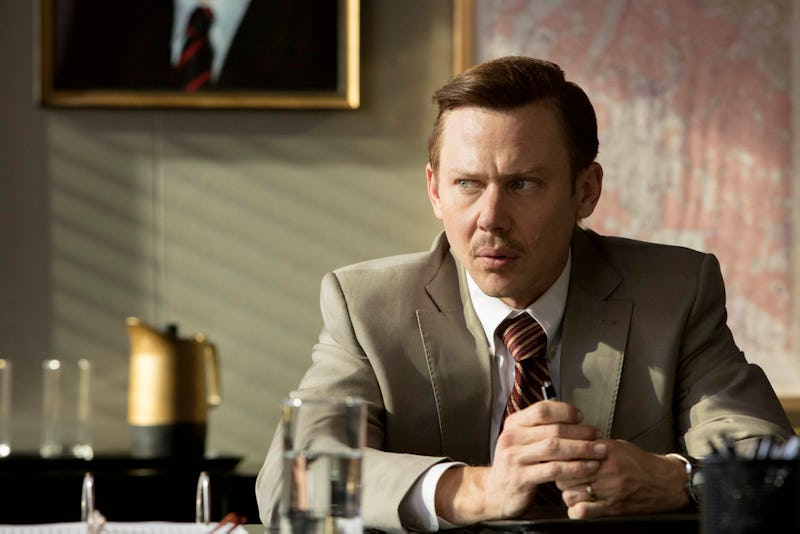 Richie Knapp/USA Network
In 1997, a Los Angeles detective was tasked with two of the most high-profile murder cases in American history. Over two decades later, USA's Unsolved: The Murders Of Tupac And The Notorious B.I.G. is dramatizing Russell Poole's story for viewers who will likely be tuning in to learn new details about the deaths of these two famous rappers. But how accurate is the TV version of Poole, played by Westworld's Jimmi Simpson?
The 1997 shooting death of Christopher Wallace, better known by his pseudonyms Biggie Smalls and The Notorious B.I.G., remains unsolved to this day, but not for a lack of trying on Poole's part. His Los Angeles Times obituary says that the former LAPD detective worked on the case for almost a full year, and that Poole theorized that that Smalls' murder had been committed in retaliation for the killing of Tupac Shakur six months prior. By the end of his investigation, however, no one had been charged for either murder. And that remains true now. Poole died in 2015 after collapsing during a meeting about a cold case.
Greg Kading, who investigated the Wallace murder for the LAPD in 2006 and serves as co-executive producer on Unsolved, told Swaggamusic.net, "I made several attempts to meet with [Poole]. He declined ... He didn't want to talk about [The Wallace murder]." The show dedicates much of its runtime to Poole's investigation, but Poole himself did not have a chance to provide his own input. And his opinion may have differed quite a bit from Kading's. In fact, Kading told the site, "Poole knew that I knew his theory about the Biggie Smalls murder was wrong."
While Poole is a major character in Unsolved, his work is being presented through the filter of other's. Perhaps the most in-depth account of Poole's time on the case comes from the book LAbyrinth: A Detective Investigates The Murders Of Tupac Shakur And Notorious B.I.G., The Implication Of Death Row Records' Suge Knight, And The Origins Of The Los Angeles Police Scandal. The book was not written by Poole, but instead by journalist Randall Sullivan while he was observing the detective's work. Poole's theory about Wallace's death, explained in LAbyrinth and reported in The Guardian, is that members of the LAPD were involved. He believed that Death Row Records was working with LAPD cops Rafael Perez and David Mack, and that a friend of Mack's actually killed Wallace.
According to The New Yorker, Perez attempted to steal a million dollars' worth of cocaine from police evidence-storage facilities. And The Los Angeles Times reported that Mack stole $722,000 in cash from a Bank of America in 1997. Mack was arrested and convicted of the robbery, per PBS, while Perez made a deal where he pled guilty to the theft but "agreed to provide prosecutors with information" regarding other corrupt police officers. Neither were charged with anything related to the murder of Biggie Smalls.
According to The Guardian, Kading's 2011 book on the Notorious B.I.G. and Tupac murders, Murder Rap, "systematically dismantled Poole's theories," even though Poole's earlier investigation laid some of the groundwork for Kading's. Since Poole wasn't able to provide his input to the series, it's unclear how accurate its portrayal of the detective and his work is. Many details of the case have been in question for over 20 years, and there is still no definitive answer as to who killed two of hip-hop's brightest talents and why. While the show is likely more accurate to Kading's version of events because of his direct involvement, Unsolved had to approach Poole's work from the outside.