How The Emotional New Movie 'The Miracle Season' Captures The Spirit Of A Late Teen Athlete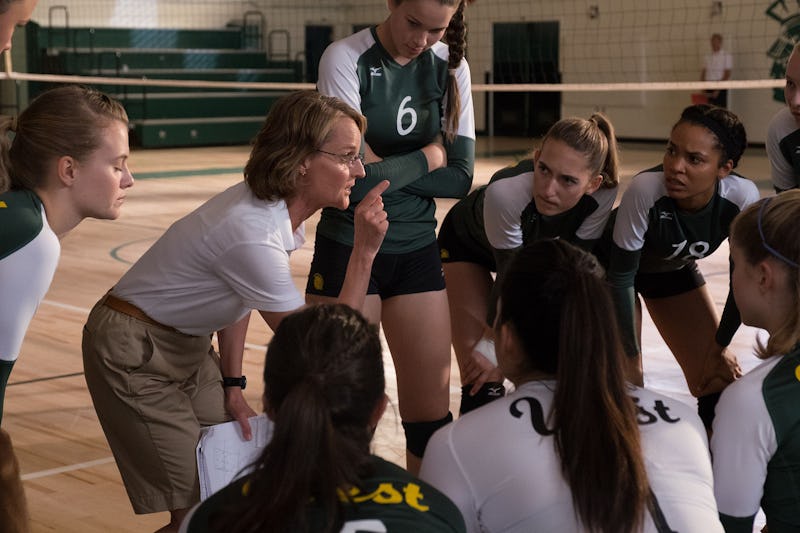 LD Entertainment
Sports movies tend to be inspirational, and inspirational sports movies tend to be based on true stories. The Miracle Season is no exception. Based on the story of Caroline Found and the Iowa City West High School volleyball team she led before her untimely death right before the team's 2011 season began. With the help of Coach Kathy Bresnahan, Caroline's teammates were able to tackle their grief and adopt a new attitude, pledging to play like Caroline. Much like the volleyball team's surprising 2011 championship win, the accuracy of The Miracle Season is thanks to Bresnahan, Caroline's father Ernie Found, and all of Caroline's teammates who shared their stories with filmmakers.
Authenticity was key to telling Caroline Found's story, and director Sean McNamara, knew that as soon as he was introduced to the real events via an HBO short documentary. "The first thing I did was fly into Iowa City, Iowa, and met Ernie Found," McNamara said in an interview with Metro. Found had been hesitant to give Hollywood the rights to his daughter's story for years, and it took visits from both McNamara and screenwriter David Aaron Cohen to convince him to tell his story. "I just told him that I wanted to honor his wife, honor his daughter, and that there are families out there that are dealing with great loss and this could inspire them, the director said.
McNamara also spoke with Found about the need for more positive on screen role models for young girls, something Found connected with. "We came to the conclusion there is no women's sports inspiration movies out there, and we need one, and this world needs one," Found told the local television station KCRG-TV9 at the film's Iowa City premiere.
As is true with many Hollywood films based on a true story, the goal was not for The Miracle Season to be entirely factually accurate, but for the film to be true to Caroline's spirit and the effect her life and tragic death had on those around her." McNamara described his process of making the film as trimming down crucial moments, combining some and adapting others, in a way that might not be factual but delivers the same overall message as reality did. "What I do is I listen to a lot of the events, a lot of what happened, and learn who they were. What I do is take five or six events or five or six people and incorporate them into one brand new event that didn't actually happen. But what it does is it tells the story in a way that we can all conceive better as a movie going audience," he told Metro.
Luckily, the real people The Miracle Season is based on understood that making a movie about their experience was going to come with a few changes in the narrative. The actors were in touch with their characters' real-life counterparts throughout pre-production and filming, including Coach Bresnahan, who spoke often with both McNamara and Hunt. The actor recently revealed that the former volleyball coach has given Hunt's performance her blessing, changes and all. "She said she's happy with the way it came out," she told Parade. "Sometimes changing things about the story make the essence of the story come out even more in the end. I think that's been her experience."
At the end of the day, the real women who inspired The Miracle Season started the process with one goal: to tell their story in their own voice. "The girls and I said, 'If anybody is going to tell this story, it should be us,'" Bresnahan said in an interview with Volleyball Mag. And, though alterations and changes to their experiences had to be made for the sake of the film, everyone involved appears happy with the final story, with many teammates attending the film's Iowa City premiere. According to a report from Iowa City Press, Caroline's former teammates walked down the red carpet hand in hand. "That's how we got through everything: we had each other," Bresnahan told the site. And now that they've shared their story, they'll have audiences across the globe standing with them too.