This USA True Crime Series Could Provide Brand New Insight Into The Murders Of Biggie & Tupac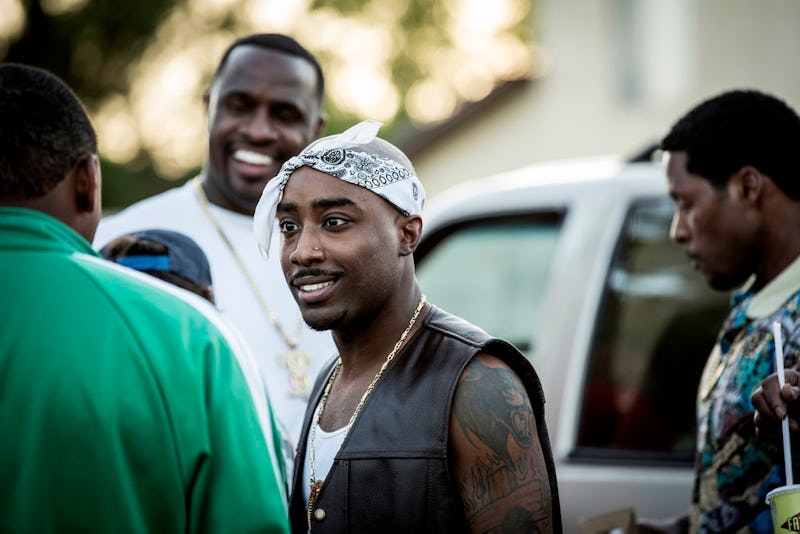 Isabella Vosmikova/USA Network
Many true crime stories have gotten the Hollywood treatment in recent years and the next one up involves two of hip-hop's most beloved icons. USA's new anthology series Unsolved follows the police investigations into the murders of rappers Tupac Shakur and Biggie Smalls a.k.a Christopher Wallace. Their high-profile cases have generated plenty of conspiracy theories over the years as to what exactly happened, but they both remain unsolved. Without a conviction for either shooting, how accurate can Unsolved: The Murders of Tupac and the Notorious B.I.G. be?
The 10-episode limited series is based largely on the work of former LAPD detective and taskforce leader Greg Kading, per Billboard, who investigated both murders and chronicled his findings and theories in the book Murder Rap: The Untold Story of Biggie Smalls & Tupac Shakur Murder Investigations.Unsolved series creator and executive producer Kyle Long told the magazine that he'd been "obsessed" with the details surrounding the deaths of Shakur and Wallace ever since he'd moved to Los Angeles over 20 years ago. Although, it wasn't until he found Kading's book that he was inspired to create the series.
There are three narratives in Unsolved, according to Collider. The first narrative is set in 1993 when Tupac (Marcc Rose) and Biggie (Wavvy Jonez) were at the peak of hip-hop fame. The next follows LAPD detective Russell Poole (Jimmi Simpson) as he investigated the death of Wallace in 1997, believing that it was somehow connected to Shakur's, which had occurred six months previous in Las Vegas. The third narrative involves Kading (Josh Duhamel) reopening the case.
At 25, Shakur was ambushed and shot in Las Vegas in 1996, per The Los Angeles Times. He was pronounced dead six days later from respiratory failure and cardiopulmonary arrest. Wallace, then 24, died in a similar attack in early 1997 after leaving a party, according to another LA Times piece.
While there have been no charges brought against anyone in either case, there are many theories. Nonetheless, according to Long, the series isn't on a mission to villianize anyone. Former Death Row Records CEO Suge Knight was suspected of being involved by Poole, according to the book LAbyrinth: A Detective Investigates The Murders Of Tupac Shakur And Notorious B.I.G., The Implication Of Death Row Records' Suge Knight, And The Origins Of The Los Angeles Police Scandal.
"My thing is trying to treat everyone with respect and not judging anybody," Long told Billboard about the series. "Like, Suge Knight's not a super villain, he's a human being and it's an impressive story that this guy took over the record industry as a young man from Compton. The same with Puffy, all these guys. So everyone is human and everyone has layers. So I think we've done a really good job of showing like people are complicated, cops are complicated, gang members are complicated. We don't want to depict people in a way that isn't fair. But we also want to tell the truth."
Meanwhile, Wallace's mother Voletta Wallace believes she has a good idea of who killed her son. In a 2017 Daily Mail interview, she claimed that a "conspiracy" is standing in the way of justice being served. "I have a very good idea who murdered Christopher and I genuinely believe that the LAPD knows exactly who did too," she said. "They've done their investigation, but they just refuse to move forward. I don't know why they haven't arrested who was involved. It seems to me that it's one giant conspiracy, and someone is definitely being protected somewhere down the line." According to her, "there's no closure until that murderer is behind bars and sentenced." She has not commented publicly about Unsolved.
But in addition to theorizing what happened to the two rappers, the series will also explore their friendship and subsequent East Coast-West Coast rivalry, according to comments that Rose, who portrays Shakur, made to Shadow & Act. "The difference that this show has is that you get a chance to see the friendship that Tupac and Biggie actually had," the actor said. "Often, we see everybody broadcasting beef that Tupac and Biggie had, but nobody spoke about the friendship."
Like fans of the artists may well be, Rose was also skeptical about the accuracy of the series but says that was reassured by the "great writing and thorough fact-checking," done by the Unsolved creative team. One example involves a scene in the pilot episode, that initially raised Rose's eyebrow according to the interview.
"In the pilot, there's a scene where you see Biggie and Tupac, as well as a few of their friends, [are] running around in the backyard with guns. And then sprinklers come on; now they're running through sprinklers and stuff," the actor described to Shadow & Act. "I just remember reading it and I'm like, obviously this did not happen. I had a conversation with the writer, Kyle Long, and it actually happened. It's real, it's noted, it's factual. The friends who were there in the backyard spoke about that experience in real life. And I was like, 'wow.' Kyle Long really, really did his research with bringing all the facts and stuff together."
But while the show is true to life in many regards, viewers shouldn't expect to hear Tupac nor Biggie's chart-topping music in the series. "The music that you hear in the pilot is more inspired by the era," co-producer and music supervisor Lyan Beth LeFlore said at the Television Critics Association press tour, as reported by The Wrap. "What we are doing is respecting the estates. There's still a lot of pain with both of those stories."
Although the series won't be able to provide any concrete answers, fans can rest assured that they'll most definitely learn something new about the rappers from Unsolved. And perhaps some new and credible theories about what happened to Shakur and Wallace will finally come to light.
Editor's note: After publication, we discovered this article did not meet our editorial standards: There were portions that did not correctly attribute another source. It has been updated to meet our standards.