How Activists Are Fighting Texas Republicans' Anti-Women, Anti-Trans Agenda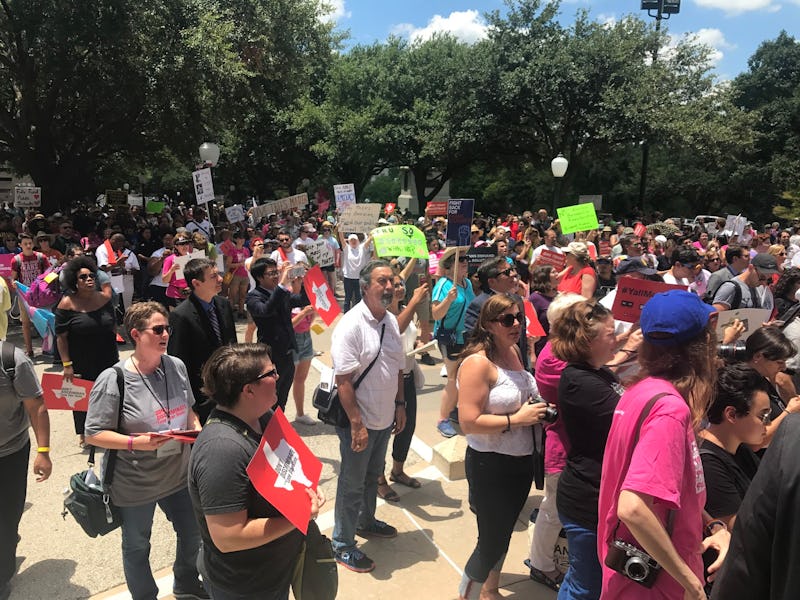 Carisa Lopez
Texas' special session kicked off full-speed on Tuesday, with an ambitious 20-item agenda that includes bills that critics say attack the state's transgender community, immigrants, and access to women's reproductive health, among other measures. As politicians debated behind closed doors on the first day of the session, hundreds of activists braved Texas' sweltering heat to make their voices heard and speak out on what they view as discriminatory legislation.
Some of the hot-button items on the special session agenda include a "bathroom bill" that would restrict transgender people from using the restroom that matches their gender identity, three anti-abortion measures — including one that would restrict local governments from using taxpayer money to fund Planned Parenthood and legislation to ban insurance coverage for abortions in private and government plans — and a bill that would create a "private school choice" program to subsidize private school tuition for students with special needs, while draining resources from public schools.
Our governor is trying to get [these bills] all rammed through in a short amount of time, and what is he going for? A decathlon of hatefulness?
Special sessions are rare and typically only employed for emergency measures. The Texas legislature convenes every two years, and the most recent session ended in May.
However, and after a failed attempt to pass the bathroom bill, Lt. Gov. Dan Patrick, a hardliner conservative who heads the Senate, forced the special session by holding hostage must-pass "sunset" bills, in which lawmakers periodically review state agencies, during the regular session. At that point, Gov. Greg Abbott had no choice but to call the special session — while giving Patrick another opportunity to pass his anti-transgender measures.
"It's unprecedented, it's undemocratic, but not totally unexpected," Carisa Lopez, Executive Director of the Travis County Democratic Party, tells Bustle about the special session. "This lieutenant governor has shown time and time again that he is willing to pull out all the stops to get his agenda passed, even though that's not what the people want."
Lopez is the brainchild behind One Texas Resistance, a joint coalition of more than 30 organizations dealing with various issues — from abortion to LGBTQ rights to immigration — that have come together to rally against the state throughout the entire month of the special session. On Tuesday, Lopez says around 600 people convened on Austin for a rally that included speakers, training sessions, and chanting in the rotunda. They plan to have daily actions throughout the session — for instance, on Wednesday, young women protested anti-immigration measures passed during the regular session by staging a quinceañera-themed demonstration, hosted by Jolt Texas and supported by the coalition, on the steps of the Texas State Capitol.
"All kinds of different, very important causes are coming together as one because our issues are very intersectional," Lopez says. "Things in Texas are really, really bad so the next 30 days we're going to just fight and resist as much as we can."
One of the organizations involved with One Texas Resistance is Planned Parenthood Texas Votes. Nikki Metzgar, the organization's Communications Officer, says the government's unending, relentless attacks against abortion access would be devastating for women across the state.
Throughout his career, Governor Abbott has been a vocal opponent of abortion and women's basic rights. He most recently signed sweeping anti-abortion measures, including a law that would prevent doctors from performing one of the most common second-trimester abortion procedures, intended to take effect Sept. 1. On Thursday, the Center for Reproductive Rights and Planned Parenthood filed a lawsuit in federal district court challenging the measures as unconstitutional.
The special session is another opportunity for the governor to push for anti-abortion legislation in the state. In addition to proposals that would prevent local governments from allocating tax dollars to abortion providers and prohibiting abortion coverage under primary health insurance plans, a third measure plans to increase reporting requirements for health complications related to abortion — despite the state already having robust reporting measures in place.
"We're not fighting to keep the health centers open for Planned Parenthood, we're trying to keep the doors open for the patients, for the people who need access to reproductive healthcare," Metzgar tells Bustle. "When our lawmakers devastate these family planning networks, than of course people don't get the healthcare that they need and they suffer."
Metzgar alludes to the state's abysmal maternity and teen pregnancy rates — a 2016 study found that Texas has the highest maternal mortality rate in the developed world and pregnancy-related deaths doubled between 2010 and 2012.
Heather Busby, the Executive Director of Naral Pro-Choice Texas, which works to ensure every Texan has control over their reproductive health decisions, describes the state as a scary place to live in today's political climate.
"Our governor is trying to get [these bills] all rammed through in a short amount of time, and what is he going for? A decathlon of hatefulness?" she says. "The most vulnerable and marginalized in our state are most at risk from a multitude of levels from the special session."
Despite the rising conservatism spouting from the Texas State Capitol, Lopez, Metzgar, and Busby all remain optimistic about their state's future, especially after seeing so many people from across Texas unite during Tuesday's rally.
"There is a saying here in Texas that Texas is not a Republican state, it's a non-voting state," Lopez says. During the 2016 general elections, only 51.6 percent of the population cast ballots, one of the lowest voter turnout rates across the country. "I think if we can get people more engaged, than we can easily take over the state."
Busby says she's inspired by the young people who are taking action today — the millennials who will be a driving force for future generations. Her advice for them is to realize that they do have power, even at times when it doesn't feel like it, to fight for change in Texas.
"When I was their age, I didn't have the Internet, I didn't have a community and very much access to ideas that were different from the small, conservative town I lived in," she says, pausing to add, "Now, there's so much more possibility and I have so much more hope because of young folks."