How Climate Activists Are Reclaiming "Covfefe"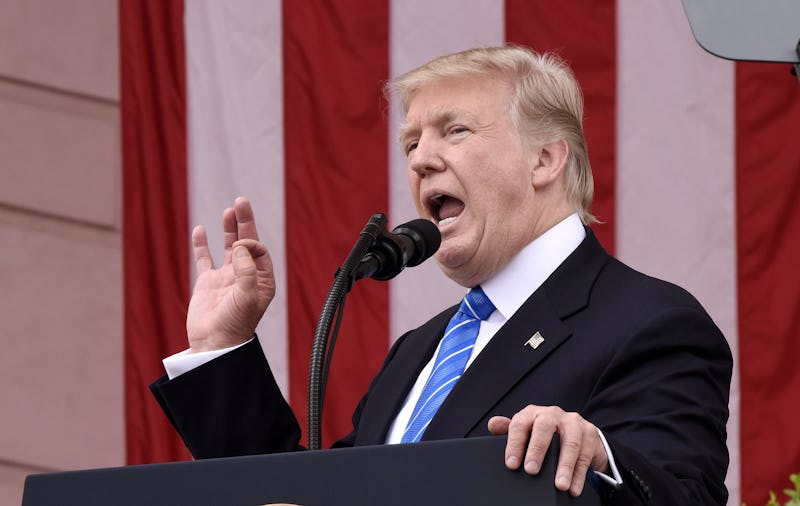 Pool/Getty Images News/Getty Images
That was some kind of night, huh? Late Tuesday and into early Wednesday, all of Twitter was engulfed by a trending topic that basically blotted out everything else: President Donald Trump's botched tweet, which abruptly ended with the butchered word "covfefe." And now, with so many important issues in play, some activists and journalists are claiming "covfefe" to help raise awareness about other, considerably more serious things, like the United States potentially withdrawing from the Paris Climate Accord.
The Paris Climate Accords are indeed reportedly in peril, with reports that Trump intends to withdraw from the landmark agreement. This is no surprise based on his previous pronouncements. He once tweeted that climate change was a hoax perpetuated by the Chinese government, an inane stance that Hillary Clinton called out during the presidential campaign. And yet she lost, in what's now becoming clear was a dire turning point for the Earth's future.
Trump himself tried to assert some control over the spiraling embarrassment on Wednesday morning, tweeting "who can figure out the true meaning of covfefe" after deleting the original tweet, and thus sapping some of its unbridled fun. Make no mistake, however. It wasn't the least bit hard to see what "covfefe" was meant to mean ― Trump was obviously attempting to tweet about "negative press coverage," but ended up typing "covfefe" instead. Then he bizarrely tweeted it before presumably going to sleep. This sent Twitter into a maelstrom of "covfefe" jokes for hours into the early morning, although by the time Trump woke up and started tweeting again, some observers were already using it to swivel attention back to one of the most important issues of the day: the Paris Climate Accords.
1. Oh, Oh, I've Got One
2. An Expiration Date On Human Civilization
3. Any Gopher Left?
4. What The United States Will Do With Paris
5. Endanger His Own Grandchildren
6. Don't Worry, Folks
7. Covfefe LOL
8. Modern Politics In One Chart
9. A Super Pollutant The United States Will Produce
10. One Of These Things
11. Bye, World
12. Death Certificate For The Planet
13. On The Other Hand
14. Me Reading About Covfefe
15. Hahaha Covfefe Wait
16. Disproportionately Affects Women & Children
17. What Else Is Happening?
18. Covfefe Doesn't Seem Funny
19. 12-Dimensional Twitter Chess
20. There I Was Hoping ...
21. What's Going To Be Funnier
In short, Trump's election last year looks to be a nightmarish existential threat as far as the environment is concerned, and besides the benefits of applying massive public pressure and outcry, there's no longer any way to stop him from scrapping the Paris deal.