Adam Rippon Joked About Wanting A "Xanax And A Quick Drink" Before Competing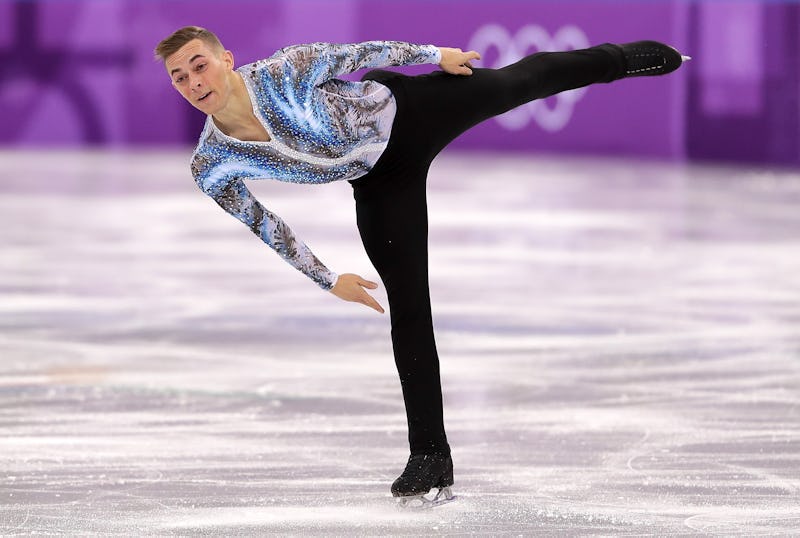 Richard Heathcote/Getty Images Sport/Getty Images
The entire U.S. Olympic figure skating team must have been a little nervous Sunday before hitting the ice and ultimately bringing home a bronze medal. But only one member of the team was incredibly blunt about just what competing that night actually felt like. Skater Adam Rippon joked about wanting "Xanax and a quick drink" to calm himself down ahead of the team figure skating event.
Speaking with NBC's Mike Tirico after his performance, Rippon explained what he felt like just before hitting the ice at the 2018 Winter Olympics. "I want to throw up. I want to go over to the judges and say 'Can I just have a Xanax and a quick drink. I'll be fine,'" Rippon told the sports announcer. In the end, though, Rippon seems to have done without. He told Tirico, "I kept it together. I just took it one element at a time."
The two also discussed the big elephant in the rink: what effect Rippon's ongoing feud with Vice President Mike Pence and the White House had on his performance. Rippon has said that he doesn't think a gay person "would be welcome" at the White House and that Pence isn't "a friend of a gay person."
You know, I've worked my entire life for this moment. But more than that, my mom has always taught me to stand up what I believe in and that has given my skating a greater purpose. So I go out there and I'm not only representing myself, I'm representing my coaches, I'm representing my country and I'm representing my teammates. So I remember that and that's how I stay focused.
Pence's office has defended him against accusations of bias against LGBTQ athletes. Jarrod Agen, Pence's deputy chief of staff and communications director, issued a statement saying, "The Vice President is supporting all the U.S. athletes in the Olympics and is hoping they all win medals."
Rippon came out as gay publicly in 2015. He's the first openly gay man to qualify for the U.S. team in a Winter Games. Snowboarder Gus Kenworthy qualified just after Rippon and will also compete at the 2018 PyeongChang Games.
Rippon told The Washington Post his thoughts on being the first out gay man to compete at a Winter Games a few days before taking to the ice:
First and foremost, I'm an athlete. And I'm an Olympian. I'm not a gay Olympian. I'm just an Olympian that's also gay. I don't mind reading that — like, "gay Olympian Adam Rippon." It's fine. I hope that, in a way, it makes it easier for other young kids who are gay. If they go to the Olympics, they can just be called Olympians.
Rippon wasn't the only gay man to win a medal on Sunday. His Canadian competition, Eric Radford, who took home the gold in the team competition came out in 2014.
"So proud to be wearing these medals and showing the world what we can do!" Radford wrote on Instagram with a photo of him and Rippon. He added the hashtags #Represent with the rainbow flag, #outathletes, and #TeamNorthAmerica.
Radford has kept a lower profile, at least in American media. In the Canadian press Radford has spoken about the importance of lyrics in his performances at the games and cheered on his team. "If you have the wrong piece of music and it doesn't connect with the audience or the judges, it doesn't really matter how great you skate. You're gonna be missing something," Radford told the CBC.
Needless to say Radford hasn't made any jokes about calming his nerves — and definitely none including Xanax. That sense of humor is strictly Rippon's.