How The California Wildfires Could Have A Devastating Impact On Immigrants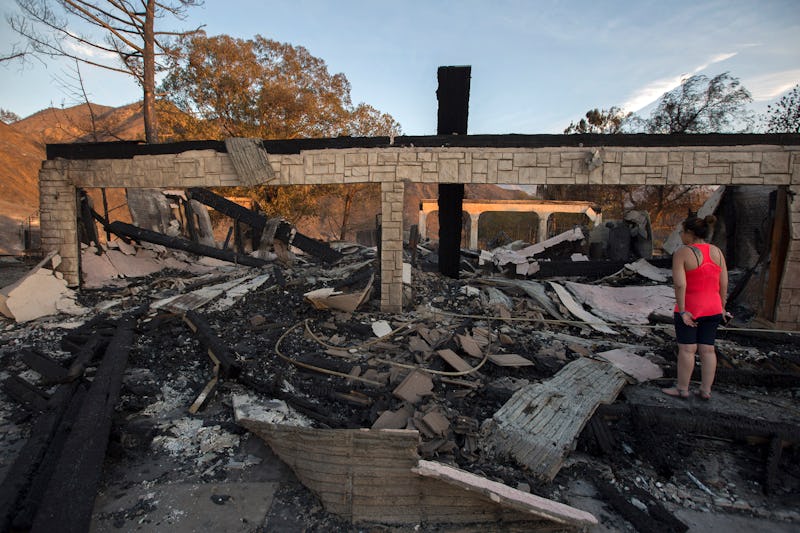 David McNew/Getty Images News/Getty Images
Napa and Sonoma counties are perhaps best known for their wine industry, and specifically for their vineyards. As wildfires in northern California continue to ravage the area, wine fans have lamented damage wreaked on the famed tourist attractions. However, a perhaps-lesser known facet of the region is that it leans heavily on labor provided by immigrants who risk losing homes and employment to flames.
According to a report by Mic, 23 percent of Napa County's population is made up of immigrants, whose labor directly supports the wine industry. About three-quarters of the agricultural workers and a third of the service industry in Napa are reportedly immigrants. This already-vulnerable population risks losing jobs and housing to the flames.
Further, about a third of the immigrant population is estimated to be undocumented, a spokesperson for the Migration Policy Institute told Mic. Undocumented immigrants are less likely to take advantage of services afforded to them, though Randy Capps, the director of research for U.S. programs at the Migration Policy Institute, seemed optimistic.
"I think because it is such a close knit community with such great material resources to help out that the response will be very robust," Capps told Mic reporter Anna Swartz.
An additional concern for the large immigrant population, Swartz explained, is that, even if either a place of employment or a home survives the fires, the population could be forced to move or find a new job far away. This increased commute could complicate many people's lives in the middle of what is already a devastating natural disaster. Referencing a 2015 report in the Atlantic, Swartz pointed out that natural disasters tend to have a disproportionately negative affect vulnerable populations.
A Los Angeles Times article published Oct. 9 reported that Sonoma County lost a series of hotels and inns to the flames, including a 250-room Hilton branch. In Napa County, more that 50 structures have reportedly burned down. According to the Times, this included both "homes and barns."
According to CNN, the "largest of the deadly fires" were raging in Sonoma, Napa, and Mendocino counties. Additional evacuation orders were issued in those areas Tuesday, with an estimated 20,000 people already instructed to leave. Eleven deaths have been reported in Sonoma since Sunday night, with the total death toll in northern California currently reported to be 17.
What started the fire is currently unknown, which is to say that officials don't know whether it was caused by nature or by people. The California Department of Forestry and Fire Protection said on Tuesday that 17 wildfires have started in the past 24 hours, and that those fires have burned over 115,000 acres. More than 100 people are or have reportedly been treated for fire-related injuries or health issues in Sonoma and Napa counties. Approximately 27,000 acres in Napa were burned by the Tubbs fire alone, according to CNN, and at least 2,000 structures in the area have already burned down. Extremely windy conditions reportedly contributed to the wildfires' rapid spread.
Many residents are unaccounted for, and according to The New York Times, there are many areas that emergency response crews are currently unable to reach, meaning the fatality count is expected to rise. Communication has also proved challenging as the fires rip through infrastructure, disabling or inhibiting cell service in many areas.
None of the large fires raging in the western United States are fully contained, according to the National Interagency Fire Center; Arizona, California, Oregon, and Washington had all reported "large fires" as of Tuesday. And the winds, which calmed down on Tuesday, are not expected to remain docile.
As the fires continue to rage, the danger of devastation is ongoing.