How Ashley Benson Clears Up Annoying Breakouts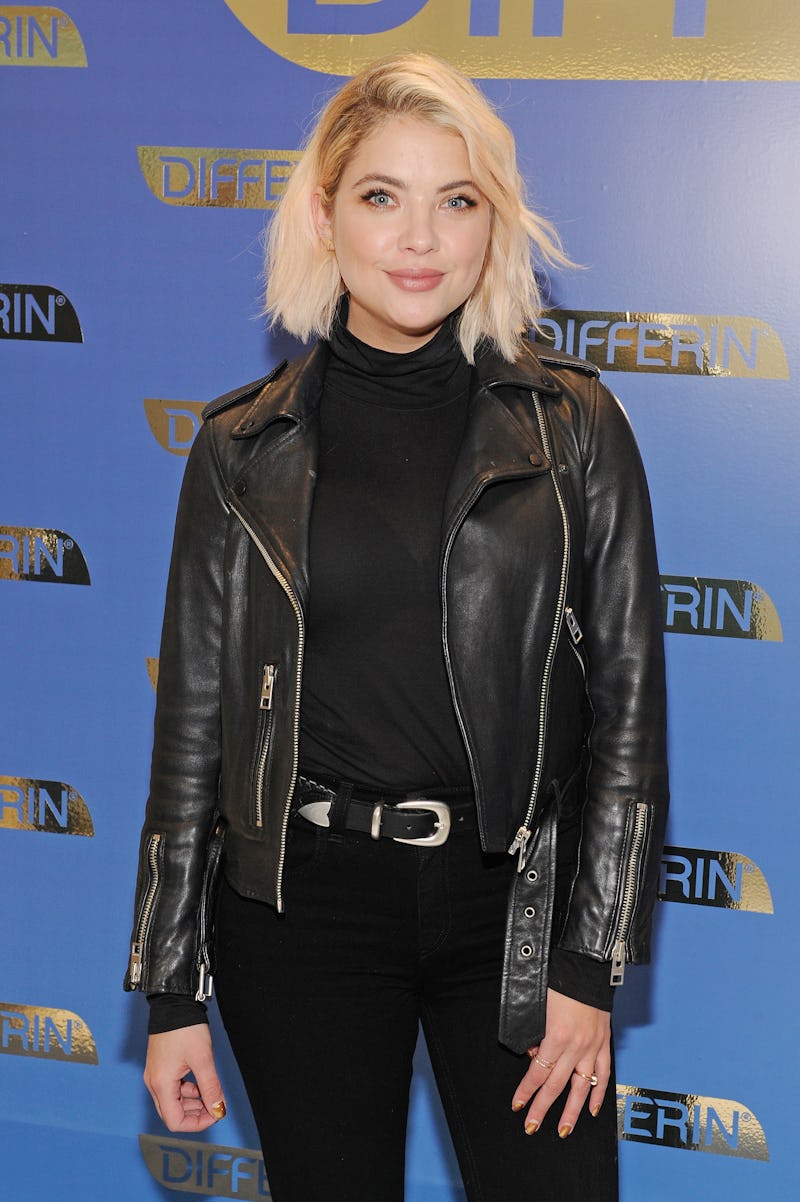 Craig Barritt/Getty Images Entertainment/Getty Images
If you've been on a show called Pretty Little Liars for the past seven years, that's basically a mandate that you're well, pretty. Just like her castmates Shay Mitchell, Lucy Hale, and Troian Bellisario, Ashley Benson is a total babe, but even she struggles with insecurities — especially those that come with the dreaded adult acne. (We've all been there, girl.)
At the launch for Differin Gel, the first (and currently only FDA-approved) over-the-counter retinoid acne treatment, Benzo opened up about fighting the good (skin) fight, her go-to products (there's a secret moisturizer and a classic lip balm involved), that sassy new shag haircut of hers, and the brand she relies on to keep it looking cute.
I asked Benzo what it was about Differn Gel that she liked so much, and her answer might convince you to pick up a bottle. "Being in the industry and working and having makeup on 24/7, I finally found something that works for my skin. I have super sensitive skin and it doesn't irritate me at all. It takes away the acne and prevents it from coming back." The best part? It won't break your wallet — praise! "People who watch the show don't have to spend hundreds of dollars on a retinoid cream — you can get this gel over-the-counter."
Of course, it takes more than just one product to maintain clear and healthy skin like Benson's. Luckily, she shared her skin care routine with me, which is as thorough as you'd expect an actress' to be. "I usually always try to take my makeup off at night with wipes or wash my face and put on moisturizer — it depends on how tired I am. Being here in New York my skin is really dry though, so moisturizing is key. In the morning I do a light face wash, then I put Differin Gel all over to clear and prevent breakouts, and then coconut oil."
Differin Adapalene Gel 0.1% Acne Treatment, $11, Amazon
When Benson travels — which is a lot — she likes to mix it up and bring out the heavy duty items. "Egyptian Magic Skin Cream is really great and I always bring that on the plane with me. I look insane with it on while I'm flying, but when I get off my skin is super moisturized. I always have lip balm too. Rosebud Salve — super simple."
Egyptian Magic Skin Cream, $26, Amazon
When it comes to the rest of her beauty game, Benson follows the same rule of keeping things effortless, especially when it comes to styling her new shorter 'do. "Oribe makes really great texturizing sprays and I use a ton of oils if my hair is dry," Benson tells me.
ORIBE Texturizing Spray, $44, Amazon
You may not know what the future of PLL holds for Hanna Marin, but at least you can say that you figured out all of Benson's pretty little beauty secrets.