How 'Blavity' Co-Founder Morgan DeBaun Became One Of The Most Important Women In Silicon Valley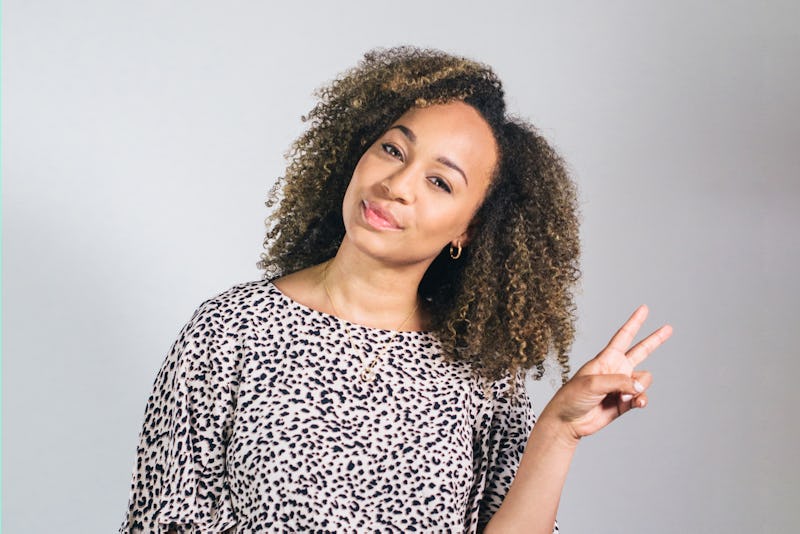 Courtesy of Morgan Debaun/Blavity
Sure, everyone's got an idea for a startup or an app — the thing that would make them bank and give their name some luster — if only they followed through. Well, Morgan DeBaun and her Blavity co-founders actually followed through on their million-dollar idea, only theirs came from the heart: They created a hub and a home for black millennials on Blavity.com when DeBaun was just 24 years old. It's a place where, DeBaun says, her team is covering stories that don't see the light of day at other outlets. But, before 2014, when DeBaun, Aaron Samuels, Johnathan Jackson, and Jeff Nelson started their now-booming media company (which just brought in $6.5 million in venture capital to fund their future plans), she wasn't even sure heading into media was the most lucrative path.
"You know, I actually remember very distinctly saying I don't want to do a media company. It's so immediate, so difficult and content and people are so finicky and, I'm a tech girl," she says when we speak one August afternoon. "What I realized is that stories and content actually are a way of building a brand and building emotional connections with individual people." She says that their main goal, before creating something that would eventually house five individual brands and raise millions of dollars, was to "build a brand that people really love."
I love innovation. I love technology, and I would never let male ego take away something that I love.
And while she's a champion of the way that Blavity — a portmanteau of "black" and "gravity" that she and her friends came up with in college — and its sister brands support and speak to the black community, she certainly is a "tech girl" first and a content maven second. (It's probably why she excitedly tells me all about how the big, headline-making $6.5 million in funding — unheard of for a startup and a near record for a startup led by a black woman — is all about building out the engineering and back-end of Blavity.) Before co-founding the site, she worked her way up the ladder at Intuit, in the heart of the Silicon Valley boys' club. Luckily for her, she's only fully accepting just how much of a gender gap there truly is now that she's made it through and become the CEO of her own company.
"Sometimes when you're in those moments, it's hard for you to absorb it because you can't afford to be distracted by how other people are treating you when it's negative," she says, looking back on her time as a product manager in charge of a team of male engineers. While she says she ultimately saw the group as her teammates, she admits that there were "different comments that were made" and that, ultimately, she knew what might come with entering a statistically male-majority field. But she just let most of that go. "I love innovation. I love technology, and I would never let male ego take away something that I love. Right? It's a weird balance that I think a lot of women have to have," she offers.
I've always been entrepreneurial and tried to make things out of nothing and see how the world should be or how people should be treated and try to make that happen.
The fact that she hasn't always given much attention to the boys' club might have something to do with the fact that she has had her sights sent on owning her own business for years now — even as far back as middle school. "I think that I've always been entrepreneurial and tried to make things out of nothing and see how the world should be or how people should be treated and try to make that happen," she says — she's even got the proof in the form of a snack business she started in her tween years.
"Back in the day" she says, there were no vending machines in her school, and rather than complaining (as most 13-year-olds would), she saw a possible business plan. "[It] then created this really great opportunity for me to go to Costco and buy up all the snacks and candy at a discount and sell it to people at school because they didn't have any machines," she offers with a chuckle. (Her second adolescent venture, however, might even be the more genius of the two: she devised a way to make her own version of Fun-Dip using a special mixture of Kool-Aid and sugar.)
She's since upped her game from snacks and this time, her big idea didn't come from teenagers' aching bellies or their unrelenting sweet-tooths — it was born out of a real need and her own disconnection from her friends and her community. She and her co-founders felt a sense of loss after graduating from Washington University in St. Louis — the school where their lunchtime chats led them to coin the term "blavity" — but there didn't seem to be a place online to find that connection again.
It doesn't make sense that in 2018, I am one of the highest black women in tech media.
"They all felt like, 'wow, I'm crushing it at my job. I'm loving the work that I do and I'm learning all the time, but I have this kind of emptiness in my personal life and in my, I like just being because I just feel disconnected from my community because I've made this choice to be in a different type of field like Silicon Valley or Wall Street or becoming a doctor.'"
When they realized they all felt the same, they decided to form a new source of connection, one that would feel like the online equivalent of their lunch table as Wash U. "I felt completely helpless," she says, looking back on her days in Silicon Valley. "I felt like I should be in St. Louis taking care of my city, but instead I'm sitting in a downtown San Francisco high rise in a cubicle at a startup that wasn't mine. And so at that moment it became apparent like, OK, there is a disconnect for me and also an information [disconnect] that the black community has in this country because we have not made it a priority to build our own new-age digital media brand that can distribute accurate information and stories that will never get covered anywhere else."
Now, her company makes that connection big time; Blavity sees 1.8 million unique readers a month on its flagship site and now includes a travel site called Travel Noire, a film and television site called Shadow & Act, and a women's lifestyle site called 21Ninety. The brand also hosts multiple conferences aimed at uplifting and empowering the black community, including DeBaun's yearly conference called Summit21 (formerly EmpowerHer), where she says the focus is on, you guessed it, connection. "I think that, oftentimes we're all online on Instagram and Twitter, Facebook and Pinterest. We don't take two days to just like be in sisterhood, other women talking and being vulnerable about what we're trying to improve our lives and sharing the things that we've learned along the way," she says.
Blavity's other conference is a Silicon Valley-focused event called Afrotech, now in its third year, and DeBaun says she can already see the way it's affecting the black community and carving out a space in an industry that, according to a recent study by the Equal Employment Opportunity Commission, has a workforce that is over 60 percent white and a league of top execs that is 83 percent white. "I think it's a shame, like it doesn't make sense that in 2018, I am one of the highest black women in tech media," she says. But it would seem, Afrotech is already changing that.
"One of the specific stories that I love that I hear, are people who went [to Afrotech] last year and now nine months pass since the last conference and they're like launching their company or they've got funding from somebody that they met at that conference," she says, excitedly, adding that the employers who show up to the conference and actually put in the work, often wind up extending job offers right there, during the conference. "I think that we'll probably see the ripple effect [in the industry] with more activity in three years as the startups that are being launched start to really scale," she says.
But when she's not celebrating the many victories that she and her co-founders have had at Blavity (though she's not celebrating too hard just yet, she cautions), she's also got her own side hustle — a skincare brand aimed at black women called M.Roze Essentials — and she squeezes in time to grab dinner with girlfriends or attend to her hobbies (she's also a painter, on top of everything else). And while the St. Louis native says she's not ready for the reflection stage just yet (she's only 28 years old and rightly points out that there's still "so much work to be done"), she will admit one small, reflective victory: "I'll be honest with you, I am proud of myself."
And she absolutely should be.