This Is How A CBS News Anchor Prepares For Election Night Coverage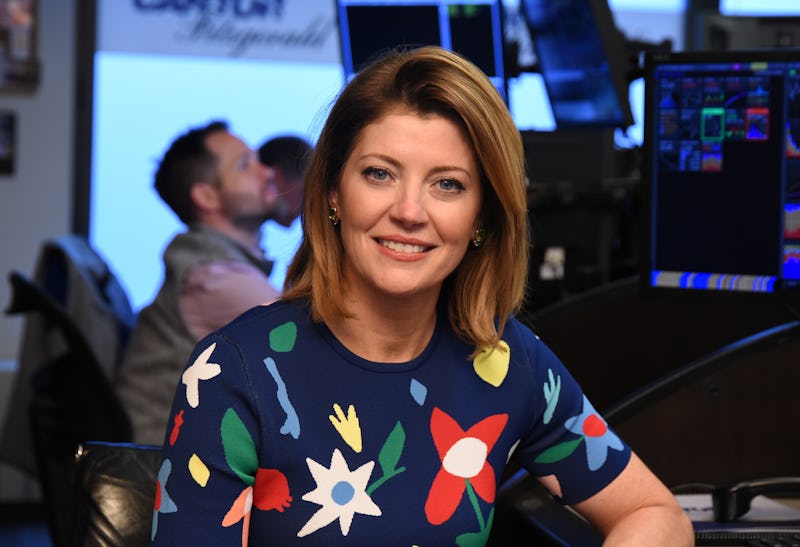 Presley Ann/Getty Images Entertainment/Getty Images
On Tuesday night, it's possible you'll be sprawled out on your couch stress eating pizza and letting broadcast news veterans explain to you what's going to happen to the country. By Wednesday morning, you might be exhausted from following the midterm elections. But one newscaster will be back at work for the final stretch of her marathon of coverage. This is how CBS anchor Norah O'Donnell prepares for election night coverage.
O'Donnell, who co-hosts CBS This Morning and will be anchoring CBS's election coverage Tuesday night, has been covering congressional races since 1996. But she tells Bustle this year is "the most important midterm elections in my political career," since it's considered a referendum on President Donald Trump and includes a diverse wave of candidates who may change the demographics of Congress.
"While Congress is not representative of the American people in terms of demographics, it is going to be more diverse after Tuesday night," O'Donnell predicts. "Anytime it's not just a storyline of Republicans vs. Democrats, and it's about the types of people who are running, I think that's always an exciting night for us to cover."
It's that excitement that will keep O'Donnell going through an exhausting 72-hour election period that started at 1 a.m. on Monday morning in New York City. She woke up, read for an hour, went back to sleep, then got up again at 4 a.m. in order to be in the office for 5 a.m. Then she started filming CBS This Morning, which airs from 7-9 a.m. From there, she had a snack, got on the phone with some sources (and, hi, Bustle), and started going through her research on the midterms. In the early afternoon, the CBS This Morning team did their fourth election night rehearsal. And that was just Day 1.
O'Donnell says rehearsing election specials are less about getting the words right, since no one knows how the night will go. Instead, it's about making sure all of the logistics — graphics, research, and so on — are ready to go for a smooth live broadcast. "You can rehearse what you think you'll be doing, but we always have to be open for breaking news," she says.
Meanwhile, O'Donnell's got research to work on, both from her own sources and from a team of five that's dedicated to help her out. She and her team take all their research and boil it down to "the story of why that election matters," instead of just the bare facts. She says her desk is covered in newspaper clips and she has a big box full of index cards about "every single race."
O'Donnell started Tuesday morning the same way, except she filmed two morning shows — one for the East and one for the West Coast — that wrapped at noon. And then she planned to take a nap, before getting back to the CBS studio at 4 p.m. She'll be on the air from 8 p.m.-2 a.m., then willl get two hours of rest before she has to be back on air Wednesday for CBS This Morning.
"So if you really wanna see us sort of punch drunk tired, watch Wednesday morning," she says with a laugh. "Should be interesting."
If you're wondering when to tune in for results, O'Donnell says her team may have an idea of which way control of the U.S. House is swinging as early as 8 p.m. ET. Some key states will have closed polls by then, including Virginia, where O'Donnell notes there are four "really tight House races" in which Democrats recruited women to run.
O'Donnell is especially hyped for traditional election graphics to show lots of women running against women or women running against men, instead of just lots of men running against other men.
"I don't think there's any bias when it comes to being excited for the fact that there will be more women in Congress," O'Donnell says, expressing the same excitement for increased racial, religious, and sexual orientation diversity.
"I think we all want a more demographically diverse Congress, whether those are Republican women or Democratic women," she adds. "I'm cheering on a more gender diverse Congress, because I think it's just more representative."
O'Donnell says races like the Arizona Senate contest between Republican Rep. Martha McSally, an Air Force veteran, and Democratic Rep. Kyrsten Sinema, the first openly bi person elected to Congress, are what keep her invested in her work.
"People still turn out to vote and people still run, and that's great," O'Donnell says. "That's what makes me really optimistic about our country and where it's headed."