Here's What Cindy Hyde-Smith's Victory Means For The Senate Power Balance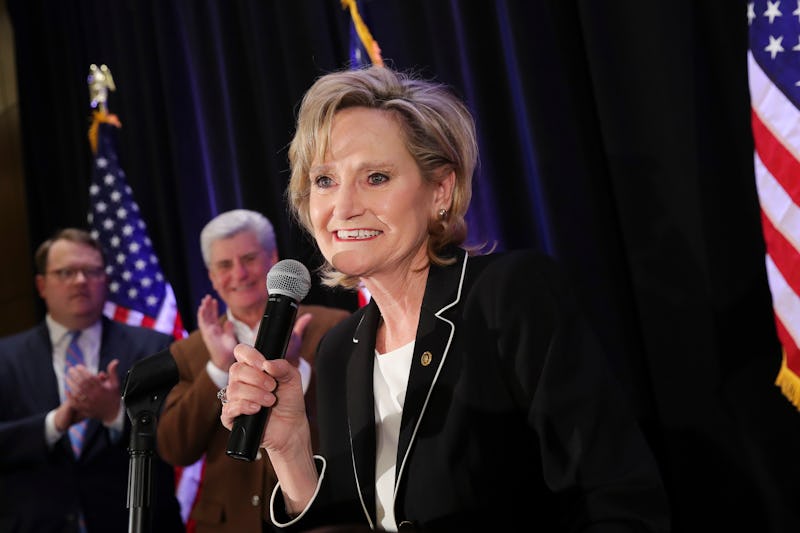 Drew Angerer/Getty Images News/Getty Images
On Tuesday evening, the Republican candidate won Mississippi's runoff Senate election, securing another GOP seat in the Senate chamber. While the GOP now has 53 Senate seats as opposed to Democrats' 47, how Cindy Hyde-Smith's Mississippi victory impacts the Senate's balance overall is fairly limited.
Senate Republicans already currently have a majority in the chamber, with 51 Senators. For the next session of Congress, which begins in January, they will have a total of 53 Senators, maintaining and slightly widening their majority. Though the GOP will maintain their majority status into 2019, it's still not close to having a filibuster-proof majority of 60 or more Republican senators.
Furthermore, Hyde-Smith didn't flip a Senate seat — in fact, back in April she was appointed to the seat to replace Republican Senator Thad Cochran, who retired for health reasons. Hyde-Smith's election means that senators from the state will continue to advocate for conservative policies in the chamber, as they have for many years. Therefore, there will likely be few surprises when it comes to predicting how the state will vote on legislation.
That being said, while Hyde-Smith's victory has a limited effect on the Senate's power balance, it nonetheless gives the GOP slightly more of a cushion to pass divisive legislation. Throughout Trump's presidency, bills have passed or failed by just a few votes. For example, the bill to repeal Obamacare in August failed 51-47, after Republicans John McCain, Susan Collins, and Lisa Murkowski, along with all Senate Democrats, rejected it. Having more Republicans in the chamber during the next session of Congress means that the GOP can afford to have a few more members of its party deviate from legislation but still secure its passage.
Hyde-Smith's election campaign was fraught with controversy. For example, as CNN described, in early November a video appeared online that showed Hyde-Smith saying she would be "on the front row" if a supporter "invited me to a public hanging." Her comments caused significant outcry because many interpreted them as referring to racial violence — something particularly jarring in Mississippi, which had the highest number of lynchings in the United States from 1882 to 1968.
Hyde-Smith didn't apologize right away for her remark, as the Daily Beast reported. She instead asserted that term "public hanging" was "an exaggerated expression of regard" for a cattle rancher, as The Guardian described.
Hyde-Smith did later apologize during a debate with her opponent, Mark Espy, on Nov. 20. "For anyone that was offended by my comments, I certainly apologize," she said (via the Daily Beast). "There was no ill will, no intent whatsoever in my statements." She also later said that "This comment was twisted and it was turned into a weapon to be used against me."
In addition to her aforementioned comments, Hyde-Smith also received criticism during her campaign for a 2014 Facebook photo in which she posed with Confederate artifacts while visiting the home of late Confederate president Jefferson Davis, CNN reported.
Overall, while Hyde-Smith's victory doesn't necessarily change the Senate's balance of power that much, it still certainly has significant ramifications for those in Mississippi, especially in light of her campaign controversies. Hyde-Smith will be up for re-election in 2020, as her victory in Tuesday's election only allows her to serve out the remainder of Cochran's term.