Starz's 'Sweetbitter' Is Making One Big Change To How It Covers The Book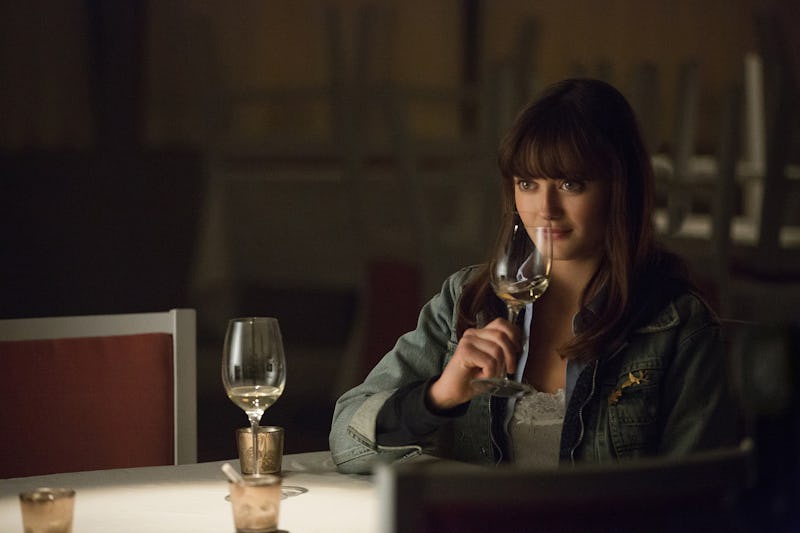 Starz
Fans of Stephanie Danler's novel Sweetbitter went wild when Starz announced that it would be adapting it for television. But already, they're likely wondering just how closely Starz's Sweetbitter will be to the book. At the 2018 Winter Television Critics Association press tour, Danler dished on the series, and also finally gave some insight into how much the show will be influenced by its source material.
Sweetbitter follows Tess (Ella Purnell), a 22-year-old woman who arrives in New York City ready to pursue a new life, as she interviews for a position at one of the best restaurants in the city. She's quickly drawn into the crazy behind-the-scenes world of restaurants as she embarks on a journey of self-discovery. But while readers are already familiar with all of Tess' journey in the book, Danler says that Season 1 of the series "takes place over only two weeks" and follows Tess' "first two weeks of training."
"We have really slowed down so we can focus on this girl's arrival to New York City and her slow immersion and really orient her into this chaotic, adrenalized world," Danler says. Showrunner/executive producer/director Stuart Zicherman adds that they decided to tell only the beginning of the story for a very specific purpose.
"[Season 1 is] six episodes and we tried to plan our first season almost like it was six episodes of one big pilot story," he says. "We're not biting off that much of the book; we're really just biting off a small part of the book. What we're trying to do in our first season is we're trying to immerse Tess into this world."
Because the theme for Season 1 is "intoxication," they wanted to take their time letting Tess get intoxicated along with the audience. "This is a world where our audience will become intoxicated and fall in love with this world, this restaurant, this city, these characters," Zicherman adds. "We have a lot more to go in the book."
As for how faithfully the Starz drama will follow Danler's source material, the author didn't want to just retell the story of her novel word-for-word.
"When I signed on to do this project, one of the reasons was because I wanted to expand the world of the book and make something new," Danler says. "So I tried to come to it as open as possible. It's such a deeply collaborative process, so much different than the kind of loneliness that you encounter when you're writing a novel. It was hard work but it was never difficult."
For those unfamiliar with her novel, Danler believes that this will be the perfect series for anyone to watch, especially given the climate of gender politics in the world today.
"This show is really about strong women," Danler says. "Tess develops a relationship with Simone [Caitlin Fitzgerald] who is a senior server and becomes her mentor. The show is really about that relationship and how Tess is imagining who she'll become and how she'll turn [from] a somewhat inarticulate woman into a strong woman who doesn't apologize all the time, who knows how to say no, who is self-possessed."
Purnell feels incredibly honored to bring to life this coming-of-age story for all the young women who will watch and see themselves in Tess.
"This show is about a young 21-year-old lady coming and developing a palate and becoming a person," Purnell says. "She gets a taste for everything. She gets a taste for sex and love and lust and wine and food and music and poetry and so many things." No matter who you are, the honest and unapologetic look at a modern young woman's life and experiences is something everyone can learn from, so make sure to catch Sweetbitter when it premieres.