The "Beast From The East" Is About To Hit The U.K. & It's Gonna Be Cold As Hell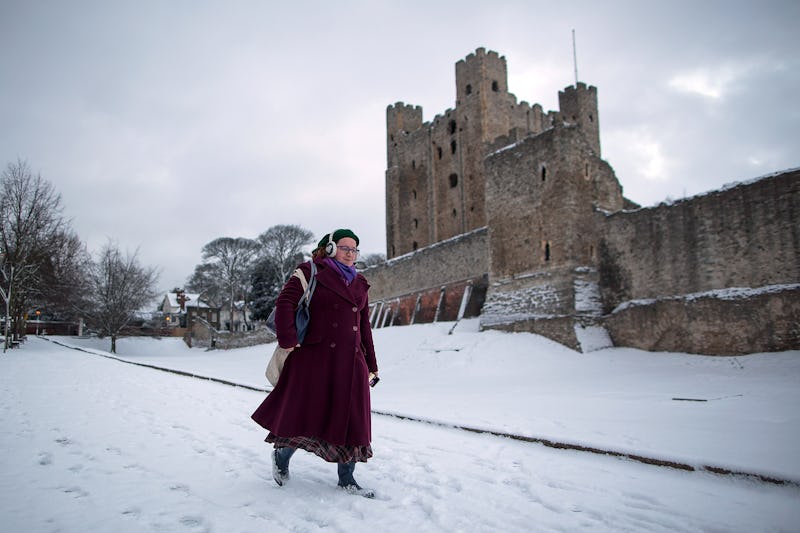 Dan Kitwood/Getty Images News/Getty Images
Thanks to the Gulf Stream, the United Kingdom usually stays quite warm in comparison to its neighbors in northern Europe. However, Britons are about to get pretty close to learning exactly how cold Britain does get, because a weather pattern has moved in that's about to make parts of the British Isles just about as cold as it is in the Arctic.
They're calling it the "Beast from the East," and it's bringing sub-freezing temperatures and heavy snowfall to parts of England and Scotland. The only part of the British Isles that might be completely spared is Western Ireland, but the rest could be in for some seriously annoying weather over the next couple of days.
Sustained temperatures below freezing are rare in the U.K., so snow and ice generally mean people can expect to have more trouble than usual with planes, trains, and automobiles. So far, there have already been numerous traffic accidents and train delays in regions across England, and multiple flights out of London's Heathrow Airport have been canceled already. While students at the over 100 schools that have been closed because of snow or frigid temperatures might be enjoying this weather pattern, commuters on Britain's busiest rail lines aren't appreciating it as much.
"Horrible scenes at Rainham where I estimate 100-150 @c2c_Rail customers have just (07.57) failed to get on a train," wrote Twitter user @tankhead666, referring to the company that runs the railways in his area. "They now face a 30 minute wait until they again fail to get on. I suggest @BTPEssex get an officer there quickly."
Twitter user @TOwusuAdjei_PwC had a slightly more lighthearted take on the problem. "Gorgeous day. And how kind of @Se_Railway to ensure I enjoy as much of the sunny day and arctic temperatures as possible from the train platform! #BeastFromTheEast," she wrote on Twitter.
The cold temperatures in the U.K. are actually linked with higher temperatures at the North Pole, climate scientists say. Much of the region close to and above the Arctic Circle has been experiencing what scientists refer to as a "warm air intrusion," which means all that cold, Arctic air has to shift elsewhere. The U.K. isn't alone in experiencing a significant cold snap. Freezing temperatures are currently plaguing Europe from Belgium to Bulgaria, and a rare snowfall in Rome has residents thrilled and transport authorities struggling.
At its most extreme, the Beast from the East could bring temperatures as low as five degrees Fahrenheit to places in the north or at high altitudes. But most of Great Britain will probably not see temperatures rise above freezing until at least Thursday, and even then, it's probably still going to be snowing. While this may seem pretty cold, it doesn't quite approach the coldest temperature ever recorded in the U.K., which was -17 degrees Fahrenheit. This temperature was recorded twice, in 1982 and 1995, both times in Scotland. The coldest temperature ever recorded in England was -13 degrees Fahrenheit in Shawbury, which is in the central part of the country, in 1981.
This kind of weather definitely needs to be taken seriously, as the Met Office, the U.K.'s national weather service, has advised with a series of warnings. The elderly and people with compromised immune systems should also be extra careful, because cold temperatures make your body less resistant to illnesses like the flu, which then become more dangerous.
Another, less serious issue that has come up are empty grocery store shelves, as people have panicked and rushed out to buy bread so that they could hunker down through the storm. "This is ridiculous," wrote Twitter user @Ipswichmark along with photos of a cleared out grocery store. "Empty shelves in the supermarket. Doomsday approaches. It will be cold and it might snow for the day ... the end."