It's Going To Be So Cold In PyeongChang, They'll Give Out Warm Seat Cushions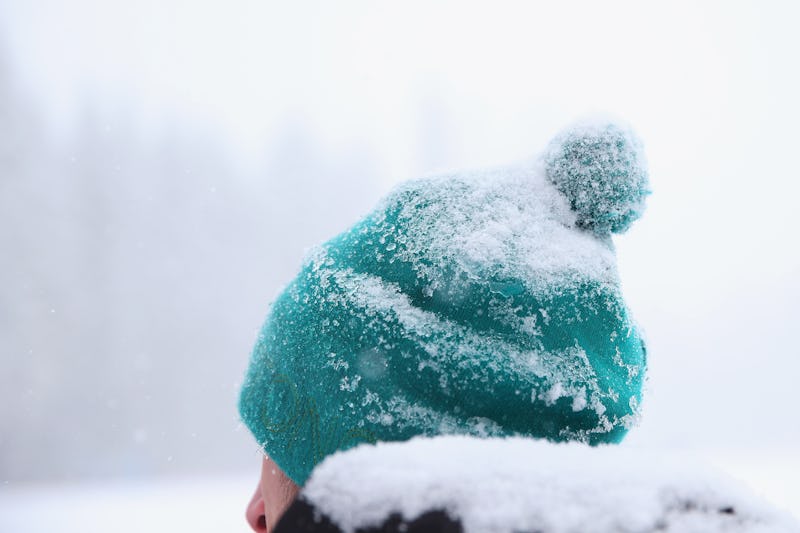 Mark Kolbe/Getty Images Sport/Getty Images
Weather has been a problem for several of the recent Winter Olympic Games, but in South Korea it seems the weather problem might be quite unique. After issues with warm temperatures wreaking potential havoc in Sochi and Vancouver, the PyeongChang Winter Olympics' cold weather could cause issues in 2018. Everything from frostbitten fans to empty stands are a concern.
Record-breaking cold temperatures are forecast for the first weekend of the games, and the opening ceremony could be particularly brutal as thousands are scheduled to sit in an open-air stadium for the three-hour show. For athletes who are marching and moving, there won't be much concern for hypothermia. But for spectators — the 35,000 who are expected — it's a whole other story.
The PyeongChang Organizing Committee for the Olympic Games (POCOG) have decided to provide those in attendance with blankets and winter hats, just in case some come underdressed. Each attendee will be given a warm seat cushion, hand warmers, and feet warmers, and a raincoat, too. The organizers call them "items to combat the cold and allow them to enjoy the celebration in comfort." Hot food and beverages will be served, and there will be warm rooms where spectators can take breaks. According to the official website:
POCOG will also provide patio heaters around the corridors; hot food and beverages at 10 concession stands; mobile food stores; 16 rooms with wind screens where spectators can stop in and take a break from the cold. Hawkers selling hot drinks will roam the aisles. Spectators are encouraged to dress warmly and use mufflers, thick socks and heat packs.
The stadium has also been outfitted with heating lamps and wind shields — something that could make a big difference, given the "harsh cold and strong winds during the games," according to an AccuWeather prediction. The wind chill could reach as low as 15 to 20 degrees Fahrenheit. Given those extreme temperatures, the amount of medical stations was increased from four to five and the number of medical personnel from 52 to 165.
The American Olympic athletes at the opening ceremony might have a leg up on everyone else as they walk through the parade of nations. The jackets that they are wearing come with a battery that heats up the American flag that is stitched inside of it.
Designed by Polo Ralph Lauren, the coats are far warmer than any simple down parka could be. Spectators can even order their own. The flag design is printed in conductive carbon and silver ink, which transmits the heat from the batteries, which can last for as long as 11 hours.
One thing that shouldn't be a problem is precipitation. There may be some light snow showers, according to The Weather Channel's predictions, but it shouldn't add much to the cold anyone is experiencing. In fact, it's cold air from Siberia and winds from mainland Asia that are keeping the Olympic venues both so cold and so dry.
Should you be heading to the games, you'll want to check out the venues you've bought tickets for. Seven of them are outside, in which case you'll want to dress as warm as possible.
Depending on how cold it gets in PyeongChang, there's always the possibility that a record could be set for the coldest Olympics to date. The current record holder is the 1994 Lillehammer Games in Norway, where the temperatures reached 12 degrees Fahrenheit. Should things get that cold over the course of the games, it will be uncomfortable for the athletes, but it could be downright dangerous for spectators. If you're headed there, make sure to take precautions.