These Congress Members Protested On National Walkout Day, Too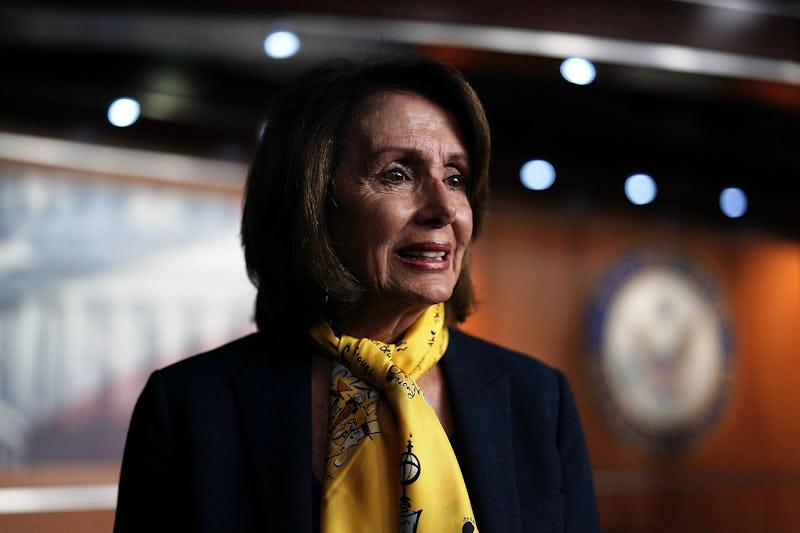 Alex Wong/Getty Images News/Getty Images
On Wednesday, one month after a gunman killed 17 people at a high school in Parkland, Florida, students and teachers walked out of classrooms across the country to protest gun violence. As walkout participants attempted to honor people killed by gun violence and put pressure on lawmakers to pass gun control legislation, some members of Congress supported the national walkout in their own ways.
Thousands of people in all 50 states walked out of elementary, middle, and high schools — and even some colleges — as part of the National School Walkout organized by the Women's March Youth Empower initiative. In honor of the 17 people killed at Marjory Stoneman Douglas High School in Parkland, Connecticut Sen. Chris Murphy tweeted that he would read the names of gun violence victims on the Senate floor.
A vocal advocate of stricter gun laws, Murphy released a statement to thank walkout participants and address what he described as the country's gun violence "epidemic." "This epidemic doesn't take a day off," Murphy said on Wednesday. He added:
While the mass shootings get the national attention, every day, 80 to 90 people in this country die from a gunshot wound. This catastrophic rate of violence happens because of the government's inaction, and so today cannot just be a moment of remembrance — it needs to be a moment of action.
Murphy and fellow Connecticut Sen. Richard Blumenthal, along with a number of other Congressional Democrats, also reportedly walked out of the Capitol to call on their fellow lawmakers to take action on gun violence. Meanwhile, House Minority Leader Nancy Pelosi addressed students who were protesting outside the Capitol as part of the #EnoughisEnoughDMV event.
"Whether Orlando, San Bernardino, South Carolina, Las Vegas, Newtown, Sutherland Springs, Parkland, city streets, homes across the nation, there's been too much violence, too much heartbreak," Pelosi told the crowd outside the Capitol.
You are creating with this walkout today and your ongoing challenge to all of us, to the conscience of America, you are creating a drumbeat across America, a drumbeat that will echo until we get the job done. ... No one's political survival is more important than the survival of our children.
Pelosi was joined by Senate Minority Leader Chuck Schumer, Illinois Rep. Brad Schneider, Oregon Sen. Ron Wyden, and other congressional officials outside the Capitol where students and their allies were chanting, "What do we want? Gun control! When do we want it? Now!"
Just one day earlier, global advocacy group Avaaz had placed 7,000 pairs of shoes on the Capitol lawn, to honor every child that had died from a gunshot wound since the 2012 shooting at Sandy Hook Elementary School.
Murphy wasn't the only one to address the walkout on the Senate floor, either. Vermont Sen. Patrick Leahy took to the floor to laud students for their political engagement.
"Outside this Capitol are young students who've brought their powerful message to us inside the Capitol," Leahy told his colleagues. "I'm so proud of the Vermont students whose voices are joining this nationwide chorus. They've shown up, braving heavy snow to deliver their message."
Schumer also took the floor, to read off the names of the 17 people who were killed in Parkland.
Although elected officials may have shown their support for the National School Walkout, the students gathered outside the Capitol made it clear that they expected tangible action — and not just words.
"Their right to own an assault rifle does not outweigh our right to live," one student declared in front of the Capitol. "The adults have failed us. This is in our hands now, and if any elected official gets in our way, we will vote them out."