How Demi Lovato's New Album Gives Fans What They "Deserve"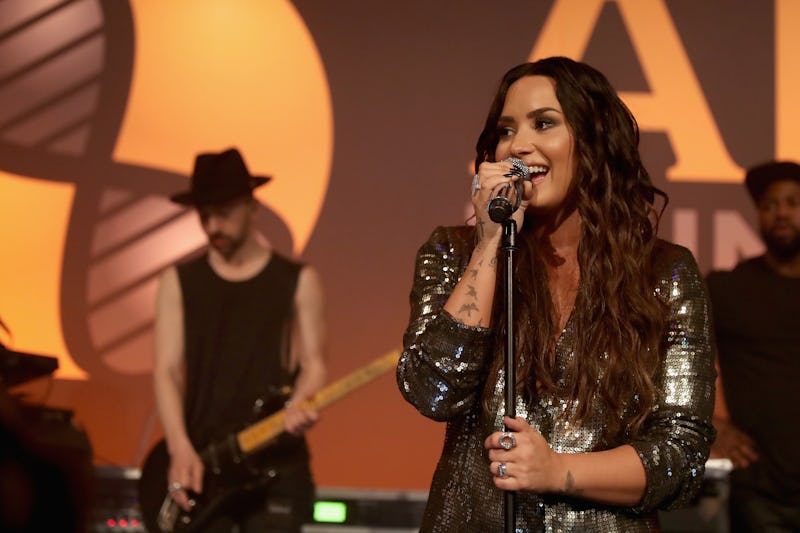 Antonio de Moraes Barros Filho/Getty Images Entertainment/Getty Images
She has been in the spotlight for most of her life, but with the release of Demi Lovato's new album, Tell Me You Love Me, fans really get to see the woman behind the pop sensation. On her new album, the singer is able to express and articulate her past pain, emotional turmoil, and frustrations more clearly than ever. This time, Lovato knows it's going to be fine. And it's going to be that way because she's fully and unabashedly herself.
At the DEMI x JBL Tell Me You Love Me Pop Up Event in New York City on the eve of the album drop, Lovato described the making of the record as "really relaxed." On the album, it's like the 25-year-old is breaking up with her past self, and as a result, the recording process was different this time around. "It's a lot different than the other albums I've released because I've always rushed my albums," she explained to fans and press at the event. "This time I really took my time with it. So it was relaxed, it was fun, it was honest."
"Sorry Not Sorry," the lead track on Tell Me You Love Me, is a booming R&B-influenced triumph of unapologetic autonomy. There isn't an ounce of possible regret in her voice. With lyrics like, "I know how much it must hurt to see me like this, but it gets worse" and "showing you up like I knew that I would," the track beams with self-confidence and pride. She doesn't need validation from anyone. Like many of the songs on the album, the underlying attitude of "Sorry Not Sorry" is: Now I recognize that I'm great and no one should have ever wronged me.
"I was in a difficult place a year or so ago where I was just fed up with the media… and things were getting misconstrued so I got frustrated," Lovato said. But then her Grammy nomination for Best Pop Vocal Album for her 2015 album, Confident, changed her relationship with making music. "It made me think, 'Wow, I'm doing this for the music and I really want to get back into it.'"
Whereas in her earlier albums, there was a dichotomy between serious lyrics about struggle (almost always in traditional ballad form) and the flirty, upbeat proclamations of confidence in more dance-focused club pop songs, Tell Me You Love Me is more seamless and packed with playful jabs at herself.
"I've been through a lot over the past year and a half since I released my last album," Lovato told the crowd, "and I wanted to be honest because my fans deserve that."
In "Daddy Issues," she plays on her troubled relationship with her late father and her 2010 rehab stay with lyrics like, "Lucky for you, I got all these daddy issues … Forget all the therapy that I've been through." The album is a tale about becoming yourself after trauma, instead of a celebration of just getting through the hard time. Lovato made it, and now we finally get to see what she can do.
And her honesty certainly pays off. Tell Me You Love Me is the amalgamation of all the sounds that inspired and informed her as a musician, as well as the lyrics of a young woman growing into and wholly accepting herself. Her voice is the most powerful and in control that it's ever been. In Tell Me You Love Me, Lovato is as untamed — and herself — as ever.