Democrats & Republicans Apparently Feel VERY Differently About Women Running For Office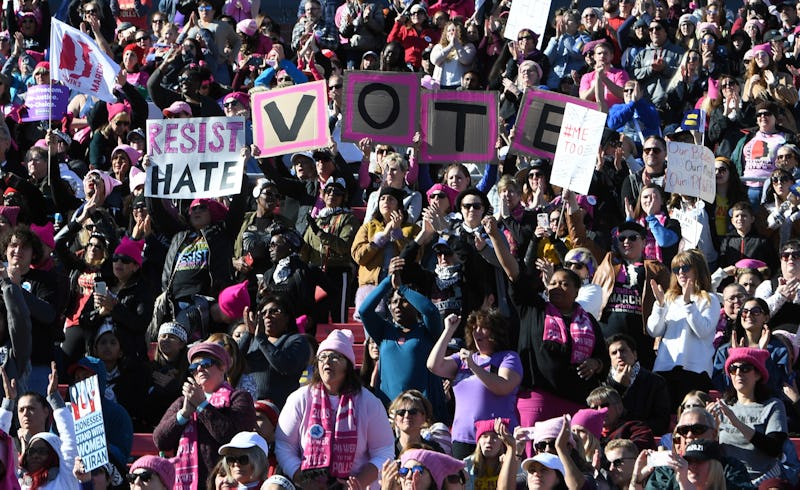 Ethan Miller/Getty Images News/Getty Images
It's 2018, and American women are running for public office in never-before-seen numbers. It's a development that could shape the future of the country's politics, where women may eventually win equal representation in Congress. And it seems like a change Americans are mostly happy about, according to a Pew Research Center poll published on Wednesday. But the findings showed a remarkable difference in how Democrats and Republicans feel about women running for Congress.
According to the poll, a whopping 80 percent of Democrats believe it is a "good thing" that American women are running for Congress. This was in stark contrast to the 39 percent of Republicans who said the same. Another 50 percent of Republicans polled said that it was "neither a good nor bad thing" that women in the country were running for public office, and 10 percent responded it was a "bad thing."
For Democrats, 19 percent expressed neutrality to the idea of more women running for Congress while only 1 percent categorized it as a negative development.
Without specifying their political party affiliations, the poll also found that 39 percent of the participants believed Congress would fare better with more women in it. Only 7 percent said it would be a bad idea, while 53 percent said that gender would have no say in how Congress performs.
Of course, gender differences also influenced the attitude toward more women running for Congress. Among Republican men, only 34 percent approved of the potential for more female representation in Congress. 54 percent said its neither good nor bad, and 12 percent called it a "bad thing." Among Republican women, 45 percent approved of more women in Congress while 47 percent expressed neutrality. An additional 9 percent gave a thumbs-down.
The Democrats polled were much more open to the idea of more women vying for a seat on Capitol Hill. Among Democratic women, 83 percent said it would be "good" for women to run for Congress while 15 percent expressed neutrality. Democratic men were slightly behind their female peers at 75 percent approving more women running for Congress, and 24 percent remaining neutral.
In its poll, the Pew Research Center included a detail that may explain the disparity between Democrats' and Republicans' view on women running for Congress: the majority of women running in 2018 are from the Democratic Party.
In its poll, the Pew Research Center gauged participants' view of how Congress would change if more women were elected to serve there. Of the total participants, 36 percent believed that the tone of political debate would undergo a positive change and become "more respectful." Only 7 percent believed it would become "less respectful." The majority, at 54 percent, said that the tone of the political rhetoric on Capitol Hill wouldn't change.
Furthermore, 34 percent believed there would be more transparency on Capitol Hill if more women worked in Congress, only 5 percent said there would be less openness, while 59 percent said that gender would not influence the extent of transparency in Congress.
For many women across the country, it could be uplifting to see their peers aspire to join Congress. But as the Pew Research Center poll shows, not everyone is equally stoked for these hopefuls.