How Desiree Linden Won The 2018 Boston Marathon By Just "Showing Up"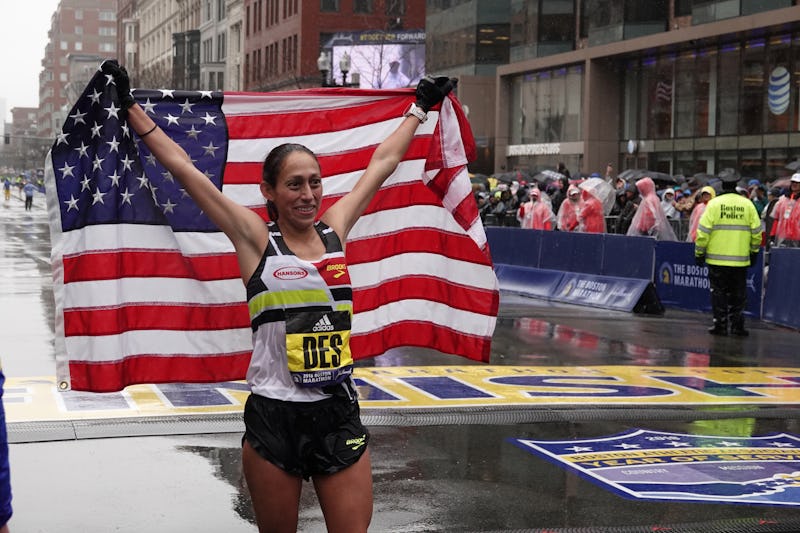 Courtesy of Des Linden
There are few things more rule-breaking than being the first American woman to win the Boston Marathon in 33 years. Despite her successes, Desiree Linden isn't slowing down — which is something you might expect from a long-distance runner. The two-time Olympian has taken her 2018 Boston marathon win in stride, and she's already training for her next race.
In conversation with good friend, fellow Olympian, and American record-holder in the marathon Deena Kastor, Linden talks about her long, and sometimes difficult, journey to the podium — and how many rules she had to break to get there.
Deena Kastor: Desiree, welcome to the show.
Desiree Linden: Thanks for having me and taking the time. Deena is one of my heroes. I may be a two-time Olympian and Boston champ, but ultimately I'm still striving to be a better human, not just a runner. Deena's been a fantastic role model for me in that way.
DK: Thanks for finding the time in your lengthy Boston victory tour to fit this in.
DL: Absolutely.
DK: You're in Boston as we speak. Are you still at the finish line, wearing your medal, and waving to your fans?
DL: In my mind I am. I'm actually headed to the Falmouth Road Race this weekend and I'm in the middle of training for the New York City Marathon this fall.
DK: It's a very busy time to be Desiree Linden. I'll say that qualifying for Boston is the highlight in most people's running endeavors. Did winning feel as good as you thought it would feel?
DL: It was a little bit better. I've always pictured it, but I never expected it to actually happen. I can't think of a better moment in my life, except maybe getting married to Ryan Linden. I should probably say that.
DK: That's a pretty big highlight. ... Your victory in Boston was this past April, can you believe how much you've packed into four months?
DL: Hard to believe.
DK: Your victory was felt by so many watching, including me, from a medical tent at mile 14. Take us back to 2011 when you really got on the radar of the Boston Marathon fans with your second-place finish.
DL: That was a race where, contrary to this year, I thought I had a great shot to win. For three months in preparation, I was like, "I am the Boston marathon champion." The last mile of that race, it was a battle that I expected to be in, and I was racing to win. I came up two seconds short, which was heartbreaking. It ended up being very motivating.
It was really awkward hugging Taylor Swift. I had no idea how tall she was.
DK: Every Boston marathon since then, you were the sentimental favorite. What kept you coming back year after year?
DL: It's such a great race. You can feel the energy. You can feel the history. It is the everyman's Olympics, and you can feel that along the route. I ran my first marathon in Boston. I debuted here.
DK: And finally getting that laurel wreath and that enormous goblet they don you with at the finish line. That looks so heavy, but you looked so strong holding it up above your head. What did you fill it with that night?
DL: They don't let you take it home. It's unfortunate. Instead I took a glass of champagne and poured it in a Brooks running shoe and did a little toast with that. I don't know if that's my claim to fame or the worst thing about me.
DK: It depends on whether the shoe was clean or dirty.
DL: Lightly worn with socks?
DK: Have there been any surprise perks after your victory? We've seen you center court at the Celtics playoff game; you've thrown out first pitches. You presented Taylor Swift with her Billboard Music Award...
DL: It was overwhelming in the best way. It was really awkward hugging Taylor Swift. I had no idea how tall she was. I'll tell that story to people, and I just am like, "Wow, I can't believe this is the real world." It's been interesting to see the reach that race got.
DK: So [most people] know who you are because of what you've done in running. Can you tell them some of your passions outside of running?
DL: I am a big reader. That's something that's safe with a running career. It's like, what kind of activities can I do without getting injured?
DK: I hope you don't get injured reading books.
DL: It depends on your reading style. ... I'm [also] a big coffee fan. We recently started Linden & True Coffee with Ben and Sarah True. We're trying to take our drive for greatness to a different arena. Sarah's an Olympian and triathlete and Ben is a U.S. champ and a former American record holder on the road, so it's fun to work with other athletes.
It's important to be well-rounded. We're often defined by our results and performances. For me, it's leaving the running shoes at home, turning the phone off, and unwinding and just being human.
DK: So you guys are two power couples in coffee. You debuted for the public during the week of the Boston Marathon build-up. That was a big week for you.
DL: I have the best husband in the world. He came up with the idea, like, let's launch Boston, and I said I'm going to be zero help because I'm working that weekend and he said, no problem. The timing was perfect obviously. They did a pop-up shop and it just kind of blew up from there.
DK: I've loved following you after races because you always go on these epic adventures. What have been some of your favorite post-race vacations you've taken?
DL: Last year, we went to India and that was an incredible experience. We'll do trips like Thailand where you just sit on a beach and tan and drink. Bali was a really great trip. It's fun to just get out of your comfort zone and explore new places.
DK: How do you feel it contributes to making you a better athlete?
DL: It's important to be well-rounded. We're often defined by our results and performances. For me, it's leaving the running shoes at home, turning the phone off, and unwinding and just being human. After a couple of weeks, you start to miss running. So you get home and are excited to go back to work.
DK: I'm reminded of a post you did on social media before Boston talking about "showing up," and it got a lot of attention. It was a simple statement, but it resonated. What does it mean to you to show up?
DL: I went through a rough time last fall and debated whether I wanted to keep doing this or not. But I stopped thinking about the overall picture and just thought about each day individually — thinking about right now and showing up for this moment. If you can show up for that, then you have a chance. But if you don't show up, it's just automatically giving in.
DK: Do you have any mantras to get through those moments when you show up and it's still not going great?
DL: I go into my marathon mindset. When you have 12 miles to go, if you let your mind turn in a negative direction, it becomes a lot longer. This really wonderful woman, Deena Kastor, wrote a book, Let Your Mind Run...
DK: Should I pay you for that plug afterward?
DL: It's a great read and I recommend it to everyone. It's cool to have this conversation with you because I think you see things that I've picked up from your book in a lot of what I'm saying.
DK: I've learned in the past months that people love to hear about other people's suffering. Speaking of, was Boston the most grueling or nerve-racking race, or was there another?
DL: I think it was. The conditions were so absurd that I found it comical. The worst suffering I think was the Olympic Trials in 2016. It was 88 degrees, everyone's melting, but you're fighting for this Olympic spot and if you let it slip away, you have to try again in four years.
DK: You made two teams, in London and in Rio. Can you give me some highlights from each of these experiences?
DL: So 2012 was my first Olympics and I went injured, which is a bummer to head to the biggest event of your life feeling that way. But it was also the Olympics, so I needed to embrace the experience and find ways to enjoy it. A highlight for me was walking into the Opening Ceremony. It's just this moment where you realize you have accomplished a lifelong goal. Then in 2016, I was the fittest I've ever been and felt like I was really going to have a great run in Rio. I crossed the finish line, which I was unable to do in London. I was seventh. So I didn't win a medal, but bouncing back after 2012 was sort of full circle.
DK: You talked about having dreams of being an Olympian since you were little. When was that transition of dreaming about it to living it?
DL: It was a long process for me. I always thought maybe I was a pretender, or maybe I was someone who was just dreaming a little out of their league. Then as I really started to learn the event, I felt like it was the perfect fit for me.
DK: So, finally, in what ways do you consider yourself a rule breaker?
DL: People always look at me as not very talented. I think if you were to stack everyone up and say, "Who's going to make the next Olympic team?" I don't really fit that mold. But I work my butt off, I've learned the event, and I've just done it a different way. I don't think you have to be, on paper, a perfect collegiate athlete who crushed as a fast 10K runner and who moved up. You can go about it differently, and I've certainly gone into the marathon a different way than most people.
DK: It's about showing up and just continuing to show up day after day, making yourself stronger by enduring — and you've led by example.
This interview has been edited and condensed for length and clarity.