How Did Adam DeVine & Chloe Bridges Meet?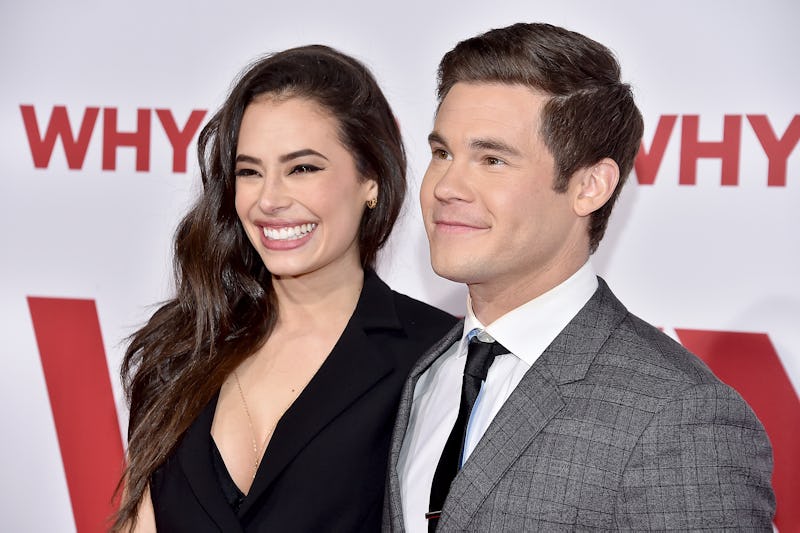 Mike Windle/Getty Images Entertainment/Getty Images
Adam DeVine is set to host this year's MTV Movie and TV Awards, and his new gig is a pretty big deal seeing as this is the first year in which the award show — previously known as the MTV Movie Awards — will be broadcast in a new format that also recognizes television. I'm definitely excited to see what DeVine has in store for Sunday's show, but we might be a little more excited to see if he'll bring along his girlfriend of two years, actress Chloe Bridges, to celebrate. So how did this adorable couple meet? The beginning of their romance is pretty similar to that of some other Hollywood duos. That's right, these love birds met on set.
DeVine, who previously dated his Pitch Perfect co-star Kelley Jakle, has been dating Bridges since early 2015. According to Us Weekly, the couple met on while filming the 2015 horror comedy, The Final Girls, in which they both played supporting roles. When confirming their relationship to the magazine, an inside source claimed that, "they're having a lot of fun."
By the looks of a few Instagram posts from early on in their relationship, that source definitely wasn't wrong, though both stars kept things pretty low key when their romance was still pretty new. In November of 2014, Bridges, who's had a recurring role as Sydney Driscoll on Pretty Little Liars since that same year, posted a photo of both actors hanging out at the Pretty Little Liars Season 5 wrap party. Months later, the lovebirds took a trip to Disneyland together.
Fast forward to the current year and the couple is as cute as can be, frequently making red carpet appearances together and sharing sweet posts of each other on Instagram. In March, Bridges uploaded a photo of DeVine sleeping in her lap after wrapping up his "Weird Life" tour.
"Congrats on finishing your tour @andybovine. I look forward to postmating every meal until you are physically capable of movement again," she captioned the photo.
We know Adam DeVine won't be "postmating" this Sunday since he has a few other hosting responsibilities under his belt, so hopefully Bridges will be in attendance at the Movie and TV Awards for a little support.