These Theories About Amelia Earhart Will Blow Your Mind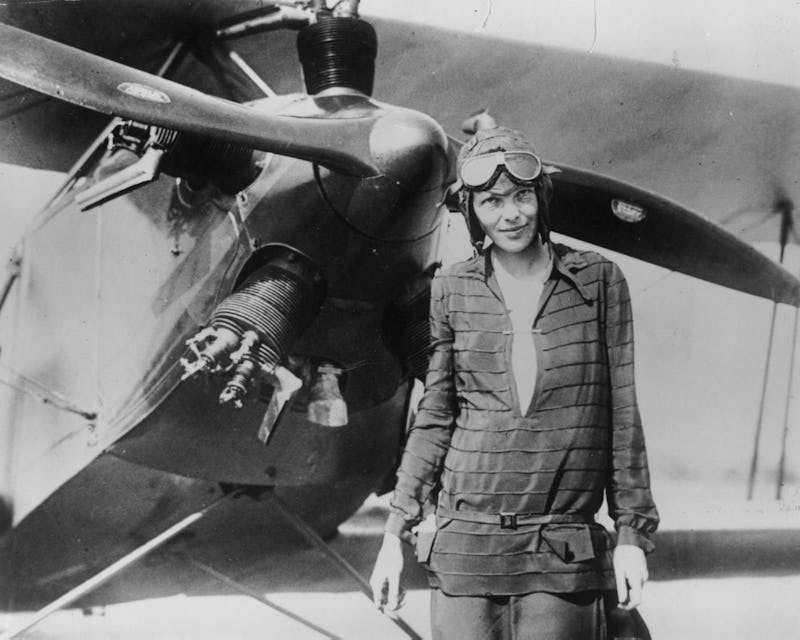 Getty Images/Getty Images News/Getty Images
History may be changing course when it comes to theories about how Amelia Earhart died, and minds are being blown in the process. An upcoming History Channel documentary Amelia Earhart: The Lost Evidence (premiering Sunday) has people talking about what really happened in July 1937 when Earhart, her navigator Fred Noonan, and their plane mysteriously disappeared at the tail end of their journey across the world. For 80 years, there's been a widely-believed notion that the plane crashed and sank into the ocean. But new evidence challenges the long-existing theory and suggests Earhart lived longer than history originally proposed.
Before her presumed death, Earhart already made history on the heels of her 40th birthday, setting out to be the first woman to voyage around the world by plane. An official cause of death was never stated, and Earhart's website biography claims, "Despite many theories, no proof of Earhart's fate exists."
However, researchers have joined forces for the upcoming documentary, and they present compelling evidence suggesting Earhart and Noonan were taken by the Japanese military in the Marshall Islands after a crash landing. The research, which is impossible to ignore, suggests Earhart didn't die the way the masses believed for all these years.
In striking evidence, there's a reportedly legitimate, black-and-white photograph of a dock in the Marshall Islands (run by Japan at the time), with a Caucasian man (who has the same hairline and facial features as Noonan) and a woman with her back to the camera (whose hair and body proportions matches those of Earhart) among a group of natives. The photo also shows a ship, said to be Japanese military vessel Koshu Maru, carrying her 38-foot Lockheed Electra plane.
In addition to the blurry photo, further details suggest that both could've actually survived and been taken by the Japanese military. According to NBC, this was a year the Japanese banned nearly all Westerners from the islands. Researchers have also searched for pieces of the plane among the island and discovered a nearby prison in Saipan, which is where they believe Earhart was taken.
Details like the cause or time of her death are unknown in the studies. Executive producer Gary Tarpinian explained, "We believe that the Koshu took her to Saipan and that she died there under the custody of the Japanese. We don't know how she died. We don't know when she died."
Former FBI Executive Assistant Director Sawn Henry confidently wiped out the theory that Earhart crashed in the ocean altogether. "We have no evidence anywhere that she crashed into the ocean, even though that's been the common narrative for so many years," he said.
A 91-year-old woman, who may be the last living witness of the crash, recalls being 12 in Saipan at the time. "I thought it's a man. Everybody was talking about her," the reported witness told NBC. "They were talking in Japanese... They were talking about woman flyer."
Researchers also wonder just how much the United States government knew, seeing as how the photograph was found in top-secret files. NBC journalist Tom Costello also reported that a 170-page file on Earhart and the Marshall Islands from the office of Naval Investigations is missing. It's not only suspect, but backs other evidence that Earhart and Noonan may have died in Japanese custody. "History has a new letter, the Commandant of the Marine Corps in 1971 wrote a letter saying, 'We all know she was killed in Saipan,'" Costello said.
The theory is hauntingly convincing. Earhart reportedly departed from her venture on June 1 from Miami, and she was headed to Howland Island in the mid-Pacific (close to Marshall Islands) on July 2, a day before she went missing. According to her site biography, her last transmissions from the plane were faint and filled with static, as she said, "We cannot see you. Fuel is running low. Been unable to reach you by radio. We are flying at 1,000 feet. We are running north and south," as her last words.
The site claims her search was the "most extensive air and sea search in naval history;" it cost $4 million and covered 250,000 square miles of ocean, yet found nothing. Now, it seems likely that Earhart died in the Marshall Islands while held captive by the Japanese, rather than in an ocean crash. While nothing is confirmed, imaginations are tickled and history books may need a bit of tweaking. And despite the fact that her cause of death is unknown, the fact that Earhart is a hero will never change.