America Ferrera Met Her Husband In Such A Hollywood Way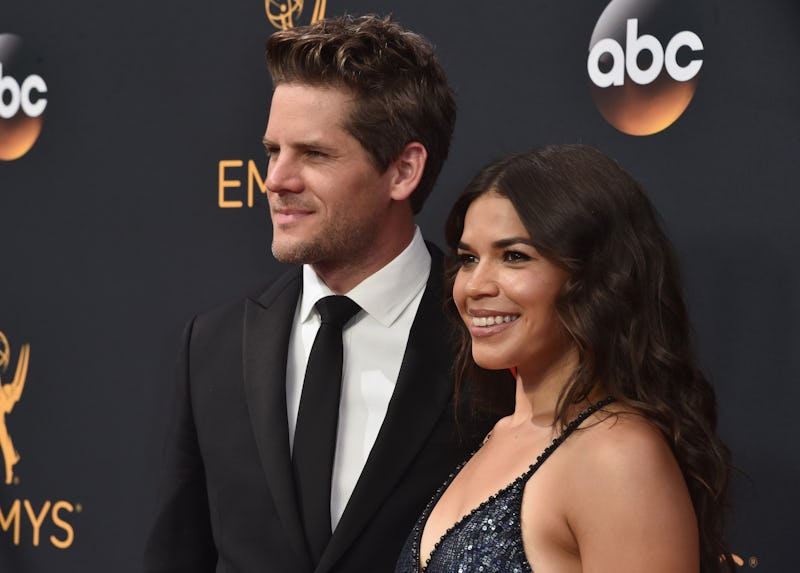 Alberto E. Rodriguez/Getty Images Entertainment/Getty Images
Superstore actor America Ferrera ended 2017 with an epic announcement on her Instagram account. On Dec. 31, Ferrera announced that she is expecting her first child with husband Ryan Piers Williams in 2018. The couple has come a long way from how America Ferrera and husband Ryan Piers Williams met back in the day. According to People, Ferrera and Williams first met in a very Hollywood way: He cast her in a student film while he was attending the University of Southern California's renowned film school. Ferrera is also a USC alum; the Emmy winner graduated in 2013 with a degree in international relations.
According to Williams' IMDb page, the student film that Ferrera and Williams likely met during is a short called Muertas, which was released in 2007 and shot in Texas and Mexico. The description of the film on IMDb is as follows: "A young American journalist attempts to piece together the fractured memories of a love lost amidst the ongoing Juarez, Mexico murders." Williams directed, wrote, and starred in the film as Ethan. Ferrera played the role of Rebecca. According to IMDb, the movie was screened at the San Diego Latino Film Festival, AFI Dallas Film Festival, and the Austin Film Festival throughout 2007.
Even though the film premiered in 2007, it looks like Ferrera and Williams probably met a few years before the film was released to the world. On June 27, 2017, Ferrera posted a video of her and Williams celebrating their 12th anniversary together in Iceland. According to that math, it sounds like Ferrera and Williams began dating in 2005 — the same year she starred in the first Sisterhood of the Traveling Pants movie and one year before she'd lead the ABC series Ugly Betty. People reported that Ferrera and Williams became engaged in June 2010 and got married in June 2011. "We kind of connected from the get-go on that professional level and that was something that really drew us to each other, a shared passion for what we do and our work," Ferrera told People in 2010.
Muertas isn't the only time Ferrera and Williams have worked together on set. In 2010, Ferrera starred and produced in Williams' feature film The Dry Land opposite Melissa Leo, Jason Ritter, and June Diane Raphael. Written and directed by Williams, the film was about a solider who returns home from war and it was nominated for the Grand Jury Prize at the Sundance Film Festival. At the Los Angeles premiere of the film in July 2010, Ferrera told People at that the movie was "certainly is his baby, and I feel like I've been here to get to witness it...It's a little bit like he had the pregnancy and I'm holding his hand through Lamaze."
Then in 2014, Ferrera and Williams starred together in his feature drama X/Y about a group of friends living in New York City. The movie was nominated for the Grand Jury Prize at the Tribeca Film Festival. "...We love story telling," Ferrera told Latina magazine about working with her husband on the movie. "And to get to jump into it and know that the person who knows you the best and who has your best interest in mind has your back the whole time. We were able to do that for each other."
Ferrera and Williams' collaborations have since branched out into activism. After the 2016 election, the couple founded activism organization Harness with Wilmer Valderrama. "It's about convening people with front line activists to hear the authentic stories about what's happening in our most vulnerable communities," she said during an appearance on Late Night With Seth Meyers in May 2017. "Right now, I think we're all feeling this unprecedented energy — people want to take action and take part, but it's so overwhelming that you don't know where to begin."
As frequent collaborators, Ferrera and Williams' new addition may be their most exciting yet in 2018.