Bill Clinton's Special Connection To Aretha Franklin's Music Goes Back Decades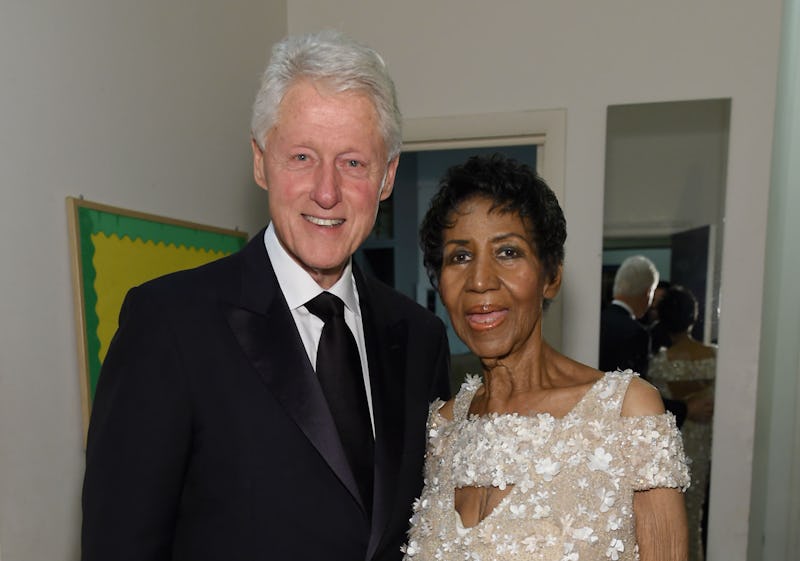 Jamie McCarthy/Getty Images Entertainment/Getty Images
It seemed as if the whole world was in mourning after Aretha Franklin passed away on Aug. 16. Her funeral is set to celebrate her life in a major way, and will feature performances and speeches from her closest friends — including former President Bill Clinton. If you're wondering how Aretha Franklin and Bill Clinton knew each other, though, you're likely not alone in that question. The two actually go back several decades, starting with his first inauguration in 1993.
Franklin performed "I Dreamed a Dream" from Les Misérables at that inauguration, and the first couple invited her back to the White House the following year. In 1994, she sang several songs in the Rose Garden for PBS's "In Performance at the White House" series, and "rocked so hard that she lost a shoe crossing the stage," according to The Washington Post's coverage of the show.
When reporters asked Franklin what she thought of Clinton at the time, she jokingly replied, "Well, they said he was a bubba, didn't they?" She then continued, "I think he's very down to earth, very decent. That's the impression I get. Someone who is really trying to pull it off, to get a true democracy."
That same year, Franklin became the youngest person to have ever received the Kennedy Center honors at the age of 52, The Chicago Tribune reported. The White House held a reception for all of the honorees that year, and Clinton paid tribute to the singer by joking,
"You could say that Hillary and I went to college and law school with Aretha because there was scarcely a day when we didn't listen to one of her songs."
The Queen of Soul performed for the Clintons yet again in 1997, when she took the stage for the President's second inauguration. In 1999, Clinton awarded her with the National Medal of Arts and Humanities Award, telling the crowd that Franklin "brought sunshine to a rainy day and tenderness to a hardened heart."
So yes, you could say that Clinton and Franklin have definitely spent a significant amount of time together over the years. When news of Franklin's declining health broke several days before her death, Clinton shared an emotional message on Twitter in support of the singer. He and Hillary made a heartfelt, joint statement after her passing, and referred to her as their "friend" in the touching tribute.
Clinton's statement read, in part,
"Hillary and I mourn the loss of our friend Aretha Franklin, one of America's greatest national treasures. For more than 50 years, she stirred our souls. She was elegant, graceful, and utterly uncompromising in her artistry ... I'll always be grateful for her kindness and support ... She will forever be the Queen of Soul and so much more to all who knew her personally and through her music. Our hearts go out to her family and her countless fans."
Franklin and Clinton clearly had a connection that went beyond polite formalities. After counting her as a friend for close to three decades, Clinton will undoubtedly be able to pay proper tribute to the singer at her funeral in Detroit on Aug. 31.