Britney Spears & Sam Asghari Met Through Work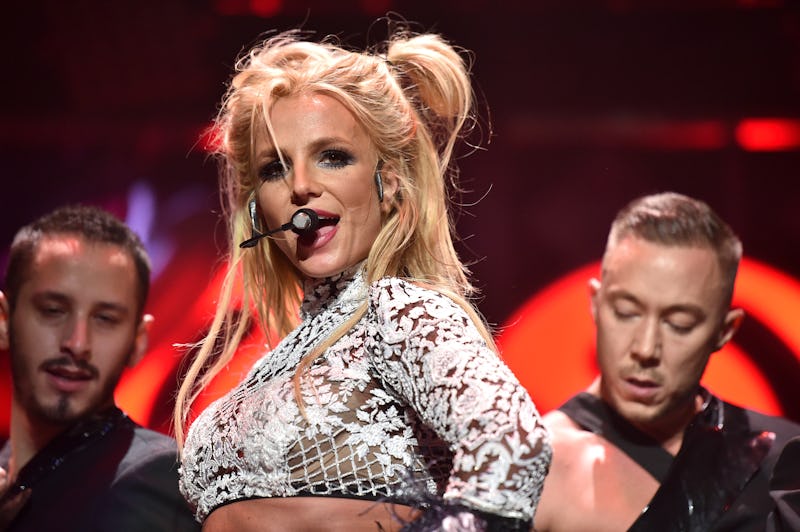 Mike Windle/Getty Images Entertainment/Getty Images
Pop princess Britney Spears seems to be starting the year off just fine with a new boyfriend by her side. In late November 2016, Spears was rumored to be dating Sam Asghari, a gorgeous Iranian model, after he posted (and deleted) a photo of them together. Since then, they have opened up more, posting cute photos on Instagram, and they seem to be going strong. From his first post, fans have quickly tried to get to the bottom of the mystery, wondering who this new man was and how Spears and Asghari met, because anytime a man is in Brit's life, the people need to know!
Well, by all appearances, it looks like Spears and Asghari met while they were on set filming the music video for her single "Slumber Party." The video was released on Nov. 18 and, according to Us Weekly, Asghari posted a photo of himself and Spears together eating dinner on Nov. 26, so one can assume that they had already become friendly. Even though the video came out in mid-November, the video had to have been filmed prior — Ace Showbiz reported that filming was underway in late October. This means that Spears and Asghari probably met around this time.
And if you're wondering why Asghari would be cast in the "Slumber Party" video? Well, he is a gorgeous fitness model who has some experience in music videos — he also appeared in the opening scene for Fifth Harmony's "Work From Home," as a construction hunk, naturally.
In the video for "Slumber Party," Asghari plays a mysterious man at her at a mysterious masquerade who Spears mysteriously crawls towards on a dining table. Hey, if I had to write a treatment for a music video, I wouldn't say this was a bad idea, especially with Asghari at the head of the table.
Anyway, with those looks they are giving each other in the video, it's obvious that Spears and Asghari had some major chemistry, and wherever things go from here, at least they have a really amazing story of how they met.